After more than 18 months of mass disruptions and rapid changes triggered by the COVID-19 pandemic, Asia's economic landscape has undergone some significant changes.
As lockdown policies came into place throughout the region, supply chains became more localized, many economic activities went virtual, and major industries like tourism were essentially shut down.
But as Asia begins to recover, how are these changes likely to play out in the long-term? To find out, BusinessBecause reached out to Dr Yougesh Khatri, associate professor and academic director of the Nanyang Fellows MBA program at Nanyang Business School, part of Nanyang Technological University (NTU), Singapore.
Yougesh specializes in macroeconomics and finance, and worked across the public and private sectors as an economist for over 20 years—including a decade at the International Monetary Fund (IMF)—before joining NTU.
Here are some noteworthy economic trends that Yougesh thinks business leaders in Asia should know.
---
1. More cautious strategies
According to Yougesh (right), in the coming years Asian economies will face the challenge of the business environment becoming considerably less stable and predictable.
"The pandemic will likely leave a lasting legacy of elevated uncertainty, profound changes in behaviors, and the rapid acceleration of pre-COVID trends.
"According to the IMF's April 2021 World Economic Outlook report, global output losses due to the pandemic will be substantial, with global GDP in 2024 expected to be 3% lower than anticipated pre-pandemic," he adds.
This economic hit, together with the changing and uncertain business environment, will likely encourage consumers, organizations, and investors to be more cautious.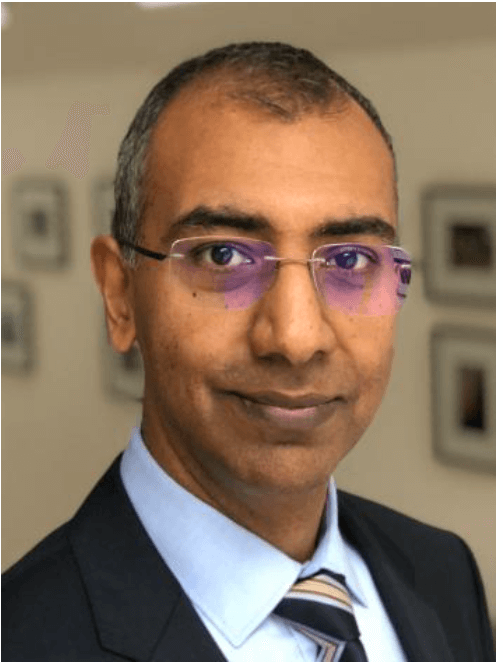 There is likely to be greater focus on diversification, and increased focus on making supply chains more robust to the impact of potential future shocks, geopolitical divisions, populism, and nationalism on trade—shifting from 'just in time' to 'just in case' supply chains.
"It's very difficult to predict long-term where the opportunities will be," Yougesh advises future leaders. "So be flexible, continue re-tooling, and be creative."
To recognize and take advantage of new business opportunities, managers must develop an adaptable approach to leadership.
---
2. Deglobalization
Deglobalization (in the narrow sense of declining global trade relative to GDP) is an economic trend that was already emerging before COVID-19 set in, but Yougesh thinks the pandemic has accelerated its progress.
Lockdowns and travel bans have slowed the flow of goods and people between Asia and the rest of the world, which were coupled by reports of reshoring—the transfer of business operations back to the organization's country of origin—Yougesh notes.
"In the long term, deglobalization is a key challenge to Asia's export-oriented growth model," he explains.
"However, many of the domestic and regional pillars of the Asian growth story remain in place, including growing regional trade, urbanization, and a growing middle class."
Although smaller, more open Asian economies that depend on global trade and tourism have been hit hardest, larger countries like China are quickly adapting.
"China is the first major economy to have achieved a clear V-shaped recovery, mainly through domestic demand," says Yougesh.
The trend toward deglobalization means that a deep understanding of Asian business practices is becoming increasingly important for professionals who want to succeed in the region. Enrolling in an Asian business school is one way to build this awareness.
In the Nanyang Executive MBA (EMBA), for instance, students can draw on school research into Asia and emerging markets, conducted by organizations including the NTU Asian Business Case Center, and Nanyang Center for Emerging Markets.
---
3. An exploding digital economy
Yougesh believes that the digital economy—economic activity mediated through information and communication technologies—will play an increasingly important role in stimulating Asia's economic growth in the coming years.
Since the coronavirus pandemic forced swathes of Asia's economy online, this trend has only accelerated over the past 12 months.
"There has been an acceleration of e-everything," comments Yougesh. "Asia needs new growth models and the digital economy is one obvious direction."
According to the 2020 Digital Evolution Index, developed by Tufts University in collaboration with Mastercard, many Asian economies—including Singapore, South Korea, Taiwan, Hong Kong, and China—are well-equipped to handle this increased digitalization.
"We will see much higher levels of working from home, e-commerce, e-learning, e-socializing, and digital trade," predicts Yougesh.
Business leaders in Asia need a good level of tech-savvy to leverage this rapid development. For this reason, Nanyang's EMBA exposes students to a range of tech-focused modules in areas such as digital transformation, digital innovation in China, and leading through disruption.
Participants also have the opportunity to attend classes with Tsinghua University School of Economics and Management (Tsinghua SEM) in Beijing. The school is well-known as a tech-focused, research-intensive university, helping drive the rapid digitalization that China is experiencing as one of the world's most advanced digital ecosystems.
Another international study trip sees EMBA students heading to the University of California, Berkeley (UC Berkeley), in the heart of Silicon Valley, to better understand how tech is harnessed in strategic decision-making in the West.
Exposure to tech hubs in both Asia and North America ensures EMBA students emerge with a global understanding of how to leverage tech in today's digital and tech-dependent business landscape.
In the face of all these rapid changes and uncertainties, business leaders require a ferocious dexterity to keep up with this innovation.
---
BB Insights explores the latest research and trends from the business school classroom, drawing on the expertise of world-leading professors to inspire and inform current and future leaders
---
Main image used under this license
Related Content: