The idea of what a large corporation is, and should be, is changing. To remain competitive, even established organizations need to become more entrepreneurial and grow innovative new businesses.

What's known as corporate entrepreneurship brings together the financial resources and structure of a large corporation with the entrepreneurial energy of startups.
---
What is corporate entrepreneurship?
Corporate Entrepreneurship, or Intrapreneurship, is the creation of new businesses, products, or services from inside an organization to generate new revenue growth through entrepreneurial action.
Corporate Entrepreneurship works in two ways. An established corporation either develops an idea internally, builds the startup, casts it off externally, and then brings the startup back into the wider organization at a later stage.
Or the company identifies an early-stage startup to collaborate with or acquire, and then assimilates the business into the wider organization.
---
VIDEO: From a Bocconi Master in Management to IBM
---
Why is corporate entrepreneurship important?
In a rapidly changing business environment, innovating and responding to change via corporate entrepreneurship is key. Corporate entrepreneurship can also lead to more productivity and boost morale among a workforce who are given the space and opportunity to tackle new challenges and implement new ideas.
Yet there are even greater benefits to corporate entrepreneurship, according to Markus Venzin, professor of global strategy and dean of innovation at Bocconi University.
Just 100 corporations are the source of 70% of global carbon dioxide emissions. Corporate entrepreneurship is important, Markus says, because it can help form the bedrock for action needed to combat climate change.
"If we want to create a more sustainable world, we need to concentrate on corporations becoming more sustainable," he says.
On October 28, Markus is hosting a free online Masterclass in Management where he'll discuss how new technologies—data science, artificial intelligence, and the Internet of Things (IoT)—can be used to make companies more sustainable.
Whether that's established banks working with or launching their own fintech startups; traditional farmers incorporating the latest innovations in artificial intelligence or biotech to make their operations more sustainable; or energy giants working with dynamic, agile clean energy startups to reimagine the energy sector, the potential of corporate entrepreneurship is huge.
And Markus believes that companies no longer have a choice of whether to adopt it or not.
"It needs to be possible," he asserts. "You need to go beyond your core product, you need to take up broader challenges, start working with startups, and that requires much more than just doing your job as manager.
"It requires taking risks, entrepreneurial risks as individuals, and that's going to be a key aspect of making the world more sustainable."
---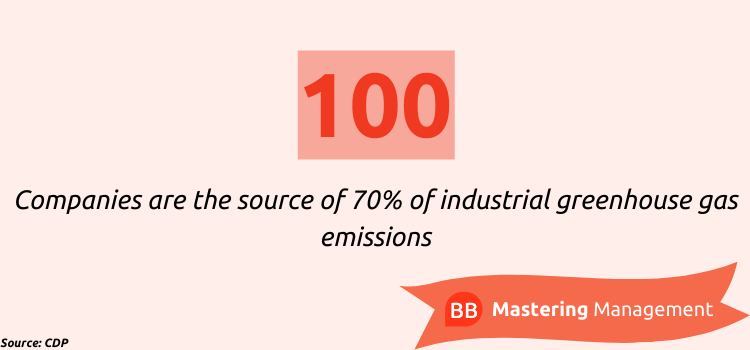 ---
Implementing corporate entrepreneurship
To successfully implement corporate entrepreneurship, firms must have the right culture in place to encourage and enable innovation.
Managers must select employees with entrepreneurial drive and be open to creating a culture that supports the inception and implementation of innovative ideas. Companies must also invest in the capabilities needed to segment the market, forecast trends, and understand customer needs.
Internally, companies also need to reduce what Markus refers to as 'firm-related uncertainty'. In other words, they should work to clarify how good ideas are supported by the firm.
Markus explains that this is done by reducing:
→Communicative uncertainty: Managers need to make sure their ideas are recognized as opportunities. They need to package their ideas and convince others.
→Behavioral uncertainty: Resources need to be allocated to good ideas. Behavioral uncertainty arises when the actions of managers involved in that process do not fully reveal their true intent.
→Value uncertainty: How are the benefits of entrepreneurial ideas shared? Issue of value appropriation, international commercialization, transfer pricing, and the application of incentive schemes are important on the individual and unit-level. Entrepreneurs need to know what rewards they can expect if they engage in innovation processes.
---
Corporate entrepreneurship examples
Markus is also managing partner of venture builder, Corporate Hanger, an organization created by Italian electrical cable company Prysmian Group to identify and develop innovative ideas from inside or outside of the company.
Most of the startups are then managed by Corporate Hanger for up to five years before they are introduced into clients' operations. Examples include Kablee, an e-commerce platform for cables, and Cultifutura, a vertical farming solutions startup.
Italian energy company, Enel, is another firm that actively practices corporate entrepreneurship. The Enel Innovation World Cup is an internal competition launched by the company's Innovation & Sustainability department, which promotes risk acceptance and gives global Enel staff the opportunity to develop businesses related to the energy sector.
Employees get to manage the entire productive process alone or with a team. They develop ideas, test them, and then source client feedback so the product arrives to market in line with customers' expectations.
Students on Markus's corporate entrepreneurship course at Bocconi University learn through his personal experiences, as well as his network in the form of guest speakers.
They hear from the likes of Emanuela Trentin, the director of renewables company Siram Veolia, as well as the Srini Sirapurapu, head of worldwide R&D at Prysmian, Fabio Romeo, former head of strategy at Prysmian, and Marco Di Dio, CEO of Jakala, a data science consulting firm.
The course also builds up students' understanding of how to successfully incorporate a culture of corporate entrepreneurship into a company, and the importance of large organizations using their resources to incubate and grow the best ideas.
"Corporate entrepreneurship has a lot of potential to make the world more sustainable because when you have a startup that makes things more sustainable, through collaboration with a larger company the startup can grow much quicker, and can penetrate many countries at the same time," Markus says.
Whether it's by using the skills you can acquire at Bocconi University to build a startup internally at a company, or to lead the sourcing and acquisition of innovative early-stage ventures to work with, more talent is needed to meet the demands for corporate entrepreneurship. And, as Markus points out, companies don't have a choice.
Register for free Bocconi Masterclasses in Management
---
BB Insights explores the latest research and trends from the business school classroom, drawing on the expertise of world-leading professors to inspire and inform current and future leaders
Related Content: