Would you prefer a four-day work week? If you asked this question to most employees, you're likely to hear a resounding 'yes'—but what if you asked this same question to business owners and organizations themselves?

For a long time, the idea of the four-day work week has been nothing more than that—an idea. Yet, in recent years, heads of organizations, political leaders, including California congressman Mark Takano, and employees across the globe have begun to take the concept seriously.

Trials have taken place across Iceland, Japan, New Zealand, and, more recently, the UK, to see whether the four-day work week could offer a solution to many challenges facing the workforce, including stress and burnout, which have a detrimental impact on business.

So in what ways are employee wellbeing and business success linked? Is a four-day work week good for business?
---
Japan four-day work week trial | Improving employee productivity
Employee productivity will always be a top priority for organizations looking to remain profitable and successful.
So what if there was a way to boost productivity in the workforce, while allowing employees to take an extra day off from the traditional five-day work week?
In 2019, Microsoft Japan participated in a four-day work week trial across a five-week period that saw productivity levels boosted by 40% among its 2,300 employees. The Japan four-day work week trial resulted in more efficient meetings and an overall happier workforce.
"Four-day work weeks could enhance people's productivity as it gives staff an opportunity to think more carefully about how to achieve the same amount of work with less time. It may shift people's mindsets from working hard in terms of long hours to working smart in terms of fewer hours," says Yi-Ren Wang (pictured), assistant professor of organizational behavior at Asia School of Business.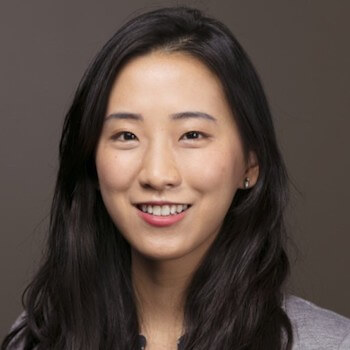 Working smart is ultimately good for businesses' financial outcomes, says Yi-Ren, who adds that more outputs are delivered with less time and cost.
By cutting unnecessarily long work meetings and creating a culture of delivering information in the most concise way, businesses may be able to produce the same level of work, if not possibly more, within a shorter time frame.
The premise of 'smart' working is something that Ryan Breslow, CEO of tech unicorn Bolt, has publicly stated as one of the major reasons for Bolt joining the list of companies with four-day work weeks.
---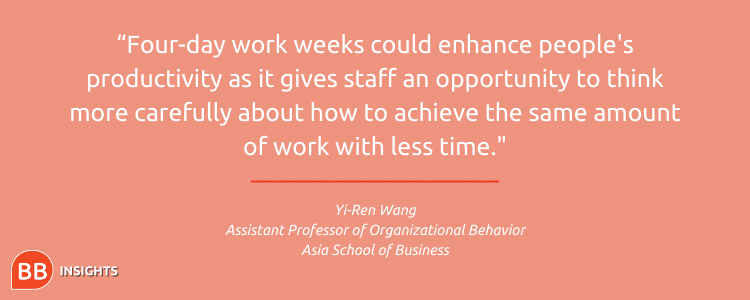 ---
Iceland four-day work week trial | Better employee work-life balance
With the shift to working from home blurring the lines between work and personal life, it's also never been more crucial for employees to retain a healthy work-life balance in the 'new normal'.
The four-day work week welcomes a longer three-day weekend, providing time for employees to invest in their hobbies and interests, learn a new skill, or simply dedicate time to relax.
In the Iceland four-day work week trial that took place between 2015 and 2019, working weeks were cut from 40-hours to 35-hours in two trials across 100 workplaces. Organizations did not reduce pay during this period.
After the Iceland four-day work week trial, employees reported that they found more time to spend on hobbies and with their families.
"Spending time on hobbies and interests allows people to reset and come to work feeling fresher and with new ideas. It's also likely to result in fewer days off due to illness," says Birgit Schyns (pictured), professor of organizational behavior at NEOMA Business School.
If employees are granted more time to reflect on their ideas over the long weekend, innovation in the workforce is likely to be boosted.
In fact, in a study by San Francisco State University, people who regularly engaged in a creative activity scored higher on performance measures and were more likely to engage in creative problem solving.
The shorter work week could also alleviate gender inequalities in the workforce. During the pandemic, working from home has had a disproportionate impact on women. Since many women are the primary caregivers in their families, female employees have found themselves juggling a career and parenthood from home.
"A shorter work week may mean women could rest better. It could also mean that household division of labor may be more fairly distributed as men also get to spend more time with the family," says Yi-Ren Wang from ASB.
---

---
New Zealand four-day work week trial | Reducing stress
If employees can invest more time on their hobbies and interests and spend more uninterrupted time with their families, this is bound to have a positive knock-on effect on staff stress levels.
Stress and burnout amongst the workforce costs the US alone more than $300 billion a year in absenteeism, reduced productivity, turnover, and other related costs like medical and legal bills. For any business, reducing stress amongst employees should be a major goal.
In the New Zealand four-day work week trial at financial services firm Perpetual Guardian in 2018, staff stress levels were reduced from 45% to 38%, among several other positive outcomes including increased stimulation and commitment.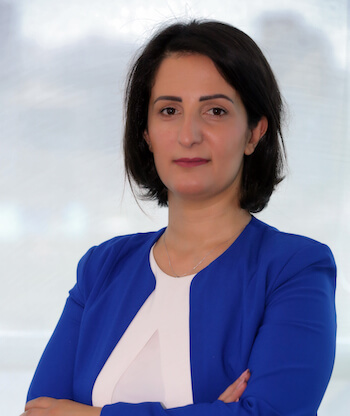 During the four-day work week trial that took place across an eight-week period, the firm did not reduce employee pay.
Employees experiencing decreased stress levels are likely to be more motivated and engaged, which will have a direct impact on the quality of work they complete.
"People often put more effort into their job when they believe the company that they work for trusts them and is interested in their wellbeing," says Julia Bodner, assistant professor in the department of strategy and innovation at Copenhagen Business School.
With a happier workforce, businesses may find it easier to retain and attract talent, too, which is important for building a strong organization.
"Talent management stresses that the only way to retain the best employees in the market is to make [employees] aware that their wellbeing and personal development are as important as the organization," notes Nada Khaddage-Soboh (pictured), a professor at GBSB Global Business School in Spain.
---

---
Potential drawbacks of the four-day work week for business
While many of the work trials that have taken place worldwide have had more benefits than pitfalls, some trials have only taken place over a short period of time so it is yet to be seen what the long-term benefits will look like across a wider context.
Although decreased stress levels amongst employees is a likely outcome of the four-day work week proposal, a shorter week could increase stress levels for certain employees.
"Some staff may feel under more stress to get things done quicker, especially if a four-day week does not come with flexibility about when to do the hours," says Birgit from NEOMA Business School.
The four-day work week is also not something that can be implemented with immediate success—it will need to form part of a business' long-term strategy.
"If an organization is asking for 100% productivity from employees in consideration for a reduction in working hours, it is going to be critical to have the right support, technology, and workplace culture in place to enable this," says Harriet Calver, senior associate at law firm Winckworth Sherwood.
Without the correct infrastructure or culture in place, employers will need to dedicate time and expense to effectively transition to the four-day work week, advises Harriet.
---

With four-day work week pilots due to take place at 30 UK companies, including communications firm Yo Telecom and videogame developer Hutch, as well as in the US and Spain, the world is getting closer to envisioning a fuller picture of what a four-day work week could look like within different geographies and cultures.
Business school experts across the world predict that the four-day work week could offer a part-solution to the complex problems that businesses have been trying to solve for years, such as heightened stress levels, decreased productivity, and lack of innovation amongst staff.
"There are no drawbacks to the four-day work week, on the contrary a shorter work for employees would create a healthier internal working community, enhance company's social responsibility, as well as attract any potential talent around," says Nada from GBSB Global Business School.
Regardless of whether businesses agree or disagree about the value of the four-day work week, the conversation doesn't look set to fade into the background any time soon. Instead of a shorter working week being seen as a luxury, it could just become a necessity.

---
Read more from BB Insights:
How Working From Home Is Impacting Our Mental Health
---
BB Insights draws on the expertise of world leading business school professors to cover the most important business topics of today.
---
Ryan Breslow is no longer CEO at Bolt and is now an executive chairman.