What is sustainable business? A broad concept, sustainable business refers to a variety of ethically minded, socially conscious business models. It's a shift away from purely profit-driven capitalism, aiming to combine that with a positive social impact.

Far-reaching targets set at the COP26 conference and promoted by movements like the Net-zero Coalition have caused a cross-industry shift. Now, more than 1,200 global companies have implemented sustainability strategies, with 62% of CEOs believing it essential to remaining competitive.

In this new climate, industries from fashion to finance are evolving. We're seeing the birth of new sectors and the evolution of old ones.

Below are four key areas driving sustainable business. Each of these themes were discussed as part of a SHARP Forum, hosted by the .

Organized by CityU MBA students, the SHARP forums bring together business executives, industry leaders, influential experts, and prestigious officials to discuss key topics, many of which focus on sustainable business.
---
1. Fashion Conscience
When thinking about industries with high emissions, you imagine long haul-flying planes, or gas guzzling ships, right?
Wrong. Fashion accounts for around 10% of global carbon emissions—more than the combined impact of both industries. Globally, we are buying more than ever. In 2016, a McKinsey study revealed the average consumer bought 60% more clothing than in 2000, while wearing items for half as long.
Often, clothes are shipped thousands of miles before you see them on shelves. The packaging for that new hat or scarf that you bought online is also a problem; 26% of plastic created each year packages our clothes.
Amid the worldwide sustainability push, a new ethically conscious fashion is emerging, built on circular practices. That means encouraging people to rewear and renew clothes, while using more sustainable materials.
CityU recently hosted a panel discussion focused on conscious fashion as part of its SHARP Forum. MBA students were responsible for every aspect of the forum, putting together an industry-focused discussion panel, contacting speakers, promoting and hosting the forum event.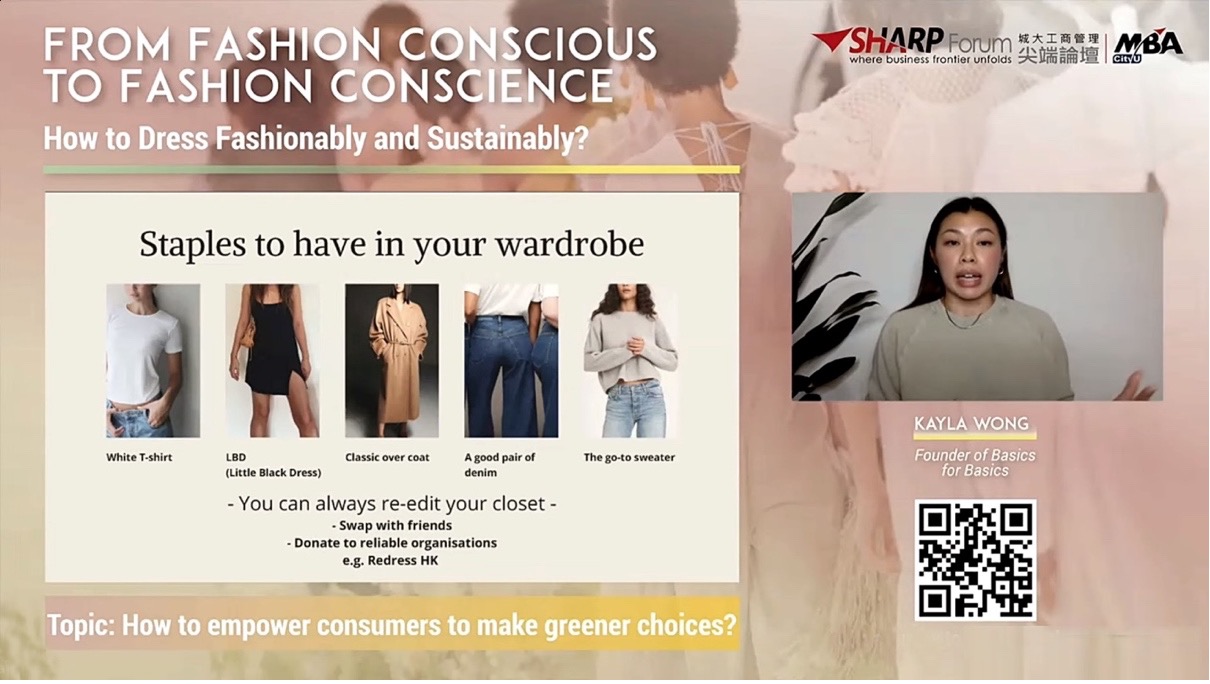 Kayla Wong (pictured above), founder of a sustainable fashion company highlighted in the SHARP Forum, believes people don't have to sacrifice style for sustainability. She shared tips during the forum on how to dress both fashionably and sustainably.
For Mirjam Wong (pictured below), a part-time student on the CityU MBA and a coordinator for the SHARP Forum, she hopes that initiatives like the forum can help people feel hopeful about the future.
"We don't just want to present problems, but to talk solutions to be found in the way we pick, produce, and maintain our clothes," she says.
"We want to show the true costs, why choices matter, and how bad business practice contributes to a non-sustainable future."
Fellow CityU MBA student, Adrian Chong (pictured below), who also took part in the Forum, adds: "We hope to show that consumers—and the choices they make—are very much part of the process."
Across the entire fashion industry, we are now seeing progress. There's been a sustained rise in popularity of secondhand clothing platforms including Vinted and Depop, while 64 leading companies including the likes of Adidas and Zara have committed to adapting to circular business models.
---
---
2. Alternative Meat
There's always been those who refuse to eat meat. But as awareness of the industry's climate impact has increased—meat accounts for 60% of all food production-related emissions—growth in people avoiding meat has created a new billion dollar industry.
Alternative meats, an umbrella term referring to plant-based or cultured meats that aren't sourced from animals, are now a regular on supermarket shelves and takeout menus.
Beyond Meat, a publicly traded alternative meat firm, has products available in more than 130,000 stores across 90 countries worldwide. The company has also collaborated with multinational food chain McDonalds to release a blockbuster 'McPlant' burger.
"We invited Hong Kong top FoodTech startups, such as Avant Meats and Green Monday to share with the audiences about the importance of having a sustainable diet and the available green food options in Hong Kong," said Nero Lum, a CityU MBA part-time student and the Organizing Committee Chair who hosted for the SHARP Forum (pictured below).
"We hope to spread the knowledge and stretch the boundary through candid discussions between expert speakers and the audiences."
In 2020 the global alternative meat market was worth around $6.7 billion, but experts estimate that it will increase to around $14 billion by 2025.
But growth isn't guaranteed: "To serve as sustainable meat alternatives, artificial meats must be sufficiently nutritious, healthy, tasty, and affordable," says Natalie Lung, program manager for the Food Technology Accelerator at venture capital firm Brinc, and host of a CityU SHARP Forum panel on alternative meats.
If that combination can be secured, it could be the answer to meat's emissions issue; while also protecting animal welfare by bringing an end to harmful livestock farming.
---
3. ESG Investing & Sustainable Finance
As a key driving force in business, finance is inherently linked with the climate crisis. Its influence is felt through the funding of highly polluting and destructive industries and, crucially, fossil fuel production.
But increasingly the sector is adapting with a drive for more socially responsible investing. This new 'sustainable finance' was the focus of a recent CityU SHARP Forum panel involving industry experts including the managing directors of Grandly Financial Group and Direxion investments. It combines the typical emphasis on profits with a new focus on environmental, social, and corporate governance (ESG) responsibilities.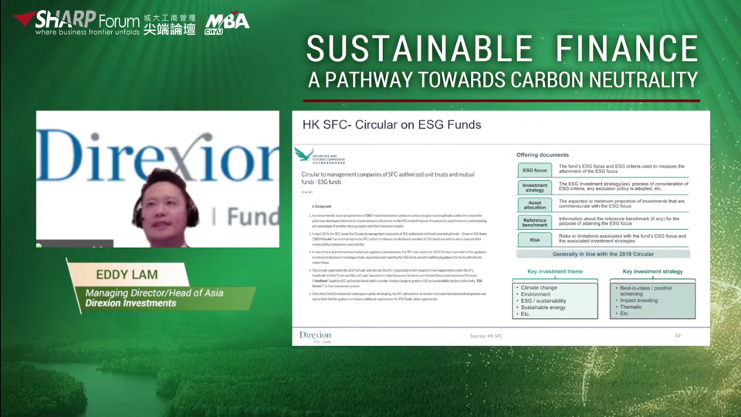 This means implementing a range of ESG-focused financial instruments, such as carbon credits and sustainability-linked bonds, while also ensuring transparency over companies' climate impact by encouraging them to report their sustainability performance.
The investment-driven push encourages companies to implement more ethically conscious practices in order to maintain profits. The hope is that sustainable finance and ESG values can trickle down from investors to companies looking for investment.
According to the World Bank, transitioning to a green economy built on the principles of sustainable finance can actually lead to increased investment returns by up to four times. This provides further incentive to push for a more sustainable finance sector in future.
---
4. Green Building
The largest contributor to pollution worldwide, the energy sector contributes 35% of global greenhouse gas emissions. It's also essential in powering our infrastructure; our places of work; and, of course, our homes.
In Hong Kong, 90% of the city's electricity supply is used to power buildings, that equates to 60% of Hong Kong's emissions. The government has implemented a variety of 'green building' measures as a means of combating this harmful environmental impact.
Dr Cary Chan, executive director of the Hong Kong Green Building Council, spoke at a recent SHARP Forum on the issue. He forecasted that it is feasible for the Hong Kong building industry to reduce energy consumption by 65% for all buildings in the city by 2050, based on the Council's data. But he called for industry professionals and building users to join forces to speed up change.
Dr Chan also revealed the advancing technologies and measures the government is using to accelerate the city's green building transformation. That includes subsidies aimed at both promoting the building of new net-zero buildings—buildings whose energy consumption is equal to or below their energy output—and retrofitting existing buildings with energy-efficient systems.
Other measures include using alternative, renewable building materials; constructing buildings to be resilient to natural disasters caused by the climate crisis; and a range of specialist certification systems awarded for more sustainable construction.
Similar measures are being implemented across the globe. Those involved in the worldwide push for green building hope that it can help mitigate the impact of the energy sector, and provide a boost for sustainable business.
The range of sectors involved in driving sustainable business highlight the cross-industry drive to align business with global sustainability targets and the overwhelming push for a more ethically-conscious system.
As society and governments push for more ethical models, industries are adapting while entirely new sectors take shape, ushering in a new era for sustainable business.
In the future, MBA students who are up to date with the latest developments in sustainable business will be the most in demand.
Related Content: