Considering a Master in Accounting (MAcc)? A MAcc is a great way to kickstart your career, as graduates are hired across a wide variety of industries.

Enrolling in a top MAcc program like the Master of Accounting at The University of Hong Kong (HKU) Business School will open opportunities beyond just traditional accounting sector roles. You'll acquire knowledge and pick up a diverse set of skills which can make you attractive to a range of recruiters.

Here are three of the top industries for Master in Accounting graduates.
---
Technology: Jobs for accounting graduates in tech
Technology is one of the most popular sectors for business school graduates, and recruiters love hiring from the business school talent pool.
That includes accounting; according to the Graduate Management Admission Council (GMAC), 44% of recruiters planned to hire MAcc grads in 2021.
Recruiters value the range of skills you acquire during a Master in Accounting. At HKU, the program's core curriculum includes modules on economics, data and analytics, and corporate governance and social responsibility (CSR).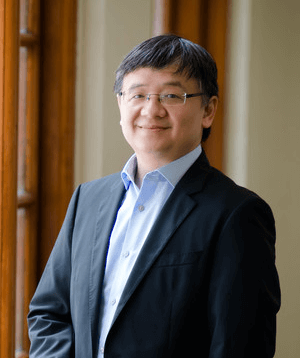 Acquiring expertise in these areas could open up opportunities such as joining a tech company's in-house accounting department. Students in the HKU Master of Accounting class of 2021 joined tech companies including the likes of Huawei after graduation.
Alternatively, you could use your skills to launch a career in fintech. The HKU Master of Accounting includes a range of electives and a final capstone course allowing students to specialize in an Accounting, Fintech and Innovation track.
"This course allows students to gain a deeper understanding of the transformation of the accounting industry, through focusing on upcoming new data analytics and fintech technology," says program director, professor Kai Wai Hui (pictured).
Whether it's implementing your financial skills in fintech, or as an accountant for a tech firm, you'll find plenty of opportunities in tech after graduating from your Master in Accounting.
---
Investment Banking: Jobs for accounting graduates in finance
With such a focus on financial skills, it's no surprise that investment banks recruit MAcc grads. Along with accountancy, finance is the top recruiting industry for accounting graduates; 69% of corporations planned to hire MAcc graduates in 2021, according to GMAC.
Of the most recent HKU Master of Accounting graduating class, some of the largest recruiting companies included top Chinese investment banks like China International Capital Corporation (CICC) and Hai Tong.
While students looking to launch careers in investment banking benefit from the finance-focused curriculum, they're also boosted by the program's location in Hong Kong. The Finance Institute ranks Hong Kong as the best city in Asia for careers in investment banking, and one of the best worldwide.
Around a third of HKU Master of Accounting students stay on in Hong Kong after graduation. To help them land roles in the city's investment banking sector, HKU's career service provides guidance for students including one-to-one coaching, career development workshops, careers fairs, and guest speaker sessions with alumni and industry leaders.
"Our students receive strong career support to ensure a competitive advantage in the marketplace," says professor Wai Hui.
Students also have the opportunity to dive into Hong Kong's financial sector during full-time internship periods over the summer, or part-time alongside the course. Around a third of students took this opportunity and completed an internship this year.
---
Accountancy: Jobs for accounting graduates with the Big Four
Of course, enrolling in a Master of Accounting also opens up a range of opportunities in the accountancy sector.
The joint largest recruiting industry for MAcc grads, accounting firms including the Big Four of PwC, Deloitte, KPMG, and EY offer a variety of roles. These range from auditing and taxation, to analysis and accounting.
The HKU curriculum ensures students have the skills and expertise needed to excel in these careers.
The program begins with a boot camp, ensuring all students have the necessary economics and statistical analysis knowledge to complete the course. Then, core modules in Advanced Financial Accounting, Taxation Framework and Planning, and Auditing and Corporate Services prepare students for the plethora of roles available in the accountancy sector.
For those who are focused on accounting careers, the Managerial Decision Making and Corporate Governance stream offers management accounting expertise designed to prepare students for managerial accountancy and CFO roles. For the Financial Reporting and Valuation Stream, the final capstone course also offers a specialist track in Valuation and Fundamental Analysis where students can further develop their expertise in financial accounting.
The quality of the program is recognized by the Big Four, who are among the largest recruiters of graduates from the HKU Master of Accounting. Students are also supported in landing these roles by the program's strong connections with the industry.
"We have an exclusive partnership with the global accounting profession body ACCA, and KPMG," explains professor Wai Hui, "this offers students the chance to gain academic and practical knowledge within the industry."
---
While many students who enroll in a Master of Accounting look to pursue a career in the sector, your plan may change during the course of your degree, or you might decide to use your accountancy skills across industries after graduation.
Pursuing a top MAcc program ensures that whatever decision you come to when you leave the program, you'll have a wide range of options to choose from.
Related Content: