Thousands of people applied to The University of Hong Kong's Master of Science in Business Analytics program after its launch in 2017. They were whittled down to packed classes of first 70, then 180 students. This year, HKU expects to fill its class again.

Booming interest in data analytics is a global phenomenon with employers recruiting more data-savvy professionals into senior management roles.

Still, Master in Business Analytics degrees cost money, ranging from $20,000 to close to $100,000 for at top-ranked business schools. HKU's MSBA program is more affordable, at $42,000 (HK$330,000).

Is doing a Master's in Business Analytics worth it?
---
MSBA Salary
Despite the cost of an MSBA program, you can more than make up your investment after graduation. LinkedIn ranked data science as the most promising job in America in 2019, in terms of salary and career progress.
Across the world, the salary prospects for MSBA graduates are good. Dr. Jingqi Wang, program director of the MSc in Business Analytics at HKU, says he's seen recent grads earn as high as $6,500 per month in Hong Kong—that's $78,000 annually. Another graduate got offers from an international bank and a major technology company and a starting salary of $58,000 in mainland China.
Job and salary offers differ for candidates of different experience levels. HKU accepts both pre-experience and experienced students onto its MSBA.
The school says those without any prior work experience can expect to land jobs as business analysts, business consultants, social media analysts, market researchers, and decision analysts, after graduation.
Those with several years of work experience, can apply for higher-paying roles as business analytics managers or directors, market intelligence managers, senior consultants, and chief digital officers.
With several years' experience, people working in business analytics roles can expect to earn up $100,000-plus, not including bonuses. LinkedIn reports that US-based candidates earn median base salaries of $130,000.
---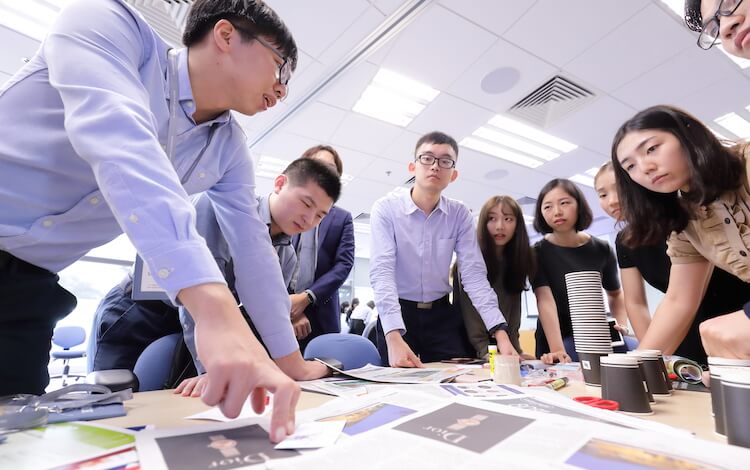 HKU students working on a team project

---
MSBA Employability
Unlike some other university degree programs, if you do an MSBA you're very likely to get a job after it. That's because employers today need more people who can both manage data and who understand business.
McKinsey's skills gap report highlights the need for more data-savvy professionals, but there's also a skills gap when it comes to softer skills, like teamwork and networking, crucial for careers in business.
"You have business undergrads and MBAs who know the business concepts but don't know how to do programming or handle data. You also have computer scientists who understand data, but not business. The MSBA gives you both skillsets," Jingqi explains.
"In China, and globally, more and more companies are looking for talent who can fill this gap."
Students on Masters in Business Analytics programs therefore go through a range of courses in statistics, decision models, business intelligence and analytics, and learn programming languages like Python and R, combined with courses on business fundamentals like marketing and finance.
MSBA students at HKU conclude their one-year program with a real-world business analytics project, working in teams to solve business challenges faced by companies in Hong Kong and Mainland China.
---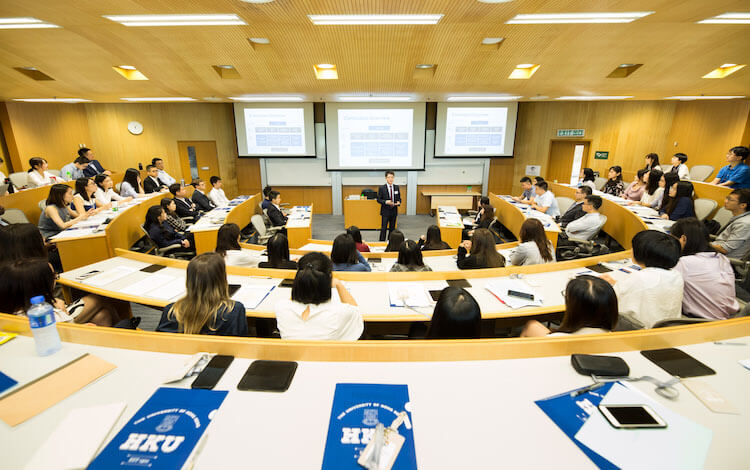 HKU classroom environment
---
MSBA vs Online courses
Of course, you can now study analytics and coding online using platforms like Udemy and Coursera, and often for free. So why pay to do it at business school?
While you can get the knowledge from online courses, employers recruit on-campus from business schools. Degrees are widely recognized by employers, and accredited, while online courses are not.
In fact, in the US for example, PwC found that more than a third of data science roles require a master's degree or a higher qualification.
There are other clear benefits too. "It's about the campus experience," Jingqi explains. "If you just take a course online you won't have access to campus and careers support; you won't get to meet your classmates and expert faculty members.
"The business school network is a big plus. Even in the long-run when you want to get another job, you have that network to fall back on."
---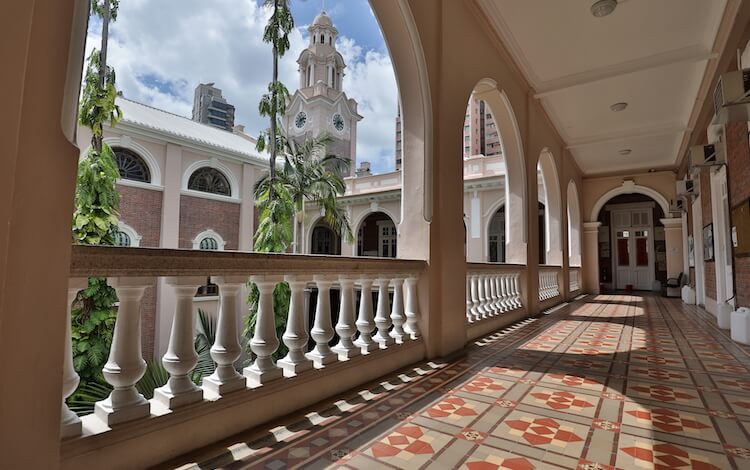 HKU campus in Hong Kong

---
So, is it worth it?
MSBA degrees offer significant returns on your investment. Schools also offer scholarships to subsidize the initial costs. Unlike MBA degrees, MSBA programs mostly don't require prior experience to apply.
Candidates to HKU's MSBA, for example, need only have a recognized bachelor's degree in any subject, references, and English language proficiency. A GMAT or GRE score is not required, although favorably considered. The deadline for applications to the September 2020 program is April 3rd.
While in the past business mangers relied on their experience and instinct to make decisions, now they use data.
You can work in business and in analytics without doing a Master's in Business Analytics, but if you want to advance your career quickly and qualify for the best jobs, pursuing an MSBA degree is worth it.
Related Content: