As digital transformation sweeps across the business world, there's a growing need for business leaders who can understand artificial intelligence (AI) and interpret big data to make smart and informed business decisions.

Learning about data analytics and AI alongside business management with an online master's degree can provide you with a blended skillset of generalist and specialist skills, enabling you to navigate the challenges companies are facing in a rapidly digitalized world.

Here are the top AI & data skills you'll learn on an online master's in data analytics.
---
1. How to apply artificial intelligence techniques
If you're someone who knows their way around artificial intelligence, you're likely to be in high demand when you graduate from a master's in data analytics.
"The business world is evolving so fast that the needs in a few years will be very different from those of today," says Tristan-Pierre Maury (pictured), academic director of the Online Master of Science (MSc) in Data Management and Business Analytics at EDHEC Online, part of EDHEC Business School.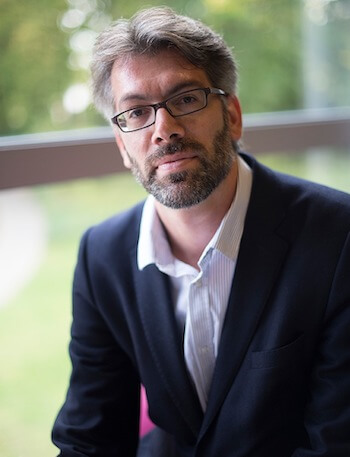 "Only knowledge mixing the technical aspects of AI with interpretative analysis can provide this flexibility and ability to adapt to future developments."
On EDHEC's 18-month Online MSc in Data Management and Business Analytics, students learn about the most recent AI developments in the business world, such as algorithms and predictive modelling, and how to develop and analyze AI models using platforms like IBM's Watson Studio.
Since you'll be studying the data analytics degree online, you'll be able to apply these skills to your career as you move through the course, sharpening your skillset as you go by attending virtual quizzes and classes and completing case studies via EDHEC's Online Campus.
---
2. How to analyze data
If you're a business leader who can interpret data, you'll be able to make more informed and strategic business decisions that are likely to reap success for an organization.
"Managing teams as employees' needs change, forecasting sales as customers change, and running relevant marketing campaigns as markets change are all much more challenging tasks than before," notes Tristan.
Big data and AI are now revolutionizing how businesses work, offering a solution to many of these complex tasks by automating processes and making data patterns easier to track.
EDHEC's online master's in data analytics educates students on how to leverage big data to make better decisions through elective courses—covering things like representing and manipulating data—which students can learn at their own pace.
Students can choose to study a track in financial analytics, where they learn about big data and risk analytics, as well as finance and Python. They can also opt for a track in business analytics, where they study supply chain analytics and customer intelligence, depending on their area of interest.
---
3. How to apply sharp strategic foresight
In a business world undergoing rapid digitalization, you'll need to strategize when and where you can use disruptive digital tools to improve business processes.
"An advanced knowledge of AI techniques is insufficient if it does not serve a concrete business or if it does not have a tangible application. A forecasting model or an algorithm, no matter how sophisticated, is useless if it's not integrated within a managerial or strategic framework," explains Tristan.
Many disruptive digital tools don't replace strategy, finance, or accounting, but enrich them. That important distinction is something students learn about on EDHEC's Online MSc in Data Management and Business Analytics.
In the online consulting project, students work remotely to strategize a solution to a real-world problem that one of EDHEC's 100 corporate partners is facing. That could be related to electives in machine learning in R, or deep learning in Python.
To solve the issue requires students to have developed a solid grounding in these digital tools, as well as the ability to consider the broader impact or potential issues that could arise from their implementation. Online masters in analytics, such as EDHEC's MSc program, will teach students all of these skills and more.
---
4. How to pivot between managerial and technical skills
Knowing the ins and outs of every digital tool is valuable, but if you're looking to enter a high-flying career as a chief technology officer (CTO) or chief data officer (CDO), you'll need to gain strong managerial skills to lead your teams through digital transformation.
"Any data scientist must have skills beyond the sole field of data to put their results into perspective, to make them concrete and usable," says Tristan.
EDHEC's online diploma offers courses in managing innovation and data analytics for managers, ensuring graduates leave the program with a strong set of AI and big data skills, and knowing how to interpret and manage complex digital tools.
An online master's in data analytics doesn't just teach you generalist managerial skills and specialist technical skills. Studying for an online master's in business will also teach you how to work effectively and independently in a remote environment, which will stand you in good stead for a strong career beyond today.
Related Content: