If you're a recent college graduate aiming for a career in data science, or a young working professional looking to advance your career, you should consider a Master in Data Analytics.
A data analytics degree will teach you to use data to solve business problems and make data-led decisions. It can also help launch your career in a variety of different industries.
So, is a Master in Data Analytics the right fit for you?
---
Who studies a Master in Data Analytics?
Masters in Data Analytics are highly quantitative degrees, requiring either academic or professional experience in a data-related field.
An undergraduate degree that proves you have some understanding of probability and statistics is preferred. These include computer science, statistics, physics, engineering, economics, and math. Most data analytics masters require transcripts of higher education and a 3.0 GPA or above.
However, if you don't have a degree, but have a few years of relevant experience in a data-related field, you can still apply.
---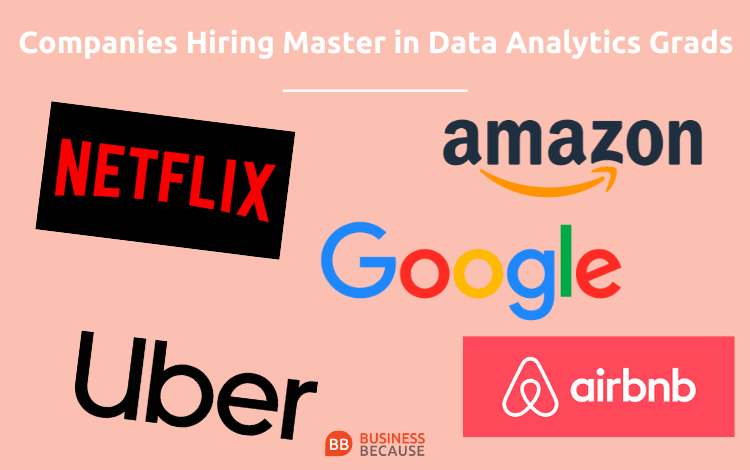 ---
What is on the Master in Data Analytics syllabus?
A Master in Data Analytics typically covers core courses in areas like business intelligence, computer science, and programming. Often the curriculum includes cutting-edge tools like Java, Python, and Hadoop.
For example, the MS in Data Analytics at George Washington University in the US offers a choice of two tracks: Computer Science, or Engineering Management & Systems Engineering.
Students on the Computer Science track learn modules like Cybersecurity and Privacy, Introduction to Computer Systems, Software Engineering, and Database Management Systems.
If you're on the Engineering Management & Systems Engineering track, modules include The Management of Technical Organizations, Engineering Law, Entrepreneurship and Technology, and Marketing of Technology.
In the UK, Queen Mary University of London's Master in Data Analytics degree has compulsory modules in Machine Learning with Python, Manipulating and Visualising Data, and Probability and Statistics for Data Analytics. You can also take electives in SAS for Business Intelligence, Computational Science with R, and Optimization for Business Processes.
This highly technical emphasis is supplemented with practical teaching, allowing you to apply your skills to real business cases.
The University of Chicago's MS in Analytics, for example. features a practical capstone project which occurs throughout the entire program. The project sees teams of three classmates assigned to tackle a real-world company issue, working to resolve the problem using skills they've learnt during their Data Analytics degree.
The combination of advanced, technical teaching, along with practical experience means you should be prepared to use data to take business decisions after graduation.
---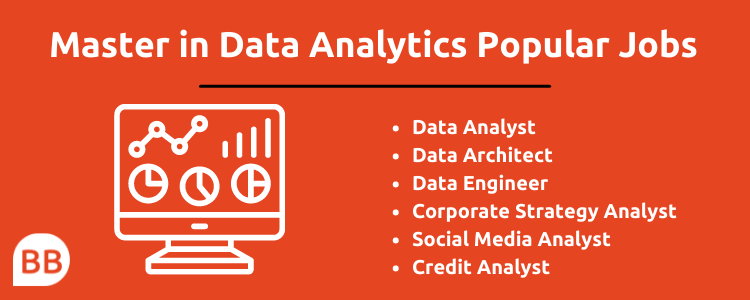 ---
What are some popular Master in Data Analytics jobs?
Job opportunities are virtually limitless after graduating from a Master in Data Analytics, as data analytics can be applied to almost every industry, from cybersecurity to retail.
Top technology recruiters like Meta (formerly known as Facebook), Google, and Amazon are constantly on the lookout for data analysts, data architects, and data engineers.
You can also land roles in other top sectors like finance. Investment banks, hedge funds, and private equity boutiques all hire data analytics graduates for roles such as corporate strategy analyst, budget analyst, or credit analyst.
You could even launch a marketing career, working as a social media data analyst, or a business product analyst.
---
What is the average graduate Master in Data Analytics salary?
The average data analyst salary in the US is around $60,000, while the average salary for a senior analyst is $80,000, according to PayScale. Data scientists earn the most at just under $100,000 on average.
Working at one of the highest paying employers of data scientists, such as Airbnb, can see you earn an average salary of $223,000. Netflix pays its data scientists $222,000 per year on average, and data scientists at Uber earn around $206,000 on average.
Ultimately, the salary you earn after graduating from a Master in Finance depends on the industry you choose. If you're working in finance, chances are you'll be earning more than someone who works as a data analyst in the marketing industry.
---
If you like solving real-world issues with data, then you should consider a Master in Data Analytics. But if you have little or no professional experience in data analytics, then make sure that you have some background knowledge of computer science, maths, or physics before you apply.
Enrolling in a data analytics degree will unlock higher earning potential and can help you make the jump to a career in consulting, finance, technology, or marketing. Masters in Data Analytics tend to be less expensive than other business masters like MBAs, so if you pick the right industry you could see a stronger return on your investment.
---
Next Read:
Why Is Data Analytics An Essential Skill For Masters Students?
Please Enter the Code Below