It's no secret that the world of finance is male dominated, particularly in the most influential leadership positions.

In the US, women hold 54% of jobs in the financial services industry, according to the women's charity Catalyst. But c-suite positions remain predominantly occupied by men. Globally, 12% of CFO roles are held by women. Within private equity, venture capital, and hedge funds, 13% of CEOs are women.

Driving change in the industry is the Master of Science in Global Finance from HKUST and NYU Stern (MSGF). On average, 30% of the class are women, and graduates go on to work at financial giants such as Bloomberg, JP Morgan Chase, and Goldman Sachs.

We spoke to two women for whom the MSGF was an important stepping stone into a career in finance.
---
Anele Makhwaza – launching a green finance business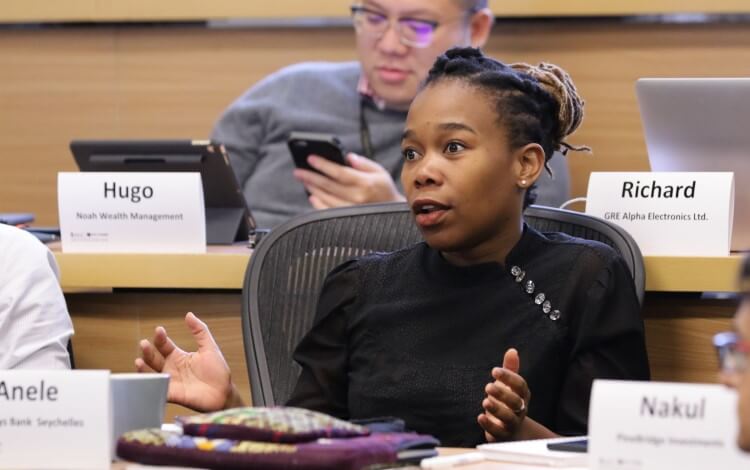 Anele Makhwaza took the HKUST-NYU Stern Master of Science in Global Finance
---
Anele Makhwaza joined South African company Absa in 2010, which merged to form Barclays Africa—at the time, the largest financial services company in Africa. Having worked across the continent by her late 20s, leading capital and investment banking from Tanzania to the Seychelles, Anele felt she had achieved her career ambitions.
Anele had known she wanted to continue her education, but until this point had not been able to fit it around her career. But one day, coming back from the beach in the Seychelles, she came across the MSGF, and now seemed like the perfect opportunity to start a new chapter.
"I had confidence in the experience that had led me to being the only, and youngest, female treasurer for Barclays Africa, but I knew to add more as an executive I needed a higher qualification," Anele says. "Once on the program, the actual value far surpassed any expectations I had."
For Anele, studying with peers who had specialized financial backgrounds set it apart from other more general qualifications.
"My peers on the MSGF were deep finance experts, with different areas of specialization, from all over the world," Anele explains. "It made for a stretching and growing experience."
The relationships she built proved to be invaluable, and after 18 months, she would have her own business, Igugu Global—a green finance deal room structuring and tagging green assets in Nigeria.
"The MSGF program was a huge part of forming Igugu," Anele says. Before the program, she wanted to align and leverage capital markets to increase sustainability in the global economy. But on the MSGF she was introduced to green bonds and finance, which would ultimately lead to kickstarting Igugu.
Anele has embraced the challenges of entrepreneurship. "The response has been overwhelming, it's a very exciting time," she says. Acutely aware of the impact green finance will have, she is keen for Igugu to be at the forefront of that change in developing markets.
---
Lara Sif Hrafnkelsdottir – opening global opportunities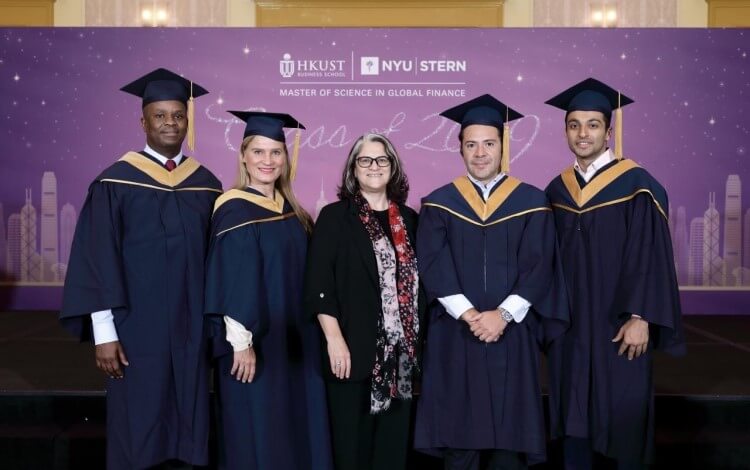 Lara (second from left) graduating from the Master's in Global Finance program from HKUST-NYU Stern
---
Lara Sif Hrafnkelsdottir had 15 years' experience in private equity before enrolling on the MSGF program. Rising to director and COO/CFO of Valens-Laurus Capital Management in New York—a family of funds with assets of over $2 billion at one point—she has already built a successful career in finance.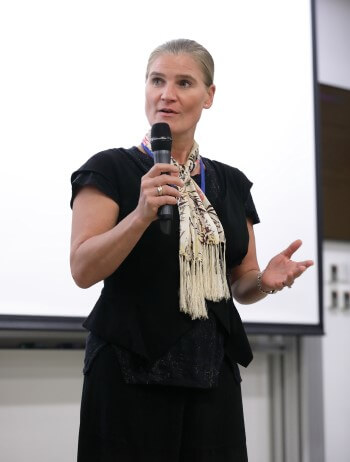 The fund has been winding down, and in 2018 she made the decision to undertake the master's program. So why did an experienced CFO choose to do a master's?
"Firstly, I am a firm believer that continued learning is vital for meeting the ever changing complexities and uncertainties of global financial markets," Lara says. "I was excited to broaden my horizons and understand global dynamics."
For Lara, the program has widened her global outlook. It's an important lesson for Lara to take her career forward.
"The MSGF sharpened my financial tactical skills," Lara says, "I'm more up to date on global markets and, particularly, exposure to Asian markets."
Classes take students around to the financial capitals of the world, like Shanghai, New York, and Hong Kong. It bolsters the programs reputation, Lara believes, while simultaneously highlighting the interaction and relationship between these centers.
Lara will remain director and COO/CFO at the hedge fund while it winds down. But as she enters a transitional period in her career, Lara feels that the MSGF has sharpened her skills for the next step in her career.
"I gained a lot from the combination of both case-based practical learning and academic teaching." Lara says, "The program has made a big impact on the way I view and understand the global financial world and its connectivity."
During her financial career, Lara has been acutely aware of being the only woman in the room. Although the move towards gender equality in the world of finance has been slow, programs like the MSGF are changing the dynamic.
"I was so pleased and impressed that I was working with so many female financial executives on the program," Lara explains, "it was not only that I expanded my professional global network, I made lifelong friendships, too."
Related Content: