While a Master in Finance degree is usually the playground of accountants, advisers, and bankers, this lawyer thinks having a good knowledge of finance can help you in just about any career.
Wincen Santoso had already completed law degrees in Indonesia and the United States when he decided to go back to school to study a Master in Finance.
As a lawyer specializing in corporate mergers, acquisitions, and restructurings, much of his work dealt with the financial world, and Wincen felt some financial training would help further his career.
He enrolled in the HKUST-NYU Stern MS in Global Finance (MSGF), a globally focused program taught in New York, Hong Kong, and Shanghai, as he sought to develop into an expert in finance, as well as the law.
---
Why a Master in Finance?
Wincen began his legal career as an associate in a firm in Jakarta in 2009, during the final year of his law degree at University of Indonesia. He specialized in bankruptcy and restructuring cases, before opting to return to education in 2014, enrolling in a masters in law program in California.
Moving from Jakarta to California was one of the many life changing decisions Wincen has made during his career. He made another move after finishing his masters, when he decided to move to Singapore.
"I wanted to do more work in international law, so I moved to Singapore to work for international law firms there," he says.
The international focus of his roles at law firms O'Melveny & Myers and DLA Piper in Singapore saw Wincen focused on corporate work, and his cases usually had a financial slant.
"In restructuring and bankruptcy there are a lot of intersections with finance," he says, "I got the opportunity to see a lot of the financial world and understand a lot of financial issues."
Much of his work was done alongside financial advisers, who presented advice on financial issues where he advised on the legal aspects. "I thought having financial knowledge would benefit my career, and would also be helpful for my clients because they would benefit from having both legal and financial advice," he says.
At first Wincen was hesitant about enrolling in a finance degree because of his lack of financial training. He studied a part time Chartered Financial Analyst (CFA) certificate first, proving to himself that finance was a topic he was interested in and he could be passionate about.
The main advantage of the MSGF was the flexible design of the part-time course, which would allow him to continue working.
The MSGF is taught over one year, with 40 days of content split into blocks of five-to-10 days, taking advantage of the weekends as class days in each module. This meant Wincen would only have to take one week off work for each block.
"It's very challenging for me to get two weeks off at a time, so the scheduling was a much better fit for me than other courses," he explains.
---
HKUST-NYU MS in Global Finance | Program Highlights
With modules taught in the US and Asia, the MSGF offers a varied experience alongside its financial training.
The course begins with fundamentals like corporate finance and investment principles, before moving onto more complex topics like fixed income and derivatives. It is also kept up to date with the latest trends, with modules in fintech and behavioral finance added in recent years.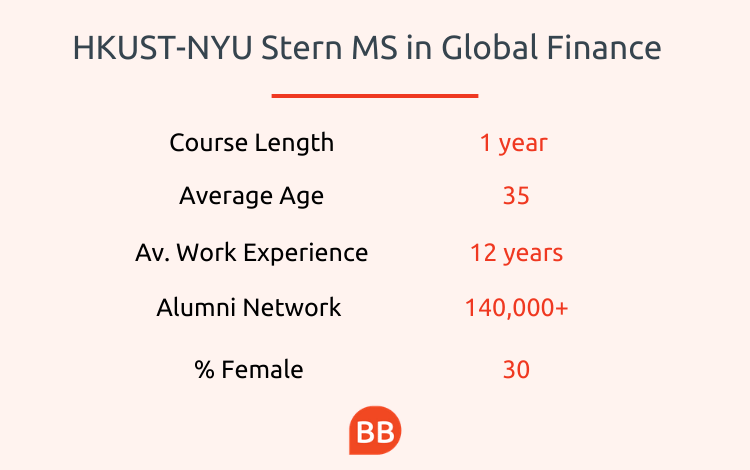 "The structure meant as long as you had a basic understanding of finance you would be able to follow and learn from the professors," Wincen says.
Not having any real financial training in the past, Wincen found this structure helpful, as was the quality of teaching and level of help offered by faculty in the course. Teachers add to their core curriculum with reading from respected financial publications over the last 20 years.
"It meant what we learned wasn't just the theoretical aspect but also what was happening in the world, so that was really helpful," Wincen reflects.
One particular highlight was a module on fixed income and derivatives taught by Professor Menachem Brenner, an expert in financial markets and the developer of the VIX volatility index.
MSGF students also take part in a year-long module called the Integrative Project. This requires them to work in small teams to create a presentation on a topic of their choice to give to a panel of faculty members.
Wincen's team included people from Asia, Europe and the US, all with different employment backgrounds. He found the experience of working in a group as rewarding as the module content itself.
"It was a good networking opportunity but we could also earn from each other because we came from very diverse backgrounds," he says.
---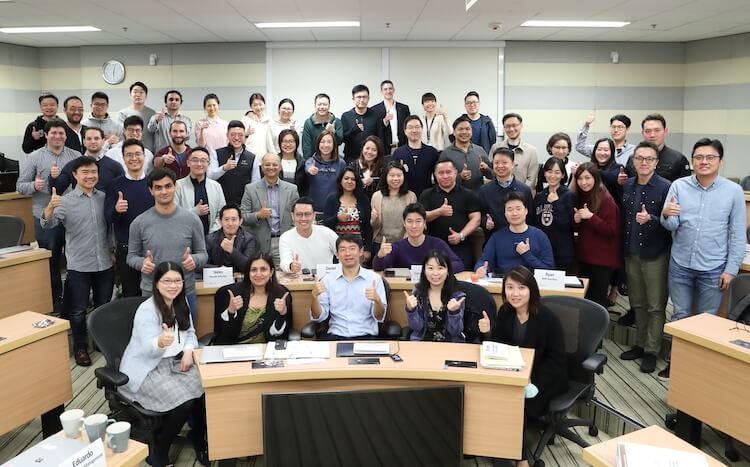 Wincen with the HKUST-NYU MS in Global Finance class
---
Career benefits of a Master in Finance
Wincen's time on the MSGF has been disrupted by the coronavirus pandemic, and he has had to postpone his two remaining modules until later in the year, but he can see the benefits of the program already.
"Because I serve the business community, by being able to speak their language, understand what they are doing and get to know their business, I have a selling point that other lawyers don't," he says.
"Clients prefer someone who can understand their industry, so by understanding all these financial aspects it is more likely that clients will stick with me because of the value I can give them."
Having an understanding of finance has also given Wincen confidence outside of his work. With finance an important part of everyone's lives, he believes his training puts him in a good position for the future.
"In the next 30 to 40 years I could face a lot of financial issues," he says. "Finance is around us every day, and it will continue to be, so having these skills will be very important for me in the future."
Related Content: