Like finance, healthcare, and many other industries, real estate is going through a digital revolution.

Proptech, or property technology, refers to the use of technology throughout the sector, in any area from transactions to building design. Real estate companies who use technology in their service offerings—apps like Zoopla and Airbnb for example—are classed as proptech.

Investments in proptech rose by more than 300% between the first half of 2018 and 2019, and there were more than 100 high-potential proptech startups operating around the world in 2020.

Rainie Pan joined the industry when she was appointed managing director of the Hong Kong PropTech Association, after graduating from the HKUST-NYU Stern Master of Science in Global Finance. Now she's looking to grow Hong Kong's emerging proptech sector.
---
Why a master in finance?
As a Shanghai native who studied her undergraduate degree in the US and began her career in New York, the MSGF instantly stood out to Rainie. The program is delivered through seven modules taught in Shanghai, New York, and Hong Kong, where she had been living for seven years.
"There was an element of missing New York," she says. "The program also had a good balance of a regional Asian and international mixture."
Rainie was also drawn to the MSGF's curriculum, which combines fundamental elements of finance like fixed income instruments and derivatives with modules in business and strategic decision making.
While her career so far had been focused in finance, she felt a less technical and more broad curriculum would provide more flexibility after graduation.
As a dual institution program, MSGF students also become part of both NYU Stern and HKUST alumni networks, comprising almost 140,000 people around the world. As an executive level program, cohorts are also often made up of high level individuals from the finance sector.
"After coming back to Asia for seven years I felt like it would be good exposure to expand my network with a top league Asian business school," she explains.
"It would be good to have a strong alumni network and meet interesting new people and make friends."
---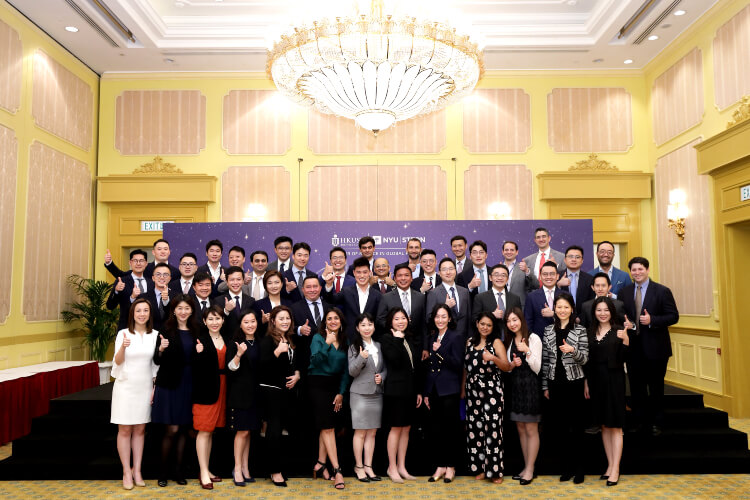 ---
HKUST-NYU Stern MSGF | Course Highlights
Rainie's expectations of developing interesting and diverse connections were not disappointed, and she describes the networking opportunities with her cohort as a particular highlight of the course.
"After almost a decade in finance it was a treasure to meet people outside of the industry," she says. "We had a very international mix with diverse backgrounds and diverse thoughts so it stimulated a lot of interesting discussions."
Rainie's class consisted of professionals with 14 citizenships from nine locations around the world, including China, Hong Kong, Singapore, South Korea, the US, and more. The average work experience among students was 11 years, from a wide range of fields like banking, hedge funds, private equity, compliance, risk management, and FinTech.
She got to work closely alongside members of her diverse cohort during the Integrative Project Group Presentation, the exciting climax to the program which requires students to work in teams creating projects on topics of their choice, before presenting their projects to a panel of faculty.
Here MSGF students combine all of the skills they pick up during the course, while drawing on their understanding of financial markets and banking. The diverse nature of working in groups means teams often produce projects on a wide range of topics, and students are introduced to areas they may not have been experienced in before.
Rainie chose to work with a team looking at real estate as an asset class, a new area where she had limited knowledge. This work would go on to spark her interest in property as an asset class and steer her towards her eventual career in proptech.
"It was a good experience to actually get into a field where you have other peers who have more knowledge than you and you can learn from each other," she says.
"That's how I realised this is an area that I am personally interested in and I am prepared to devote time to explore it further."
The MSGF team also invites industry professionals to deliver guest lectures and attend networking events, giving students further opportunity to expand their network. Rainie found some of the most beneficial connections she made were with faculty.
"A lot of the professors and mentors at the school are very supportive in terms of one-to-one conversations and will offer you their thoughts on things," she says.
---
Bringing proptech to Hong Kong
After discovering an interest in the property sector, Rainie saw potential for integration with technology in a similar way to the combination of finance and technology in the fintech industry, which she had experienced during her time working with ETFs.
Technology has both disrupted and enabled the finance sector, and Hong Kong has a flourishing fintech scene. Rainie thought this could be effectively replicated in property.
Since graduating, she has taken on a role as managing director of the Hong Kong PropTech Association. The association is working to develop a collaborative proptech ecosystem in Hong Kong, bringing investors, institutions, startups, and technology providers together.
In a newly emerging sector, Rainie has big plans for the association. "We hope to be the flagship association in Hong Kong that focuses on property and tech and want Hong Kong to be a global hub, not only of finance, but of property and real estate technology."
In her role she oversees general day-to-day management matters, working closely alongside four other founding members of the association who are HKUST alumni.
Recognizing the influence the program had on securing her role in proptech, she says "I got to meet new people and understand more about my own passion."
Related Content: