Italy's Bocconi University is launching a new department of computer science this year, to help further integrate technology into the teaching and delivery of its business master's programs.

The new department, explains Stefano Caselli, vice-rector for international affairs, is just the latest in a long line of initiatives designed to boost the employability of Bocconi grads.

At Bocconi, over 95% of students from the flagship Master in International Management and Master in Finance programs land new jobs within a year of graduation, and around 75-to-80% by their graduation day.

Top companies including Deloitte, Goldman Sachs, JP Morgan, McKinsey, and PwC recruit on campus, and Bocconi master's students can expect to earn average salaries of between $80,000 and $115,000 three years after graduation.

To stand out in the jobs market today, Stefano says employers prefer graduates with master's degrees, who have time to explore complex topics in more detail, master the fundamentals of management, and better prepare themselves for a rapidly changing working world.
---
VIDEO: From a Bocconi Master in Management to a luxury fashion career
---
---
The master's degree advantage
While the jobs market stalled after first wave of pandemic in 2020, demand for graduates from management programs has returned to pre-pandemic levels, according to the Graduate Management Admission Council's (GMAC) Corporate Recruiters Survey.
92% of global recruiters project demand for business school graduates to either increase or remain stable over the next year.
According to GMAC, employers value graduate management talent for their leadership, decision making and interpersonal skills, and master's graduates tend to be fast-tracked to upper-level positions in their organizations.
In fact, despite the pandemic, the jobs market has remained strong for Bocconi graduates, especially in finance, consulting, traditional corporates, and the public sector.
"That area is sparkling and, with the Covid recovery plan, governments are looking to recruit talent from the best universities in Europe," Stefano explains.
"Even in 2020, because of our close relationships with top recruiters in Europe, recruiting didn't stop; companies overall remained open to recruiting our talent," he continues.
In this complex climate, employers especially value candidates with master's degrees, Stefano says. "They want hires who are more plug-and-play; who have more experiences and are ready to face the challenges of the jobs market."
---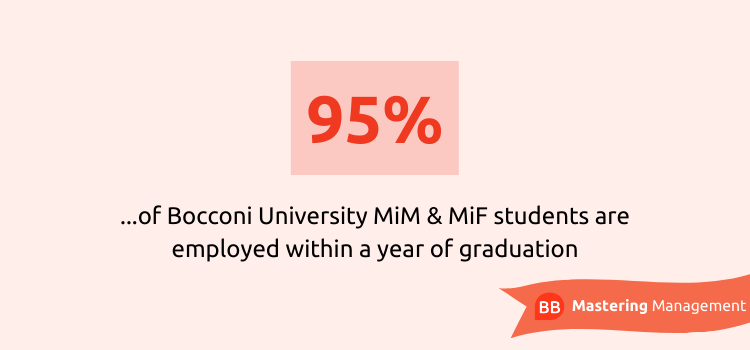 ---
Connecting with top employers
Just gaining access to top employers is easier as a business master's student. Twice a year, the Bocconi&Jobs fair gives students the chance to connect directly with recruiters from a range of industries who come to campus to look for talent.
Bocconi also hosts smaller sector-specific fairs, both virtually and in-person, for students interested in careers in investment banking, technology, or fashion, for example.
Students have all the support of the career services—with resume workshops, interview preparation, and advice on personal branding—and an internship is built into every business master's program.
At the same time, the school works hard on the employer side, Stefano explains. "We help them to recruit, to find certain students with certain profiles, and we invite them to present at Bocconi to introduce their offering and their different career paths."
Brand is also a factor helping master's grads from schools like Bocconi become more employable. Bocconi's Master in Finance (MiF) and Master in Management (MiM) programs are ranked the best in Italy and 10th and 12th globally by QS. In the prestigious Financial Times rankings, Bocconi's MiM ranks 16th globally while the MiF ranks 9th.
---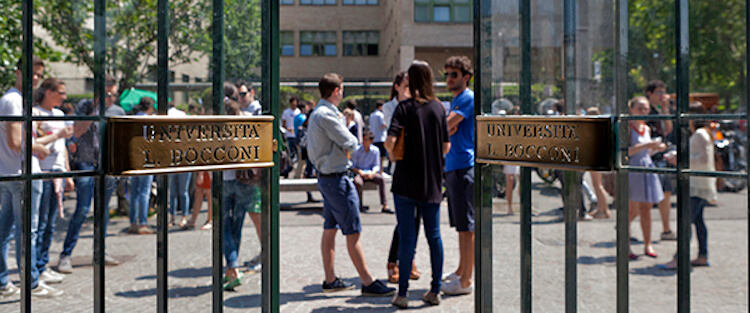 ---
Why Bocconi?
Stefano puts Bocconi's rankings success down to the school's strong placement rate and high graduate salaries as well as the quality of the faculty and the students themselves.
The selection process for Bocconi's master's programs is rigorous, he points out; the idea is to provide students with a high quality classmates who will then become a high-quality professional network in the future.
To apply for Bocconi's two-year master's programs—including the MiF, MiM, and various specialized master's degrees covering accounting, marketing, business analytics, and cyber security—you'll need to submit a GMAT or GRE score, proof of English language proficiency, and have a bachelor's degree from a recognized university.
"A master of science at Bocconi is not easy. You interact with top professors; you do an internship. Bocconi is for open-minded people; for students who want to challenge themselves," Stefano explains.
The vast majority of Bocconi students are now back on campus, with some blended learning. While the pandemic was a challenge, Stefano says some of what has been learned will continue post-Covid.
Recruiting is now done both in-person and virtually. As well as traditional international exchanges, Bocconi students can also take virtual exchanges via the European Common Online Learning (ECOL) network, choosing to pursue online courses offered by a host of top-ranked partner business schools.
Going forward, Stefano predicts business schools will see more blending of, not only the delivery model of programs, but what is learned. Topics such as computer science, geopolitics, and medicine, for example, will be integrated into the teaching of business master's programs.
After all, it's what employers are looking for. "You'll struggle to find a job in marketing or finance now if you don't have the fundamentals of computer science." Everything at Bocconi, Stefano says, is focused on ensuring graduates are in the best place to land the best jobs.
"Bocconi master's degrees present a real bridge to the business world in Europe and globally," he says.
"If you enter Bocconi, you remain a Bocconiano forever. This strong sense of community means that, even 20 years after graduation, you'll meet an employer and you'll discover that they're also a Bocconi alum."
Related Content: