If you want to build the skills and connections needed to kick-start a managerial career, studying a Master in Management (MiM) is a popular option.

This one-to-two year program is aimed at recent graduates, covering the fundamentals of business while helping you connect with future employers and build the basis of a strong professional network. According to GMAC data, applications to Master in Management programs grew by 17.8% in 2020.

But enrolling in a Master in Management is a significant investment. Top programs like the HEC Paris MiM will set you back $50k in tuition fees, and you'll also have to delay launching your career for your studies.

With such a big investment of time, effort, and money on the line, is a Master in Management worth it?
---
Master in Management tuition
You can expect to pay between $30,000 and $50,000 for a highly ranked MiM program.
Most of these top-ranked programs are based in Europe—at schools like HEC Paris, the University of St Gallen, and London Business School—but you can find a good quality degree virtually anywhere.
Today, several top programs can be found in the US, at institutions like Hult International Business School, and Duke University's Fuqua School of Business.
At Hult, MiM tuition costs $48,000, while Fuqua's program costs $57,500.
Meanwhile, programs in Asia tend to be more affordable. Tsinghua University's MiM, ranked by the Financial Times as the best program in Asia, costs around $30,000 for international students.
Wherever you choose to study, it's important to bear in mind that most schools offer scholarship opportunities that can dramatically reduce your tuition fees. For instance, London Business School offers MiM scholarships for women in business, future leaders, and students who've demonstrated academic merit.
---
Download our Master in Management Guide 2022
---
Master in Management salaries
As well as a broad range of career options, Master in Management grads can also expect to earn large salaries and see a strong return on their financial investment.
According to the Graduate Management Admission Council's (GMAC) 2021 Corporate Recruiters' Survey, the median salary for MiM graduates currently sits at $55,000.
If you graduate from a top-ranked program, this can be much higher. According to Financial Times data, graduates from the Indian Institute of Management Ahmedabad achieve an average weighted salary of $139,978. That's a 42% increase compared to their pre-MiM salaries.
In Europe, recent alumni from top programs can also command these six-figure salaries. HEC Paris MiM graduates earn an average of $114,357, while London Business School graduates can expect an average of $100,789.
A few years after graduation, you can also expect a salary boost. Among the Financial Times' top 50 MiM programs, salaries range from around $62k to $140k three years after graduation.
---
---
Master in Management jobs
Because it's a generalist degree, a MiM can act as a gateway to a wide range of career paths. Some of the most popular industries for MiM graduates include finance, tech, and consulting.
With a MiM, you'll also be well-positioned to join some of the world's leading companies. For example, graduates from the University of St Gallen Master's in Strategy and International Management (SIM)—ranked as the world's best MiM by the Financial Times in 2021—go on to join employers like Bain and Company, Google, Deloitte, Credit Suisse, and gsk.
Equally, there are ample opportunities for MiM grads outside of Europe. After completing the MiM program at China's Tsinghua University, 41.9% of students enter consulting roles, and 32.6% land jobs in media, tech, and telecommunications.
In the US, consulting and tech are also popular industries. Among grads from Hult International Business School, which has US campuses in San Francisco and New York, 8% go into consulting, 16% into tech, and 19% into financial services. Other popular industries include consumer goods and entrepreneurship.
---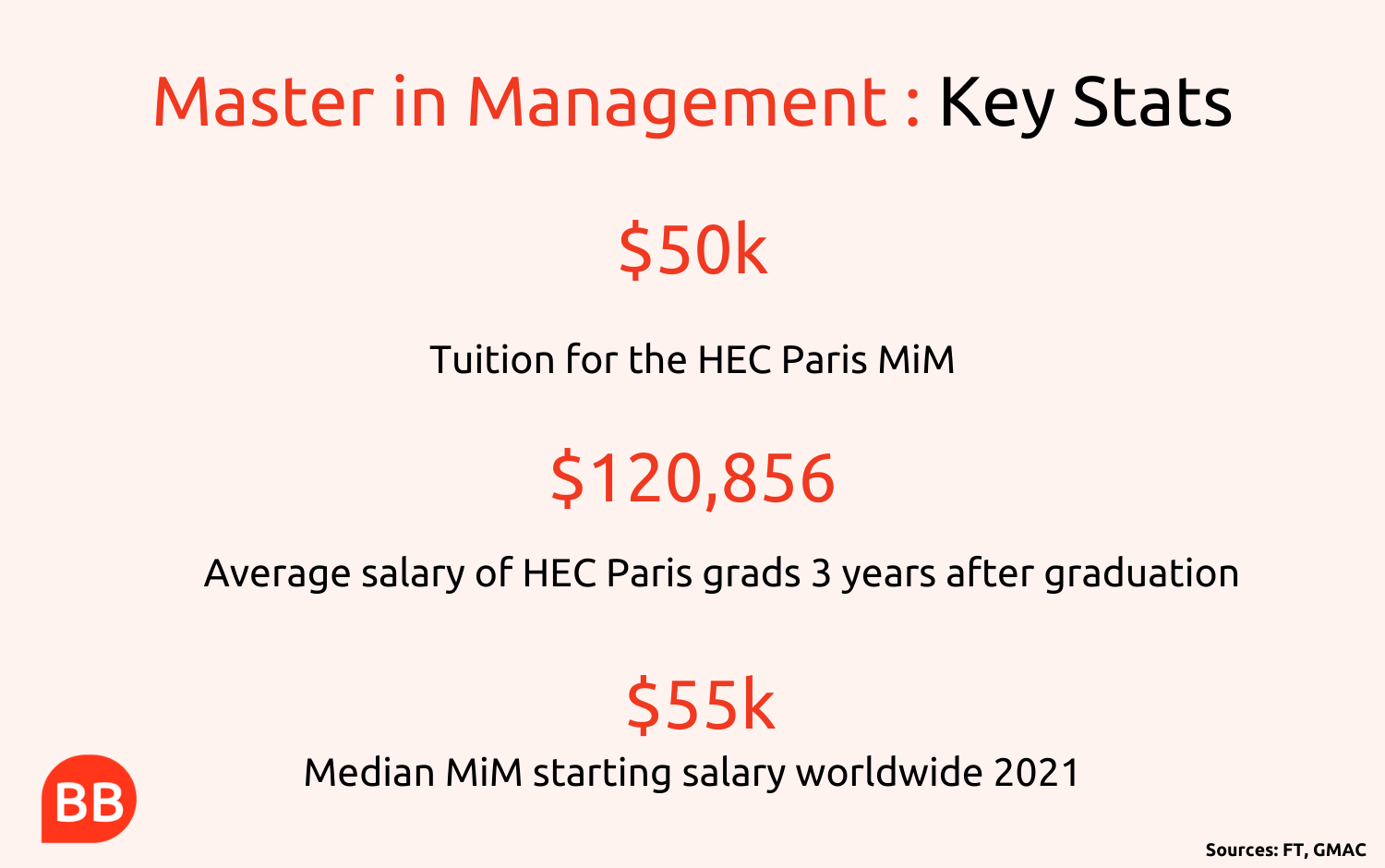 ---
MiM success stories
After graduating from the Durham University Business School MiM in 2017, Adeseye Lawal-Solarin leveraged what he learned to launch Mentor Dojo—a social enterprise connecting underprivileged young people with career mentors. During the program, a module in new venture creation challenged him to lay the foundations for a startup.
"The experience gave me a strong grasp of the business model canvas, including value proposition, branding, funding, and marketing," he explains.
Because of its broad curriculum, a Master in Management opens the door to a wide range of careers.
That's exactly what happened for psychology grad Sahar Taher, who landed a role with EY's People Advisory Services group after an MSc in Management at John Molson School of Business.
The program introduced her to consulting as a career path, and she found it gelled surprisingly well with her psychology background.
"It's all about listening, understanding where someone is coming from, and finding a way to creatively solve problems," she says.
Olga Katenko proved that a Master in Management can also be a strong gateway into tech. After graduating from the SIM at St Gallen University, she landed a supply chain role with Apple in Singapore.
"If I didn't study the SIM, I wouldn't be where I am now, and I'm really grateful for the opportunities it opened up," she reflects.
---

If you want to build a solid grounding in business that can set you up for long-term success in a variety of industries, a Master in Management is worth the investment.
Although you'll have to take a year out of the workforce, you can develop your business acumen, grow a strong international network, receive career advice, and connect with recruiters.
The strong salaries that MiM grads command also mean you'll be able to recoup your financial investment in a relatively short period—particularly if you make sure to explore the scholarship opportunities open to you before applying. Although the MiM has its roots in Europe, you can also find strong programs around the world.

---
Download our Master in Management Guide 2022