Want to launch a global career, travelling between the world's business hubs and working with people from the US, Europe, and Asia?

By studying a Master in Global Management, you'll get the chance to meet a diverse range of people and experience new cultures, all while developing the management skills needed to lead and influence teams.

It can be the launchpad to a successful international career. Global management grads are hired across a range of industries worldwide, including the lucrative and popular sectors of consulting, finance, and tech.

Here are three ways studying a Master in Global Management can kickstart your career.
---
1. You'll experience new cultures
While a typical management master's teaches core management theory and offers practical opportunities for you to develop your skills, a Master in Global Management goes one step further by placing this management focus within a global context.
You'll still learn about the fundamentals of business and management, but you'll also draw on the context of managing across borders, dealing with different cultures, and learning alternative business practices.
The HKU Master in Global Management (MGM), for example, features a range of core modules focused on cross-cultural business, including Dynamics of Multinational Corporations, and Global Management from Economic Perspectives.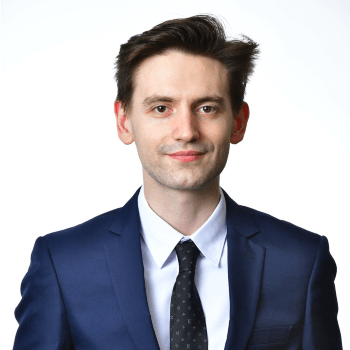 Students can also choose four elective modules from a variety of options, each containing a unique global focus. Modules include International Human Resource Management, Reinventing Management in Global Capitalism, and Strategy in the Digital World.
For students looking to further develop their understanding of a specific business culture, modules specializing in European and Chinese business environments are available. There's also the opportunity to undertake internships to get hands-on experience working across these cultures.
Florian Duarte (pictured), a graduate of the class of 2021, secured an internship with financial consulting firm, Fidinam Group Worldwide, during his time on the program.
While based in Hong Kong, he worked with the company's French desk as a tax and business consultant, channeling the global management skills he'd developed during the program.
"[During the master's] we used real and concrete cases, based in Hong Kong, Asia, or mainland China, for example, which helped me get insights into the working environment and the culture in these places," he says.
---
2. You'll develop new skills
Learning new skills is a hugely important part of any business degree and 62% of employers now value skills above anything else while recruiting, according to Coursera.
A Master in Global Management teaches you technical, industry-specific skills, which can help you hit the ground running when you enter the workplace.
At HKU, the MGM helps boost skills like creative problem-solving and global business communication, with a curriculum covering cutting-edge management topics including digitalisation and entrepreneurship. Classes are taught with a combined emphasis on scientific theory and practical learning.
There are also ample opportunities to develop industry-specific skills during the elective period, where modules focus on skills specific to your chosen specialization. A creative global management module, for example, sees students working on their critical thinking, while students focusing on human resource management pick up skills related to understanding the behavior and actions of employees.
Soft skills, like teamwork and adaptability, are also important, often they're the skills that have the longest lasting impact on your career. According to the Graduate Management Admission Council (GMAC), interpersonal capabilities are the skills currently most valued by recruiters of business school grads.
The HKU MGM curriculum focuses on soft skills during classes covering areas like agility and communication. Practical sessions also see students work in teams during group projects and coursework, helping them boost their interpersonal skills.
Here, students benefit from the program's diverse cohort. Participants hail from a range of employment backgrounds including arts, engineering, and IT, while ages range from 20 to 34 years old.
HKU looks to promote this diversity during the admissions process. The main priority is finding "students who appreciate the importance of problem solving, multiple perspectives, outcome orientation, and team play," says HKU MGM director, Professor Chun Hui (pictured).
---
3. You'll expand your network
While your Master in Global Management will provide connections within your cohort that could last a lifetime, you'll also have access to a range of networking opportunities via guest speaker sessions and careers fairs, as well as internships.
"The most important part [of the program] is that I gained a valuable network," Florian explains. "Not only composed of students but also industry experts and professional workers."
Connections are vital to successfully launching your career: according to HubSpot, 85% of jobs are filled through networking. After graduation, Florian landed a role as a junior financial controller at international logistics and supply chain firm, HBI.
Of the most recent HKU graduating class, around 80% had landed a role within three months of completing the course.
More than half of the graduating class also left Hong Kong to pursue international careers at some of the world's largest companies. This includes top UK banking firm, HSBC, the US-based Fortune 500 consumer goods company, Procter & Gamble, and China's largest retailer, JD.com.
Enrolling in a Master in Global Management offers the chance to enjoy a variety of new experiences, develop your skills, and boost your network. And whether you want to launch a banking career in the UK, a consulting career across the US, or tap into growth in Asia, the degree can provide a launchpad to kickstart your international career.
Related Content: