If you're a working professional or recent graduate who wants to build the skills and connections needed to kick-start a managerial career, studying an online Master in Management is an increasingly popular option.

According to the Graduate Management Admission Council (GMAC), applications to online programs, in general, grew by 46% in 2021.

An online Master in Management offers flexible and accessible courses on the fundamentals of business and management while helping you to connect with future employers and build a strong professional global network.

But finding a balance between a full-time job, family responsibilities, and an online master's is not easy. While online programs can be more affordable than their physical counterparts, they still require a significant investment of time and effort.

So is an online Master in Management worth it?
---
How much does an online Master in Management cost?
A top-ranked Master in Management program typically costs between $30,000 and $50,000—and that's without the added expenses of travel, cost of living, accommodation, or the insecurity of having to leave your full-time job.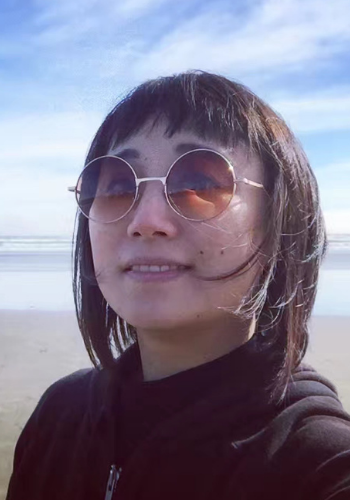 At the University of Illinois Urbana-Champaign Gies College of Business, the online Master in Management (iMSM) program, delivered in partnership with Coursera, is offered at an all-in cost of approximately $11,500 since it can be completed 100% online.
Abby Ling Yi (pictured), an iMSM alum from Illinois Gies College of Business, chose to do an online master's since it would've been challenging to stop her career for full-time education.
"I have family commitments, and the financial burden should not be on my husband alone," she explains.
By completing a Master in Management online, learners like Abby can earn a degree from a renowned university and learn from industry experts for a fraction of the price of a full-time program.
---
What do you learn during an online Master in Management?
The Master in Management curriculum typically covers fundamental core modules in business management, such as leadership, strategic management, and marketing management.
Students then have the option to choose from several elective courses. The iMSM at Illinois Gies, for example, focuses on global business challenges as well as data-driven decision-making and communications, offering elective courses such as Global Business Horizons, Introduction to Business Analytics with R, Infonomics, and Global Strategy.
iMSM students can specialize in Business Data Management and Communication, Business Value and Project Management, or Global Business Challenges, depending on their choice of electives.
---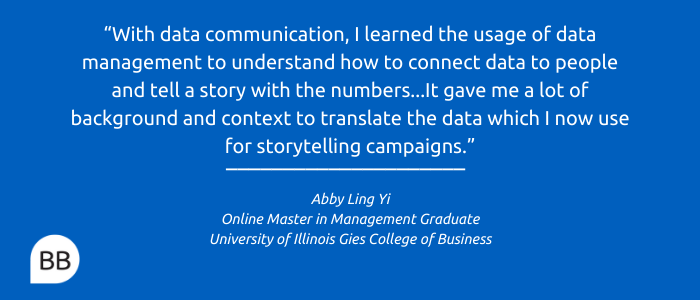 ---
"I think it's extremely helpful to have the different specializations. If you want to change careers, Illinois Gies recommends courses you should pick for individual career paths," says Abby, who worked as a marketing project manager at McCann Worldgroup while specializing in Business Data Management and Communication during her degree.
"With data communication, I learned the usage of data management to understand how to connect data to people and tell a story with the numbers," Abby adds. "It gave me a lot of background and context to translate the data which I now use for storytelling campaigns."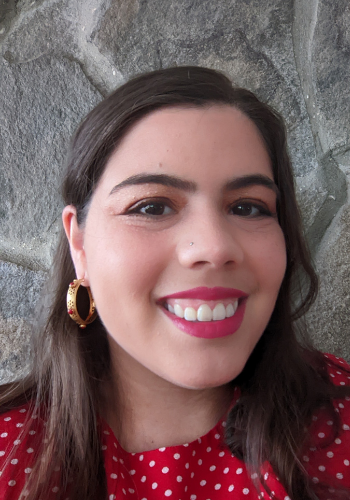 New technologies make online Master in Management programs increasingly interactive. During live online class sessions in the Illinois iMSM, students interact with and learn from Gies' faculty, chat with their colleagues, and then work together on group assignments.
Another key benefit of an online Master in Management is that students can apply what they learn to their jobs in real-time.
Andrea Gonzalez (pictured), studied the iMSM alongside a role at Bloomberg Línea, which serves business news to a Latin American audience. She says the program's project management module helped her to manage and communicate effectively with groups of journalists and teammates.
"We had a huge translation project, where several staff were working on various translations, but there was no clear guidance or leadership direction. I took what I had learned and organized the whole team to get the project finished in less than a week," she says.
For Abby, the iMSM course on Marketing Management gave her the chance to refresh her understanding of the industry.
"I learned the current trends and the impact of digitalization on marketing, which helped me think about the campaign I was working on and jump out of the box to think at a much bigger scale."
---
What are your jobs and salary prospects after an online Master in Management?
As a generalist degree, a Master in Management opens doors to a variety of career paths. Some of the most popular industries grads go into include finance, tech, and consulting.
Students and graduates from the Illinois Gies iMSM are employed by top firms including Facebook, IBM, EY, and Amazon. Students who wish to further advance their managerial careers can use their iMSM to 'stack' courses towards the Illinois Gies fully online MBA program, eliminating the need to repeat courses, or pay double tuition fees.
Illinois Gies even offers optional in-person events for students to meet and network with senior professionals across the US, including iConverge, an annual on-campus networking and professional development event. The school's alumni network stretches to over 75,000 graduates worldwide.
"I am incredibly surprised by Gies' effort in enabling us to talk to each other and creating different chances for us to meet. I have grown my connections exponentially since I joined the program," Abby says.
After graduating, Abby went on to land a job as a growth partnership manager at Meta, Facebook's parent organization, in Singapore.
So is doing an online Master in Management worth it? For both Abby and Andrea, the answer is a resounding yes.
---
Related Content: