The Indian Institute of Management Kashipur holds the 19th position in the NIRF Management
Ranking
2023. It is one of
the top business schools in India
.
Established by the Government of India in 2011, IIM Kashipur is a second-generation IIM. Its primary goals include striving for excellence in management education using innovative teaching techniques, fostering high-quality research endeavors, and advocating for sustainable leadership practices.
The institute is dedicated to advancing knowledge through applied and interdisciplinary research, particularly in emerging management areas. It aims to cultivate socially responsible, skilled, and ethical business leaders and researchers.
The school targets those who possess critical thinking abilities, a penchant for innovation, and an entrepreneurial spirit, and takes an inclusive approach, with a focus on both regional development and internationalization.
IIM Kashipur offers a range of degree programs, including two full-time, two-year residential flagship programs: the Master of Business Administration (MBA) and MBA in Analytics.
More experienced students can enroll in the Executive MBA and Doctor of Philosophy (PhD), while there are also a number of online certificate programs for executives.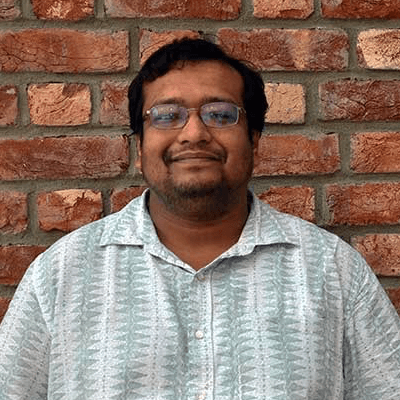 The MBA program has recently undergone a redesign to align it with cutting-edge industry concepts and future needs. This includes the introduction of new core offerings like Design Thinking and Experiential Learning, which provide students with diverse skill sets and perspectives.
Additionally, the program emphasizes critical thinking, leadership, and communication, skills that are highly relevant both today and in the future.
To find out what makes a successful MBA application at IIM Kashipur, BusinessBecause interviewed Professor Abhradeep Maiti (pictured), chair of admissions at IIM Kashipur.
---
What do you look for in your MBA applicants?
Critical thinking, leadership experience and potential, and lateral thinking are some of the most sought-after traits we try to identify. In addition, applicants need to have a good command over their academic area of interest.
---
What CAT/GMAT score should candidates aim for?
It is difficult to give any specific range as the applicant pool varies every year. However, potential applicants may reach out to Team Insite at IIM Kashipur to get a broad understanding about the profile of the current students.
---
How should candidates approach the academic writing test?
If a test has a writing component, then it always favours the applicants who are well-read and have a diverse set of interests.
---
What should candidates expect in their admission interview?
Applicants should remain calm and answer truthfully. Practice answering difficult questions using creative thinking.
---
If a candidate has an average academic record, can they expect a call for admission?
Admission offers depend on many different factors as we try to do the complete evaluation of an applicant's potential as much as possible
---
IIM Kashipur eligibility criteria and selection process
---
Eligibility criteria:
The MBA application process for IIM Kashipur Admission in 2023 involves two distinct steps:
Apply for CAT: The first step is to apply for the Common Admission Test (CAT). Your CAT score will serve as the basis for consideration in the subsequent rounds of the admission process at IIM Kashipur.
Register for IIM-CAP: The second step involves registering separately for IIM-CAP (Common Admission Process), which is specifically for IIM Kashipur admission.
This registration takes place in January, following the release of CAT results. It is through IIM-CAP that you will initiate the application process and enter the selection rounds specifically for IIM Kashipur's MBA programs.
---
IIM Kashipur fees:
The fee structure for the MBA 2023-25 batch at the institution is Rs 3,18,000.00 for year one (2023-24), and Rs 8,48,000.00 for year two (2024-25).
Additionally, there is a refundable caution deposit of Rs 9,000.00, which is applicable in the first term.
The total fees for the entire MBA program amount to Rs 17,30,000.
---
IIM Kashipur scholarship/financial assistance:
IIM Kashipur will provide full waiver of tuition fees for up to 23 students in the first year and a further 23 students in the second year of the program. Division of 23 students and basis of providing scholarship is as follows:
- 10 participants on the basis of need
- 10 participants on the basis of need cum merit
- 3 Participants on the basis of merit
---
IIM Kashipur placement record:
In the latest placement season at IIM Kashipur, there has been a significant year-on-year (YoY) growth of 28% in the highest Cost to Company (CTC) package offered. The average CTC for the batch is an impressive 18.11 LPA, reflecting a YoY growth of 19%. Meanwhile, the median CTC has reached 17.2 LPA, marking a YoY growth of 16%.
Among the top-performing students, the top 10% of the batch secured remarkable average CTCs of 28.5 LPA, a 21% YoY growth. Across the top 30% of students, the average CTC was 24.5 LPA.
Over 120 organisations participated in the placement drive, collectively offering more than 320 job opportunities to the students.
IIM Kashipur's placement reporting process undergoes an independent audit for both its summer and final placement reports, aligning with the Indian Placement Reporting Standards (IPRS). This practice sets IIM Kashipur apart as one of the few IIMs that adhere to IPRS standards when preparing and reporting placement data.
The placement season at the school witnessed active participation from more than 200 organizations, including several new recruiters like HashiCorp, EXL Analytics, Royal Bank of Scotland, Nomura, and MTR Group.
Notably, the Information Technology (IT) and Banking, Financial Services, and Insurance (BFSI) sectors played a significant role in the recruitment drive. Common Admission Test (CAT)