Founded by the lightbulb whiz Thomas Jefferson back in 1819, the University of Virginia has continued to host some of the brightest thinkers in the US. Notable alumni include the macabre poet Edgar Allen Poe, famed politician Robert F. Kennedy, and Hollywood star and writer Tina Fey.
The esteemed college is also home to a top business school. The Darden School of Business not only lays claim to the FT-ranked 17th best MBA program in the world, but it also holds the number 14 spot in the States according to US News.
On top of this, Darden's MBA degree remains relatively accessible when compared with other leading b-schools. Last year, 2,984 aspiring professionals from more than 30 countries applied, of which 1,021 were admitted, giving the college one of the highest acceptance rates among the top 20 MBA programs of 34.2%. In other words, around a third of applicants are accepted.
Those who successfully apply typically come from a wide range of industries, with the class of 2025 featuring professionals from financial services, government, consulting, and technology.
Furthermore, graduates of the program can expect to earn median starting salaries of around $175,000—among the highest figures for the top MBA schools.
So, if you're considering applying, here's a breakdown of the Darden class of 2025.
---
Darden MBA Class of 2025 | Overview
The makeup of the class of 2025 proves that Darden places a high value on diversity. With 41% of the student cohort hailing from 33 different countries, it contains a far higher proportion of international students than many other world-famous business schools in the FT top 20.
Out of its current class, 37% are women, 14% are US minorities, and 7% identify as LGBTQ. The school also broke a personal record this year, with 21% of MBA students being first-generation immigrants.
Additionally, the average undergraduate GPA for the class is an impressive 3.51, making it a group of academic high achievers. Added to that: a significant 17% hold advanced degrees, and a further 27% have studied abroad.
---
Darden MBA | GMAT & GRE Scores
Exams certainly aren't the be-all and end-all for getting into business school, but a good result in either the GMAT or GRE can sway an admissions team in your favor if other areas of your application are lacking.
Particularly for the top US MBA schools, most accepted applicants have GMAT scores of over 700. This means it's generally a good idea to aim for that or higher if you want to increase your chances of being accepted into your dream program.
At Darden, the current class has an average GMAT score of 716, and an average GRE score of 321. Accepted students achieved a middle 80% GMAT range of between 680-750, and a GRE range of between 309-333.
While this is higher than the average GMAT scores for many other top schools, it is still lower than the likes of Stanford, Harvard, and Wharton.
---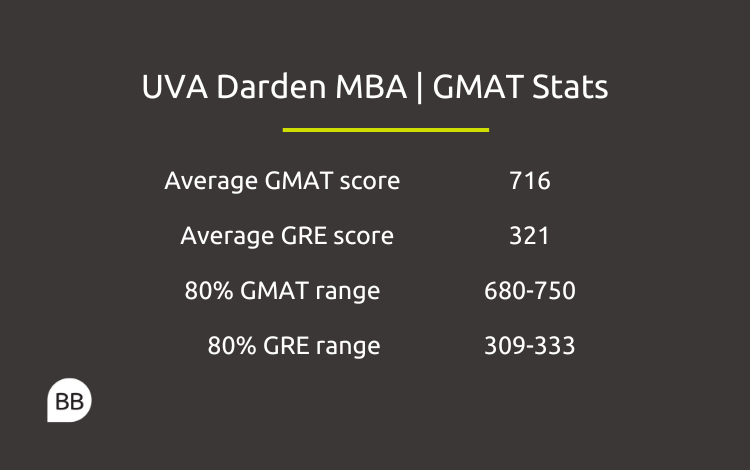 ---
Darden MBA | Work Experience
To get the most out of an MBA, it is generally a good idea to have some work experience under your belt. While not every admissions team stipulates a specific amount, most accepted students—particularly in the US and Europe—will have between four and five years of industry knowledge behind them.
Similarly, though Darden does not strictly mandate a minimum work experience for MBA applicants, the average number of years among its accepted students is 5.9. This is notably higher than most other top-rated MBAs, which average around 5.3 years.
In addition, the middle 80% of accepted students had prior levels of work experience that ranged from 3.4 years to 9.2, making it a highly professional and accomplished cohort.
---
Darden MBA | Pre-MBA Industries
One of the most beneficial aspects of studying an MBA is the opportunity to surround yourself with a diverse range of people from different backgrounds. At Darden, students come from many career paths, which means they can offer unique industry insights.
That said, by far the most common pre-MBA industry for Darden's 2025 class is financial services, with 22% of the cohort having previously worked in areas such as venture capital and private equity.
Government and consulting are an equally popular second, with 13% of students having previously worked in these industries. The fourth most popular career background is technology, with 12% of students having experience in the area.
A further 6% come from consumer-packaged goods, while the same percentage come from biotech, healthcare, and pharma—an increasingly popular industry for MBA grads.
Interestingly, 4% came from the communication, media, and entertainment industries, which draw heavily on networking.
Other represented industries include fields such as architecture, engineering, entrepreneurship, environment, legal services, and general management.
---
---
Who is the Darden MBA for?

The Darden MBA is a good choice for seasoned business professionals who are particularly interested in the financial services industry, since a large percentage of the cohort comes from a financial background.
With its high proportion of international students, Darden is a strong option for those looking to move to the US to study, with a range of support in place for those coming from farther afield, including international student-specific internships and job postings.
The Darden MBA is also ideal for students looking to enter the consulting or tech industry, as its top employers include companies such as Bain and Company and Amazon.
Equally, as with other top US business schools, you should aim for a high GMAT or GRE score in the 90th percentile.
Darden's class boasts an academically competitive profile, so you will also need to make sure other aspects of your application, such as your GPA and work experience, are as strong as possible.