From bumper stickers to the enthusiastic residents, everyone will tell you—'Everything's bigger in Texas'.

As the energy powerhouse of America, a hub for tech firms, and a hotspot of entrepreneurship, the Lone Star State is known for being one of the best places for business, in part due to its low cost of living and high quality of life.

At its heart lies The University of Texas at Austin's McCombs School of Business, boasting top-ranked Full-Time, Part-Time, and Executive MBA programs.

Here are 10 reasons why you should get your MBA in Texas:
---
1. Tap into the world's tenth largest economy
© f11photo via iStock
Texas is the tenth largest economy in the world—beating Canada and South Korea—and, state-wise, second only to California.
Texas is home to headquarters of 48 of the Fortune 500 companies, with booming industries spanning technology, energy, healthcare, aviation, and consumer packaged goods.
Texas McCombs offers MBAs in Austin, Dallas, and Houston, providing access to a wide range of companies and career opportunities, both inside and outside the state of Texas.
---
2. Explore entrepreneurship
© McCombs School of Business via Facebook
Austin has the status of being the most entrepreneurial city in the US—with roughly 104.5 startups for every 1,000 businesses in the city. McCombs School of Business has been named the sixth best graduate program for entrepreneurship.
MBA students at McCombs have ample opportunity to explore startups, with modules in everything from new venture creation to entrepreneurial growth.
Entrepreneurs can participate in pitch competitions like the Texas Venture Labs Investment Competition, as well as access to funding and resources through the McCombs Entrepreneur Summer Fellowship and the Herb Kelleher Center for Entrepreneurship.
---
3. Embrace the technology revolution
© David P. Hilss via iStock
Nicknamed 'Silicon Hills,' Austin has staked its claim as one of America's most exciting tech locations outside of Silicon Valley, with a high concentration of tech companies and startups including software, semiconductors, biotech, and gaming.
Tech giants like Apple, Facebook, and Google have all opened hubs in Austin, an industry where 30% of full-time MBA students found employment in 2018. McCombs has strong connections outside of Austin, hosting an annual Tech Company Trek for students to network with companies in the Bay Area and Seattle.
---
4. Enjoy cities with a vibrant culture
© GSPhotography via Shutterstock
With the choice of three cities to study your MBA in, there is something for everyone.
Austin, for the third year running, is America's best city to live in. Festivals like Austin City Limits and SXSW just some of the events which have dubbed Austin the live music capital of the world.
Hot on Austin's heels, culture-wise, is Houston, a melting pot of multiculturalism, with over 145 different languages spoken in the city. One of the many benefits of so diverse a city is, of course, the wide range of cuisine.
Dallas has something to please all tastes. You'll enjoy everything from professional sports to the famous retail and arts districts.
---
5. Benefit from a collaborative MBA culture
© McCombs School of Business via Facebook
A fallacy about business, perhaps, is the idea that you have to hold a competitive advantage over those around you—to win at all costs.
The cohort-learning MBA culture at Texas McCombs, however, is built around collaboration and cooperation. This feeds into the student-driven culture for which McCombs is recognized, with over 40 MBA student organizations.
---
6. Join a vibrant campus environment
© Randall Chancellor via Flickr
Business school isn't just about the inside of the classroom.
Outside of the classroom, students have access to a variety of activities and resources, including sports, museums, and renowned speakers all on campus.
UT Austin is known for the Texas Longhorns, its renowned athletics program. Your experience wouldn't be complete without a football game at the Texas Memorial Stadium with 100,000 other fans.
---
7. Get the best bang for your buck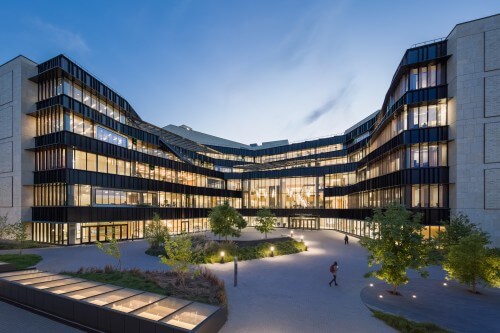 © The University of Texas at Austin
For MBA students, return on investment is of great importance. The Texas McCombs MBA was named 'best value' among the top 20 MBA programs in the US, with the largest gap between starting salaries and student debt.
Living in Texas is unlikely to break the bank. There is no state income tax, making the cost of living in cities like Austin to be 33% lower than Boston and up to 58% lower than New York City.
---
8. Unparalleled career support
© McCombs School of Business via Facebook
Students on the Full-Time, Working Professional, and Executive MBA programs each have a dedicated career management service for their program of choice.
Recent graduate Puja Ghelani, who transitioned from a higher education job to strategy at KPMG, benefitted from the Working Professional MBA in Dallas, enabling her to study alongside her full-time job.
"The career management service helped me navigate career growth and future opportunities, [particularly] as a candidate from a non-traditional career background," Puja remembers.
---
9. Hone your leadership skills
© McCombs School of Business via Facebook
From CEOs to Presidents, MBA programs undeniably produce great leaders.
McCombs' MBA+ Leadership Program helps MBA students to develop leadership skills through constant mentoring and guidance. Each student has eight hours of one-on-one coaching each academic year from a team of professionals.
The MBA+ Project, moreover, gives students the opportunity to put these leadership skills into practice through real-life consulting with small startups and Fortune 500 companies.
---
10. Leverage the strength of a global network
© McCombs School of Business via Facebook
Graduating from Texas McCombs connects you to the 100,000+ alumni network which the school boasts.
With strong links to consulting, finance, marketing, technology, and energy, among others, leaves MBA graduates with a foot in the door for the industry of their choosing. And with over 30 chapters across the world, wherever you go, you'll find fellow Longhorn.
---
Related Content: