Seven years ago, Illinois-born Caleb Conner was leading a platoon of soldiers on security missions in Afghanistan.

He managed millions of dollars' worth of army equipment on missions, oversaw combat training, and was the senior logistics manager for 500 soldiers in the four years he was a member of the US Army.

Caleb wasn't sure of the exact role he wanted to end up in after fulfilling his military duties, but he knew an MBA would be the perfect stepping-stone.

He applied to some American business schools, but he was keen to study abroad to experience different cultures, which is when he came across Alliance Manchester Business School (AMBS) and the city of Manchester in the UK.
---
Why Manchester?

While London attracts many international MBA students eyeing the UK, the northwestern city of Manchester presents itself as a thriving hub of successful businesses.
From Boohoo Group and The Hut Group to Autotrader and Hilti Group, professionals have a range of startups and big businesses to explore as well as a growing venture capital community to tap into.
A Tech Nation Report found that North West tech companies raised more than $250 million in funding in 2018, while Management Today's '21 Best Towns and Cities for Business' placed Manchester in the top spot last month.
---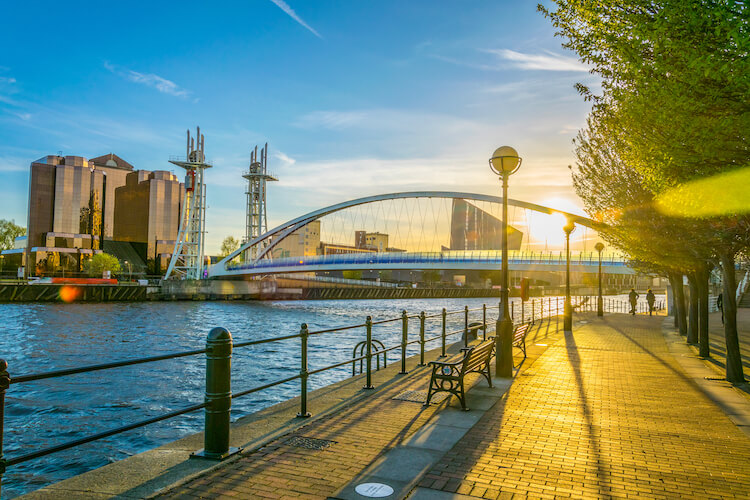 ©trabantos, used under this licence
---
Chris Garnett, head of postgraduate careers at AMBS, prides the city on its entrepreneurial success.
"Manchester has a long-standing tradition with technology and innovation, from the first computer to the splitting of the atom. This continues in 2019 and there is a growing technology community supporting this," he says.
Even Amazon recently announced plans to open a new major office in Manchester, creating 600 new technology and research jobs.
Caleb chose Manchester for this particular environment and a low cost of living. His MBA experience at Manchester was defined by entrepreneurship.
In his Negotiation Skills elective, his cohort was split into teams and told to come up with a business idea, then research and plan accordingly. After some brainstorming, Caleb and his team came up with an idea for short and long-term storage in homes. This idea made it to the final round of an internal MBA competition with 25 business concepts, which, for Caleb, emphasized its great potential.
"I was halfway through the program and I thought to myself, 'I'm really onto something here. Maybe I should quit my MBA and go start my business.' I was really tempted to because I believed in my business idea so much and I nearly went for it."
After some careful consideration, he decided to remain on the MBA program, which allowed him to take his personal project, conduct additional market research, and shape the plan properly. He then created a business plan and pitched the idea to his MBA advisor.
A couple of years later, Caleb's startup idea, City Spare Space, is now a fully-fledged online platform for luggage storage available in various UK locations including Manchester and London.
---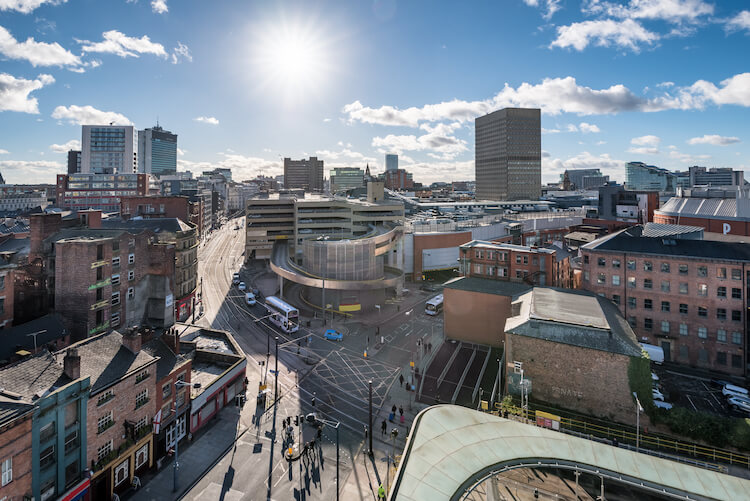 ©SAKhanPhotography, used under this licence
---
Post-MBA opportunities
Studying his MBA in Manchester, Caleb says, was one of the most rewarding decisions he's ever made.
Not only did he finalize his business idea with support from AMBS, but he also received sponsorship and an entrepreneurship visa, through the Masood Enterprise Centre, to stay in the city post-graduation.
The center is a key location for student enterprise and entrepreneurship based at The University of Manchester in AMBS' brand new building, which opened this year.
Students on the AMBS MBA also benefit from connections to companies started by alums, including billion-dollar FinTech firm, Greensill, which has its operations center close to the city.
"Manchester presents lots of great opportunities and it's a bit more affordable," Caleb says. "For my company, being strategically located in Manchester helps me get to various other cities to increase business."
While many international students return home to pursue careers in their country of origin post-MBA, Chris says more, like Caleb, are choosing to stay.
He says that's partially because of the job opportunities in Manchester, but also because of the quality of life and cost of living. In the Economist's 2018 Global Liveability Index, Manchester was classed as the UK's most liveable city and the fastest-rising European city, placing 35th.
"Even if the longer-term target is elsewhere in the UK, our close proximity to London and the excellent transport links make it a perfect base for students to build their network with a wide range of employers," Chris says.
Related Content: