It's the end of a busy day in the MBA classroom. Michelle Lee (MBA 2020) arrives home from Aldrich Hall, sets aside her textbooks, and puts on her baking apron.

She's ready to whip up whatever treat takes her fancy that day. It's something she's done all her life and for Michelle, the value of baking is simple.

"It's about taking some really basic, otherwise nondescript ingredients—flour, sugar, butter, eggs—and making them into something that brings joy to others," she explains.

This mantra is the core of Michelle's baking. It started as something to satisfy a sweet tooth, but has grown and grown, from baking for charity fundraisers to working in her spare time to learn the tricks of the trade.

With an MBA from Harvard Business School (HBS), she is looking to transform her passion into something bigger and more ambitious—her own business with a social impact, directly or indirectly bringing joy to others.
---
Bringing people together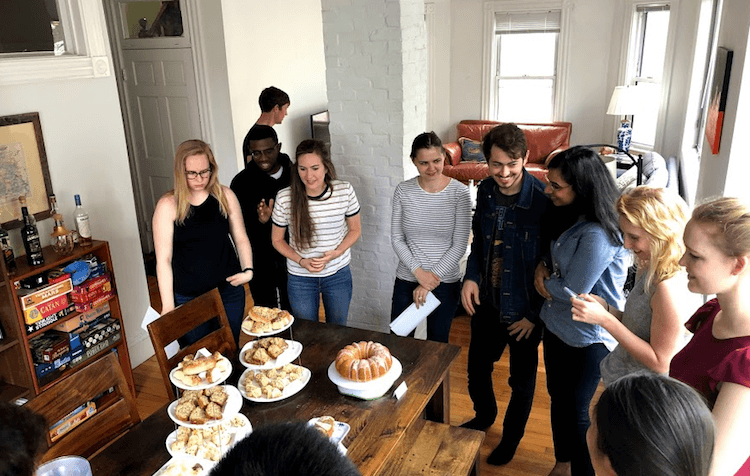 Michelle's baking, and some of her 'taste testers'Michelle's first job after college was working as a consultant at Bain & Company. She then joined edtech startup Freckle Education, based in San Francisco, as one of the company's first 10 employees.
Some MBA students discover entrepreneurship when they go to business school; it was Michelle's entrepreneurial aspirations, however, that took her there in the first place.
"I knew I had this goal to go into the food industry. Thinking about the businesses that were really successful, I realized many were run by leaders who had done MBAs," she says.
When Michelle began filling out applications, she was looking for somewhere she could pursue her unique passion in an environment which encouraged diversity. The Harvard MBA came out on top.
This celebration of diversity comes primarily through the section experience. The Harvard MBA class—930 students in total—is split into 10 sections of roughly 90 students each, with whom you spend every class with for your first year.
"Each section is a microcosm of HBS, bringing together people from different countries, different backgrounds, different industries," Michelle explains. "It shows the real value of community and culture in the class."
Michelle says this sense of community has been one of the biggest highlights of her MBA. As president of her section, she has dedicated a lot of energy to making this as special for as many of her section-mates as possible.
In the afternoons after class, this might involve the weekly Donut Coffee Dates she organizes for her section, randomly pairing students off to get to know each other over an informal chat. In the evenings, Michelle invites over a few willing guests— "taste-testers", she calls them—to test out her newest creations.
"A big part of my food passion is bringing people together over food and sharing what I make with others," Michelle smiles. "If you love something, it doesn't feel like work, and it doesn't hurt that there's always a reward at the end—a treat to eat!"
---
Becoming a leader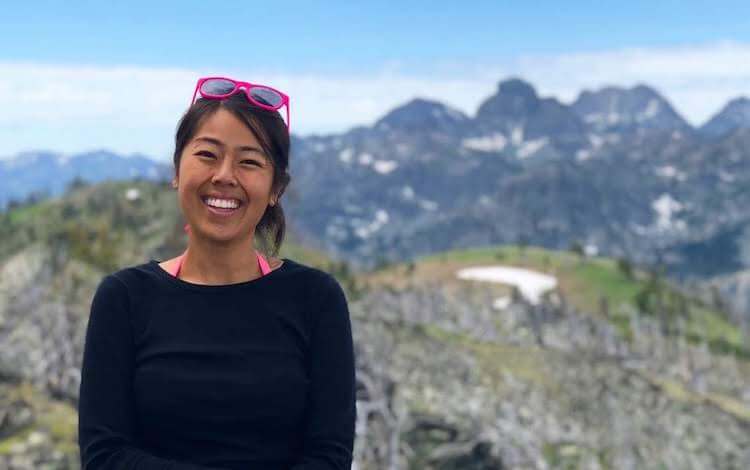 Determined to lead her own business, Michelle points to the Leadership and Organizational Behavior (LEAD) course on the Harvard MBA, taught by Paul McKinnon, which she says has taken her closer to achieving that goal.
Highlighting case studies in leadership, the course focuses on the human side of enterprise—group culture, managing people, developing and aligning a team around one vision. "It's not about saying, 'This is the right way to lead', it's about exploring different strategies and approaches that leaders have taken," Michelle says.
Michelle balanced study with work at a local bakery business in Boston during the first year of her MBA.
She's now interning at Act III, an evergreen fund which provides support to food businesses, working on-site with Life Alive, one of the cafe chains they support in Boston.
"It's helped me understand how to deal with food ethically, sustainably, and thoughtfully," she says.
---
Doing good
Michelle volunteered at a non-profit, providing services to homeless shelters, while in San Francisco. Food, unlike more technical professions, she says, doesn't need specific skills or education, making it accessible to those less fortunate in society.
"To work in a food business, you don't need a certain pedigree. You need grit, adaptability, and a willingness to learn."
Michelle still has a year to go before she completes her MBA, but she's already formulating an idea of what she wants her business to look like.
She wants to give back to society. Running a food business, she says, can be a way to provide jobs and economic opportunities to those who often aren't given a second chance.
For Michelle, bringing people together is a core value of baking. It's at the core of the Harvard MBA too, she says, and her future business.
Related Content: