Nicole Black and Mischa Jurkiewicz (MBA 2021) study in two buildings sitting opposite on Harvard University's campus. Nicole is doing her PhD at the engineering sciences department, while Mischa is an MBA student at Harvard Business School .
It was during Nicole's research on 3D printing of biomaterials at Harvard where she met two surgeons from Massachusetts Eye & Ear—Aaron Remenschneider and Elliott Kozin— who explained a medical problem that piqued her interest. They'd found that the most common injury following the 2013 Boston Marathon bombings was perforated eardrums. However, following surgical repair, most patients never fully regained their hearing and many required revision surgery within a year or two.
Nicole felt that 3D printing may be the answer. Nicole's research quickly gathered momentum, leading to a novel device called PhonoGraft, and through the Harvard-MIT Activate Program, she was introduced to Mischa, the perfect partner who could bring business knowledge and expertise to the venture.
Beacon Biomimetics, their venture, hopes to hold a promising solution, which through successful business growth and scaling, could make the surgery widely accessible with better outcomes.
---
A shared interest in biomedicine
While their degrees at Harvard may differ, Nicole and Mischa both share a passion for biomedicine. It was actually a number of years before coming to Harvard that their paths first crossed—Mischa as a biomedical engineering undergrad at the University of Sydney, and Nicole as a visiting researcher—although they didn't know it at the time.
After a few years working at a medical device company in Australia, Mischa opted for a business route. He was keen to gain more commercial experience, on top of his deeper interest in healthcare innovation, which led him to Harvard Business School.
HBS has a great program, coursework, and network for students looking to pursue healthcare innovation. The Health Care Initiative (HCI) connects student led organizations to other groups and programs operating both within the school as well as across the Boston area. Within HCI, Mischa is part of the leadership team of the HBS Healthcare Club.
Here, he found the impetus to search for a potential business partner in the biomedical industry. "Given the world of healthcare innovation in Boston and Harvard, it was a no-brainer to look for a business partner outside of the business school in the science field," Mischa remembers.
Through an HCI event, Mischa was introduced to the Activate program, which provided an ideal place to start. This program pairs MBA students with PhD students who want to turn ideas into business projects. Nicole and Mischa rotated through dozens of potential partners in a "speed dating" session before realizing their shared interest in medical devices, biomaterials, and the auditory system.
Prior to meeting Mischa, Nicole, who was well into her PhD research on the material development, 3D printing, and characterization of a medical device, was exploring partnerships with larger medical device companies. However, she hit a snag.
"Many large medical device companies want to acquire small companies with successful technologies to expand their product pipeline, rather than directly licensing academic research," she explains, "I realized that if we wanted to make this a real product, we'd need to create a startup and pursue venture funding."
The pair got chatting, and the Beacon Biomimetics team was formed.
---
What is the medical device?
---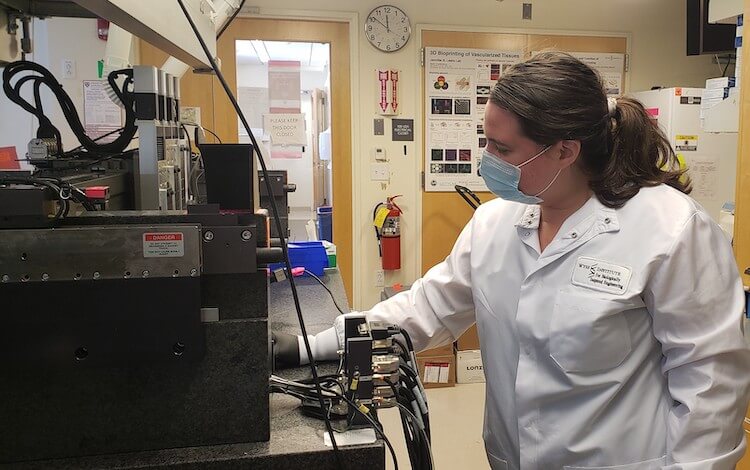 ---
Beacon Biomimetics' first project is to address the problems with existing eardrum surgeries and hearing restoration.
As it stands, surgeries require a graft of cartilage or fascia (tissue covering muscle) to be harvested from other parts of the body, which is time-consuming for surgeons and can cause additional scarring and even infection.
Secondly, there is a quality issue, which relates to the fact that eardrum tissue has a very specific architecture which allows it to vibrate at different frequencies. "Once the graft is implanted, it does not remodel or integrate into the native tissue, leading to imperfect hearing outcomes. Aaron Remenschneider wrote about the surgical outcomes from the Boston Marathon victims, commenting that many of them required revision surgery due to graft failure."
Nicole had just started working in a 3D printing lab, run by Jennifer Lewis, and realized that 3D printing of customized biodegradable materials offered solutions to both of these problems. First, there was no need for skin to be harvested from elsewhere in the body. Secondly, they could imitate the architecture of the original tissue, to produce better hearing restoration.
This is where the company gets its name from—biomimetic, meaning 'inspired by nature'.
---
Launching Beacon Biomimetics as a business
While Nicole was still working in the 3D printing lab, taking the lead on the research and development side of the product, Mischa aimed to bring his expertise from his MBA in order to launch and grow the business.
The first big step for them was getting accepted to the Harvard i-lab's Venture Incubation Program, which is an innovation space and ecosystem designed at helping Harvard students and alumni to launch their own game-changing startups.
This program continues to be important to launching their nascent startup. There are practical resources, like places to meet as a team outside of the research lab, as well as meeting the right mentors.
"We've met lots of people in the medical device industry, who have given us valuable advice," Mischa explains, "As a result, we currently focused on raising non-dilutive funding to further derisk our first product."
They successfully pitched and were awarded an Institute Project from the Wyss Institute, which provides significant resources and access to equipment to accelerate their key milestones.
"The Wyss Institute's ecosystem is exceptional, because it is focused on translating research discoveries and there is considerable expertise to draw upon," Nicole adds.
Both Nicole and Mischa recognize that, at its core, their startup is focused on helping people.
"We are driven by this idea of broadening accessibility to treatment so that more people in need can benefit from our technology," Mischa adds.
Taking the nascent startup to the next level, through gaining an anticipated technology license from Harvard University, attracting the right venture capital funding to scale up production, and eventually getting approval from the Food and Drug Administration (FDA), will be keys to their first product's success and its wider societal impact.
---
READ MORE: The Harvard MBA Driving UnitedHealth's COVID-19 Response
Related Content: