Not everybody has the luxury of time to spend on a full-time MBA program. Taking one or even two years out of work can be unrealistic if you're funding your study yourself, and the flexibility of a part-time MBA offers more leeway.

However, it's not necessarily an ultimatum: many schools now offer flexible programs which allow you to fit studying for an MBA around your life and your career.

At California University of Pennsylvania (CalU), students can take online or in-person classes at their own pace, meaning that they can spread their learning over multiple years, or accelerate it to finish in only one year.

Even for the very busiest of students, this offers a lot of options.
---
"Faculty understood that everybody had lives outside the classroom"
One candidate for 'busiest student' might be Karyn Squib, who had her work cut out for her when she started on the CalU MBA.
"I made the horrible decision to be working 40 hours a week, planning a wedding, and going to grad school all at the same time," she jokes.
She'd chosen the program at CalU because the university was local, and it offered both online and on-campus classes.
That meant that she didn't need to worry about committing to two years of classes after work or midweek, as many part-time MBAs demand: she could choose what worked for her and change it depending on her schedule.
Still, Karyn had some concerns. She'd heard horror stories from friends about grad schools where professors didn't want you to work because of all the studying you'd have to do.
Fortunately, this couldn't have been further from her experience.
"It was so flexible, and the faculty were so understanding that everybody had lives outside of their studies," she says.
"It was just a very easy, smooth thing to get through with the help of my professors and my classmates."
---
"Everybody in class was hyper-focused"
Indeed, Karyn was impressed with the quality of the learning experience she got, not despite the MBA's flexibility, but because of it.
"They were really small classes, especially the night classes, because all the students there were full time employees," she recalls.
This meant that not only did her classmates bring a high level of current, real-world experience to the classroom, but they also brought a level of determination that she hadn't fully anticipated outside of a full-time MBA program.
"Any time we had to do projects that involved other people, everybody was hyper-focused," she says. "We all wanted to be there!"
Whether online or in person, these intimate classes give students the chance to work closely together in teams—a crucial skill for the management positions they will begin to occupy once they graduate.
---
A flexible MBA can still work for "old-school learners"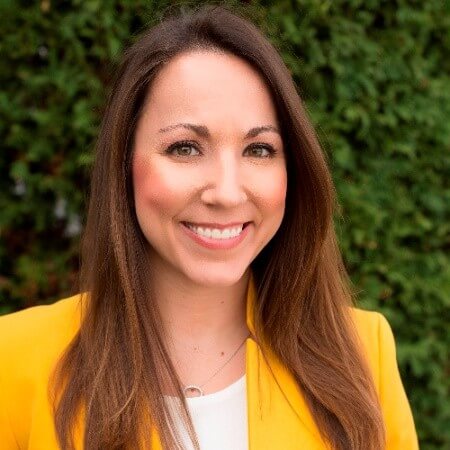 Caitlyn Anderson is another graduate of the MBA at CalU, and she had a similar experience.
Like Karyn, she lived locally and was attracted to the flexible learning offered by the program—but unlike Karyn, she wasn't averse to midweek or evening classes.
"I would call myself an old-school learner, because I still like to be within the classroom," she says.
"CalU offered the flexibility so that if I still wanted to maintain employment, I could complete classes online or in evenings, and because it was close to where I lived, if I needed to bounce something off a professor or needed a quiet place to study, those facilities were close to me."
Caitlyn found this particularly useful when it came to catching up on her economics knowledge.
To study the MBA at CalU, students need a minimum base of economics courses, but instead of making her wait until she'd achieved this, the university allowed her to study her economics courses and her MBA at the same time.
"They even offered a winter semester, so I was able to get a class done during the holidays," she recalls.
This meant that despite the setback of not having enough economics credits initially, Caitlyn was able to graduate on time, getting the benefit of a part-time MBA's flexibility on a full-time MBA's timeline.
---
Flexibility enables work-life balance
Now, Caitlyn has taken up the mantle as director of human resources at a local hospital, having seen a swift career acceleration since graduating from CalU in 2016.
She isn't the only CalU graduate to see her career pick up pace. Through personal advice and regular recruiting events, the Career and Professional Development Center helps students chase promotions, and land jobs with firms ranging from PwC to the US Department of Energy.
Karyn, likewise, has found the career elevation she was looking for from the MBA.
"Most of what I learned in my MBA around customer communications, time management, and administrative tasks has made falling into the role so much more simple," Karyn says. "Things I encountered in class have come up in real life here—it was really nice having an expectation going into the role."
For both women, not having to choose between the benefits of a part time MBA or the career acceleration of a full time MBA was crucial.
"I think life is all about balance," says Caitlyn. "The way CalU was structured and the opportunities they gave to you enabled that balance. It definitely gave me a great grad school experience."
Related Content: