Yury Adamov thinks developing leadership skills in 2020 is all about two things: having a goal-oriented mindset and having a strong degree of empathy.

The MBA student who graduated from Pepperdine Graziadio Business School in 2015 is currently developing those skills with AT&T, a Fortune 500, American multinational conglomerate. He's working in a business development and strategy role for AT&T Sports Networks, after completing three years of the company's Financial Leadership Program.

His road to the firm was paved by Pepperdine, as the school has strong relationships with companies like AT&T and Bank of America, among others. When he was first looking for MBA jobs though, a leadership role with AT&T wasn't the obvious choice for Yury.

After completing a case study on the business while on the MBA, his interest piqued and drove his career in their direction.
---
The benefits of an MBA from Pepperdine?
Yury studied accounting at undergraduate level at Loyola Marymount University, and then went straight into an associate's position with PwC. He got to the point where he wanted to retrain and move away from accounting though. He also felt burned out and wanted to take a breather to see what other careers were out there.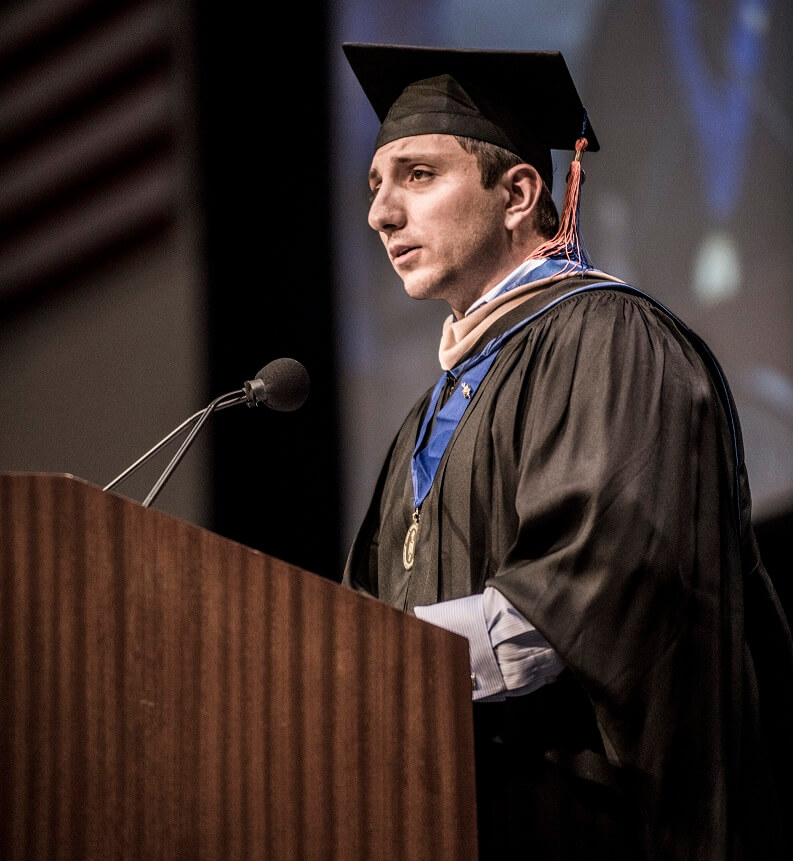 An MBA made perfect sense, and he says that Pepperdine checked a lot of the boxes when it came to finding a school that fit. He says he got the right vibe from them when he interviewed on campus, the surrounding area was beautiful, and he built an instant rapport with the professors he met. "It all felt right," he adds.
Notwithstanding his past experience, Pepperdine was the perfect way to brush up on stats and higher-level analytics skills that Yury felt he was missing. Yury was also able to publish academic papers, travel to conferences, and because of the nature of Pepperdine's smaller size, all professors had an open-door policy.
That means if you have a startup and you're struggling to formulate a marketing strategy, you can draw on the experience of your professors with relative ease. If you need advice on how to draw up a funding strategy, you have open access to the school's entrepreneurship professors.
---
Full-Time MBA Concentrations At Pepperdine
---
Launching a new career after the MBA
Representatives from AT&T came to campus while Yury was on the MBA, to present to the students all things about the business and future career opportunities. He wasn't sure initially whether a career with the company was for him, and it took a case competition to learn the business is so much more than telecommunications.
AT&T presented a case competition on campus, and that gave Yury an opportunity to deep dive into the firm. "You realize they're actually growing a media team and doing all this other technology related stuff," he says. "The school has quite a few of these relationships."
After that introductory offer Yury landed the role by acing a series of on campus interviews, and joined AT&T in June 2015, after graduating. He started on their Financial Leadership Program as a senior financial analyst and after his first rotation—as a lead financial analyst—he moved as part of the program to AT&T Sports Networks as a marketing and ops specialist.
He's now working in a strategy and business development role, and says that he was only able to get the job because of the Pepperdine MBA.
"I got a whole new skillset from an analytics perspective and the ability to feel more comfortable going out and asking for new opportunities," he explains. "It's very personal in terms of what you want to do. As long as you put in the work, Pepperdine will be there to support you."
---
---
Developing leadership skills on the MBA
Yury explains that Pepperdine is very service oriented, and that gives students the opportunity to go out into the community and develop their leadership skills.
Through the school's certificate in Socially, Environmentally, and Ethically Responsible (SEER) Business Strategy, students as part of the qualification complete a service project. Yury helped mentor high school students in at risk neighborhoods who needed support to matriculate through college
"That was my opportunity for a lot of leadership development. Once you do it, it helps you integrate into something you feel passionate about and that gets the ball rolling on further leadership opportunities."
Notwithstanding the multiple arms of AT&T, the skills Yury developed on the Pepperdine MBA are now helping him thrive at the firm. He says he is able to communicate better with different parts of the business, as the MBA gives you a holistic overview of each business department.
"I really learned out of Pepperdine that empathy is important for understanding people, and then the incentives people have and the challenges they face tend to often overshadow anything else in the short term.
So, you have to think about the incentives everyone in a project has, and how do you align them and if they're not aligned with yours, how do you change those incentives?"
Related Content: