A stone's throw from the beach in Malibu, California, the Pepperdine Graziadio Business School is home to a wide range of specialized business master's programs training the next generation of leaders.
The school's suite of specialized business master's—from the new MS in Business to an MS in Business Analytics—focuses heavily on integrity and innovation. Underpinning its programs is an emphasis on social responsibility and positive change.
If you're looking to make an impact in your career, here are five ways a business master's degree can help.
---
1. You'll learn to be nimble
Being nimble is a trait you should strive for if you want to be a successful leader; it's a skill that Pepperdine emphasizes to its students.
Dana Sumpter, associate professor of organization theory and management at Pepperdine, highlights the role nimbleness and flexibility has on students' development. "A level of nimbleness accelerates students' abilities to go forward," she says, "as students are taught to be flexible in the industry they decide to work in, especially with current world changes."
Being nimble both in action and the way you think is a crucial skill combination that students learn at Pepperdine, particularly with its new Master's in Business. Courses cover personal development for leadership, strategic thinking and tactical planning, and designing, sourcing, and building digital platforms.
"A Master's in Business affords students nimbleness that is valuable in changing workplaces," adds Dana.
The pre-experience business degree helps students jump from undergrad to business postgrad and quickly acquire the skills they need to launch an impactful career post-graduation.
---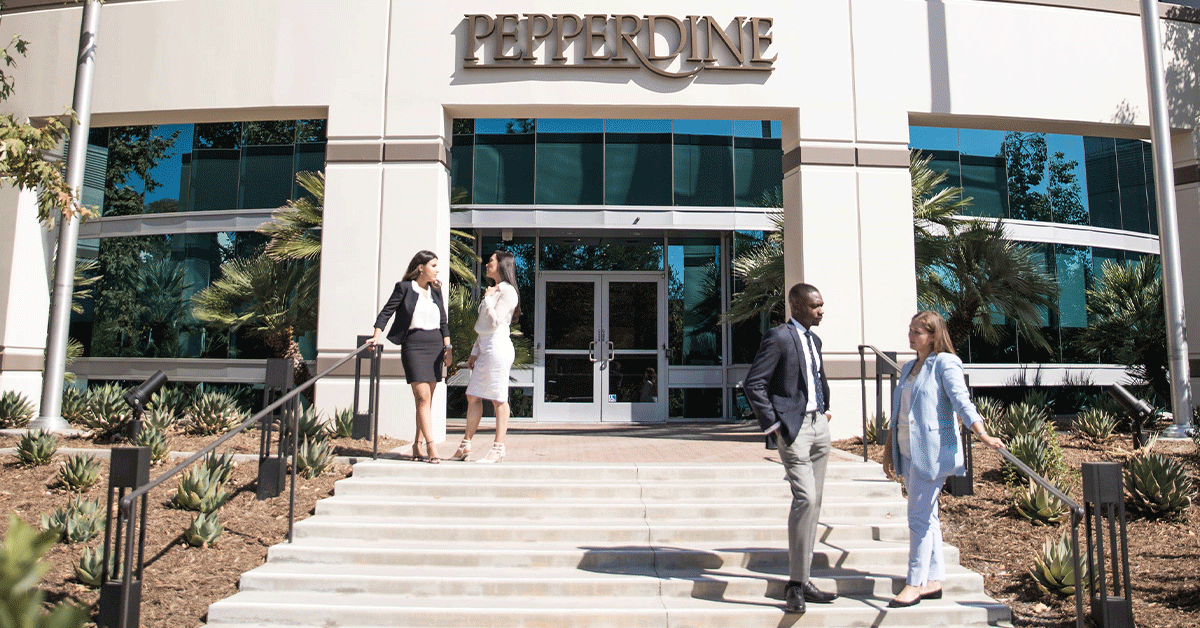 ©pepperdine.graziadio \ via Facebook
---
2. You'll understand diversity in the workplace
Pepperdine hopes to attract students with curiosity and a desire to learn from a wide range of sources. A part of this, says Dana, is recruiting a cohort with a wealth of diverse knowledge from various industries and bachelor's degrees.
Across Pepperdine's MS in Applied Finance, MS in Global Business, MS in Real Estate, and MS in Business Analytics, classes are filled with a diverse range of students from consulting, financial services, healthcare, biotech, entertainment and media, the automotive industry, and government agencies.
The school's new MS in Business program aims to attract an even larger audience—welcoming students from traditional business backgrounds all the way to performing arts, political science, women's studies, and more.
There are also students from China, Korea, and Bangladesh, Kuwait, and Russia. The school's MS in Global Business is made up of 94% minorities, and the MS in Applied Finance 96%.
Pepperdine's MBA program is no different. Jared Lee, an MBA graduate from 2015 who has launched a sustainable seasoned almond business, EAT Almonds, explains that the MBA was made up of students from all over the world.
"Just working with them in different group projects you learn how to manage different cultures and expectations," he says, before adding that the international mix of students in the class enhances intercultural learning, and that's invaluable.
"Diversity, equality and inclusion have always been important," says Dana, "and increasingly are at the forefront of business studies and how courses are taught."
---
3. You'll be exposed to the breadth of business
Students at Pepperdine are encouraged to think outside the box.
Kenneth Keller graduated with his Pepperdine MBA in 2019 and now works as an investment banking analyst with BTIG. He knew he wanted to go into finance but struggled initially with how broad the industry is.
"I wasn't sure what area of finance was for me," he says, "and then I was exposed to a large array of finance areas during the MBA." From real estate management to evaluations, for Kenneth, the classes felt synonymous with the work done in investment banking.
There isn't the expectation that students must come with an idea of the industry or job role they are after. Dana recollects how one student came to Pepperdine having worked predominantly with large companies, and believed this was the direction she had to go in.
"By having students studying with us from such a range of backgrounds, there is an increased awareness of what opportunities are to offer and what our students can do," Dana explains.
---

©pepperdine.graziadio \ via Facebook
---
4. You'll get to know the people who can help make a difference
"I had no connections in investment banking before my MBA," says Kenneth.
This is where the alumni community helped. Kenneth utilized the global Pepperdine Graziadio Business School network of over 43,000 graduates and reached out to people who could help him.
In fact, when it came to getting his job at BTIG, he was in the habit of reaching out to three-to-four people per day asking for phone calls, and he ended up meeting with a lot of alumni.
He even followed up with one connection at BTIG every few weeks for four months, until the company started hiring. From that point he landed an interview before being offered a full-time job.
"It's a matter of continually getting rejections and reaching out as much as you can, because one person might say yes," he explains.
Dana has noticed that Pepperdine alumni are active in supporting each other and assisting the professional development of current students by providing opportunities. "Because of the high engagement approach in the programs, there's an increased sense of community that goes further," she says.
---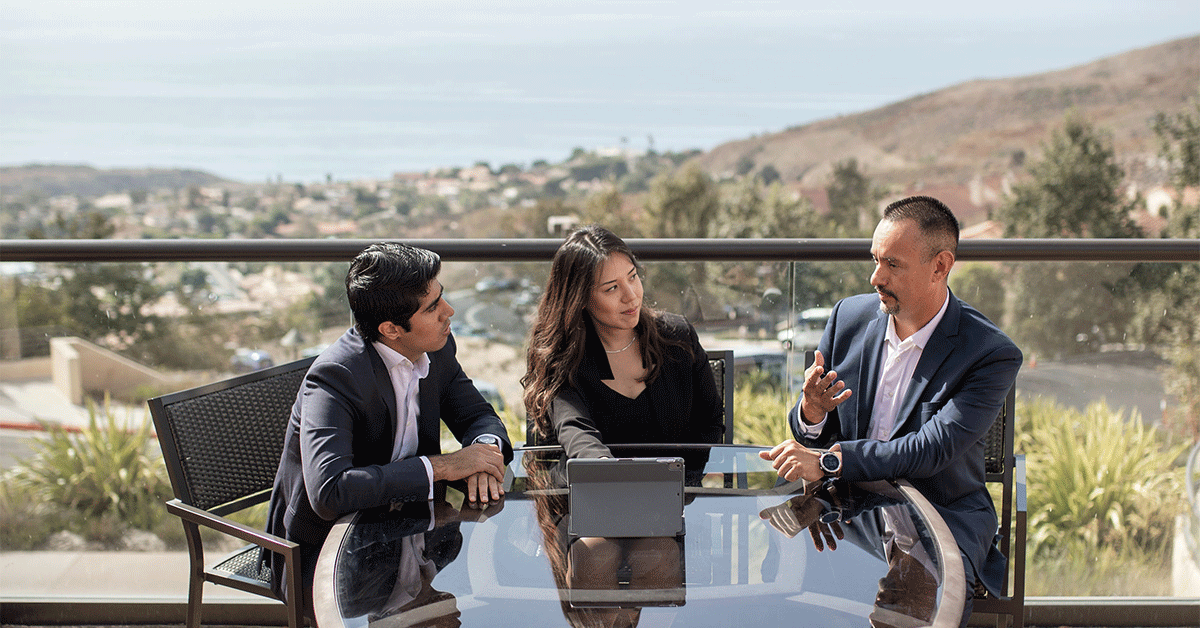 ©pepperdine.graziadio \ via Facebook
---
5. You'll be pushed on the triple bottom line
Pepperdine encourages its students to think globally and sustainably. Instead of driving for profit, Dana explains she drills into students the idea of the triple bottom line: profit, people, planet.
Pepperdine offers its students a certificate in Socially, Environmentally, and Ethically Responsible (SEER) Business Strategy, which allows students to complement their MBA with courses and activities that will push them to be more mindful business leaders and entrepreneurs.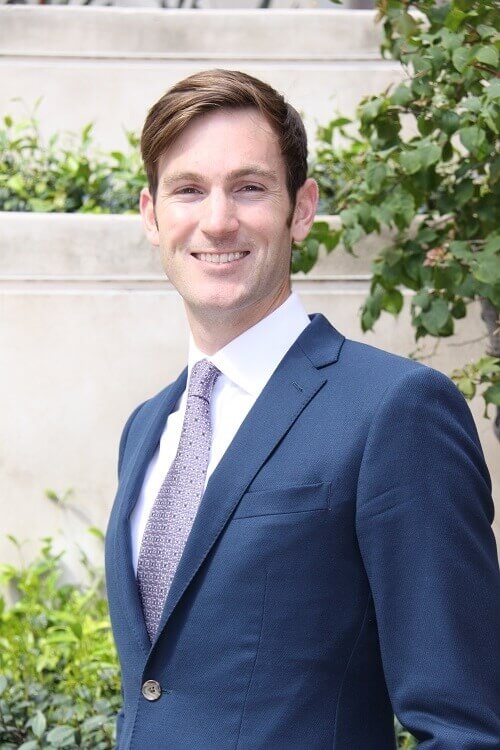 "The old school model of adhering to the bottom line doesn't work anymore, so our students need to be prepared to make their master's count in the longer term," explains Dana.
Jared (pictured right), who alongside EAT Almonds works in business development for investment bank, Greif & Co., says that his business was built on the back of a mentality that's drilled into students during their education at Pepperdine—the company has adopted a one for one business model, so for every bag of almonds sold the company will donate a bag to food banks across the US.
"I think with a forward-thinking mindset that focuses not just on profit, but purpose and people management, in the long term you can become a sustainable company or businessperson in the market," Jared asserts.
"That's where Pepperdine really leads. Pepperdine understands that the environment is not mutually exclusive from business and profit. They're very much dependent on each other, so they need to be intertwined when thinking about making a long-term business."
Related Content: