Team meetings have been replaced with Webex meetings, office memos have been replaced by Slack messages, even after work drinks have been replaced by Zoom calls. Business, in a coronavirus lockdown world, is getting used to doing things online.

Even after the lockdown ends, and businesses reopen, a lot of face-to-face business will be replaced by online or remote work.

"We'll start to notice that people can meet online," believes Enrique Dans, information systems and technology professor at IE Business School in Madrid. "We need to train our managers as people who are able to use this in a regular way."

This starts at business school by transforming learning environments through online technology.
---
Moving business schools online
---
Since the coronavirus lockdown began, business schools across the world have had to close their doors and move their courses online—for many, a great upheaval of their campus-based learning environment.
IE Business School, where Enrique is based, was more prepared than others for a scenario where people would have to do learning and studying remotely.
"We've been using online learning and online teaching since the year 2000, which means that most of the professors have had experience with it at one point or another. We haven't seen too much of a disruption."
The transition wouldn't have worked so easily if faculty and professors weren't receptive to the idea of transforming their classroom through technology.
"In face to face teaching, if it's just you talking and you tell your students to take notes, and your teaching is one way only, you can try to replicate that in an online setting—but it's really boring, and students don't like it," Enrique believes.
Conversely, Enrique and his colleagues at IE believe that the classroom should be dynamic and responsive, and this includes incorporating technology. This has helped the transition online feel far more natural.
---
Using the tools available
---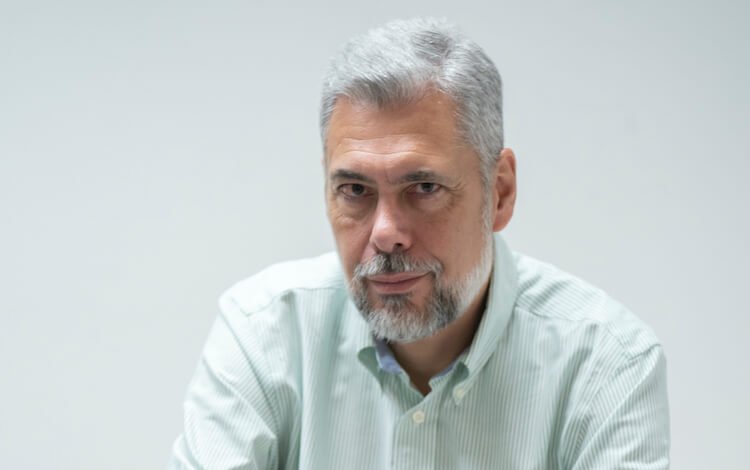 ©David Mudarra
---
IE offers a mixture of online and campus—or blended—learning in its different course offerings. Enrique actually believes this is a far superior way of studying. Online learning, he insists, isn't a replacement for face-to-face learning, but rather a supplement to it.
"We have to think about online learning as an environment where learning can be even better sometimes than in a class," Enrique stresses.
"The first thing is that professors need to redesign their syllabus to make it good material for online teaching. That requires some reconceptualisation of it."
In an ordinary classroom discussion, students only have the notes in front of them available; online, however, they have all manner of resources, be these videos, articles, diagrams, or illustrations. These can bring a great deal to any discussion, and to the overall learning objectives. Moreover, they demonstrate to students the diverse kit of tools and resources they have available when making decisions later in their careers.
Principal to this has been IE's WOW Room—a multimedia, interactive learning space that incorporates real time simulations, through artificial intelligence and data analysis, with remote learning, bringing students into the experience through holograms in the classroom.
Regular classrooms are also recreated through Adobe Connect, the web conferencing software, which caters for different sorts of remote interaction between students and faculty.
Enrique has also written on the merits of virtual reality, and believes this can be applied to transform classroom learning. He envisions more cameras and more monitors that will allow students to fully participate in discussions and activities, wherever they are in the world. This will be crucial in the future in both work and university, when a greater awareness of illness or infection prevents people from travelling to work or class.
---
Grasping these skills for their careers
---
A 'presentism' culture—where companies and institutions are concerned with face-to-face contact—still persists in many countries, particularly in Spanish and Latin American cultures that Enrique lives in.
But after the lockdown ends, this is likely to erode in many sectors. Understanding how to work remotely will be a necessary line on anyone's resume.
All of these tools—from Zoom, to Adobe Connect, even to virtual reality—are likely to become a central feature for any workplace moving forward. The difference will be between those who have mastered the capability, and those still fumbling around on the unmute button when it's their turn to speak.
"If you learn in a blended environment, these are tools you'll carry with you for the rest of your life," Enrique says.
MBA students who learn with and embrace these tools will have a competitive advantage, allowing them to become more agile and more flexible as leaders.
"The important thing is to develop a mentality, where professionals can adopt any tools and try them, and keep trying them as new ones appear and gain popularity, in such a way that they become more flexible."
Related Content: