You don't need an MBA to become an entrepreneur. Bill Gates and Steve Jobs started pretty big businesses without one. But even billionaires say that an MBA degree sets you on the path to success.

The Tsinghua Global MBA Program, run in collaboration with MIT Sloan, plays host to multiple student entrepreneurs starting new businesses each year. Tsinghua University is located in Zhongguancun, a Beijing technology hub known as China's Silicon Valley.

Most Tsinghua students looking to become the next Mark Zuckerberg or Jack Ma take the MBA's flagship Entrepreneurial Strategy module.

The course provides a framework for budding entrepreneurs looking to start and scale their own businesses. At its core is the notion that, for an entrepreneur to make it big, an idea is important, but it's the strategy behind the idea which makes the difference between failure and success.
---
Entrepreneurial Strategy: Course Overview
---
The course is taught by leading entrepreneurship professors Scott Stern and Pierre Azoulay from MIT Sloan and Gao Xudong from Tsinghua University School of Economics and Management (SEM).
Following a sandwich course design, students take two intensive week-long modules with company visits in between—touring local Chinese startups, interviewing founders and CEOs, and solving their strategic challenges—where they put the theory they learn into practice.
---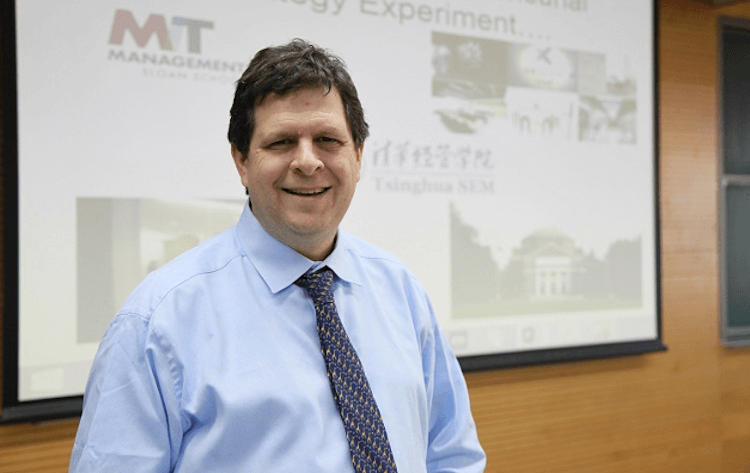 Professor Scott Stern teaches MBAs at MIT Sloan and on the Tsinghua Global MBA
---
Module 1: Choosing an Entrepreneurial Strategy
Led by Scott Stern, the first module teaches students how to formulate a strategy at the earliest stages of a company. Entrepreneurs, Scott explains, must identify four key things: their competition, customers, technology, and identity. These four choices combined shape an entrepreneurial strategy.
---
Company Visits
With this framework in mind, students split into groups, meet with entrepreneurs from x-lab—Tsinghua's startup incubator—and are then assigned to a local company, many of which were started by Tsinghua alums.
Their task is to understand the strategic decisions made by the company in the past and, for their final project presentation in Module 2, provide recommendations for the firm's future growth.
---
Module 2: Scaling an Entrepreneurial Strategy
The final module, taught by Pierre Azoulay, focuses on the later stages of entrepreneurship; the challenges of growing an emerging business and innovation as a tool for competitive advantage.
Students learn how to build a project portfolio, how to test and iterate when doing product development, and how to manage intellectual property, before presenting their strategic recommendations to their host companies.
---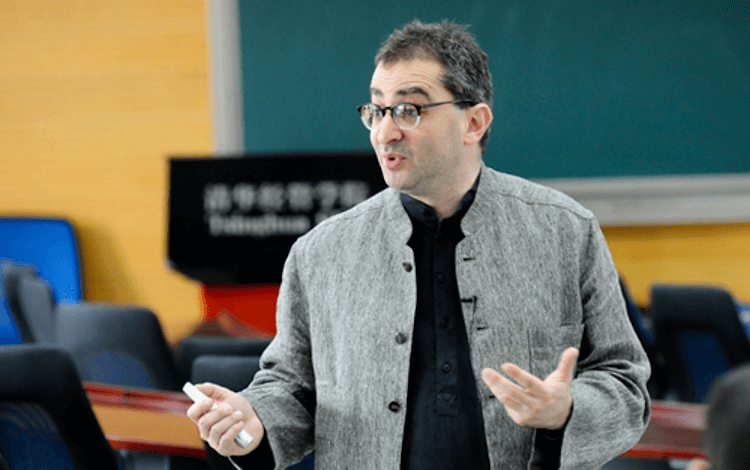 Professor Pierre Azoulay focuses on the later stages of entrepreneurship
---
Pierre, who was a PhD classmate of professor Gao Xudong at MIT before joining forces with Scott to create the course, says they always wanted students' learning to be action-orientated.
"So we came up with these projects where students work in teams with local startups and help them think through their strategy in light of what they've learned during the class," he explains.
The course content is the same as what MBAs are taught at MIT Sloan but delivered in a more compact format. "When you have students for six or seven hours a day you also need to vary the teaching methods a lot more," Pierre continues.
"So we have a lecture for an hour and a half; then it will go into a case study; and then it will go into an group exercise where students work for 45 minutes in teams and report back on their thoughts on a particular topic."
---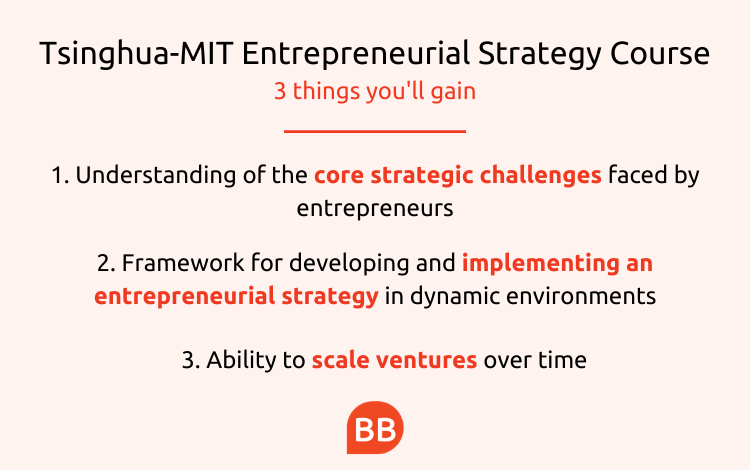 ---
What entrepreneurs need to be successful
---
The strategic framework students gain on the course, Gao explains, will help them avoid making big mistakes when they start their own businesses. Students gain experience working with startups, but the course also makes them appreciate the importance of taking a theoretical approach.
"A lot of entrepreneurs do not do enough theoretical analysis about their business and environment. They should pay more attention to theoretical thinking and guide their entrepreneurship by solid theories or theoretical frameworks," he says.
---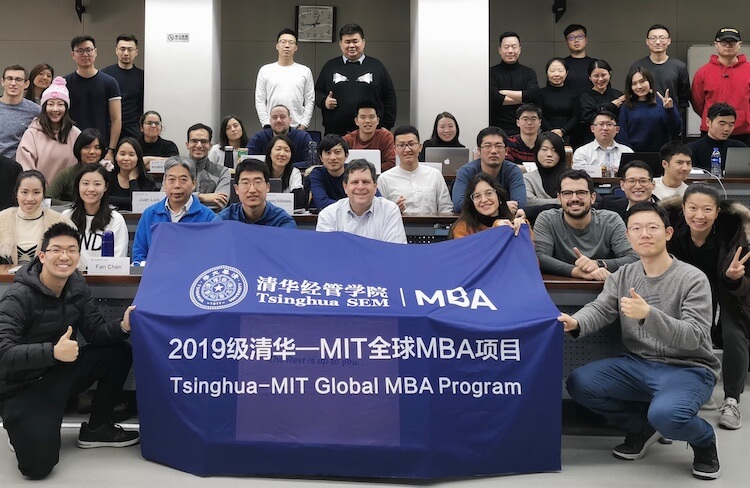 The latest cohort of Tsinghua-MIT Global MBA students in the Entrepreneurial Strategy class
---
Another key learning is patience. "We are so influenced by 'internet thinking' and so used to focusing on getting quick returns," says Gao. "Patience could lead to more effective entrepreneurship."
Pierre says the entrepreneurial mindset students build during the MBA course is useful even when working for more established companies. "What we're giving students are the skills and a critical eye to evaluate a lot of what might be done, so they bring fresh ideas and fresh perspectives and ask questions that are not typically asked.
"Tsinghua is also in the middle of a very vibrant entrepreneurial ecosystem," he continues. "There are hundreds, if not thousands, of startups within a mile of the school so it's like being in Silicon Valley. And there are structures at Tsinghua—like x-lab—which help students tap into that ecosystem."
---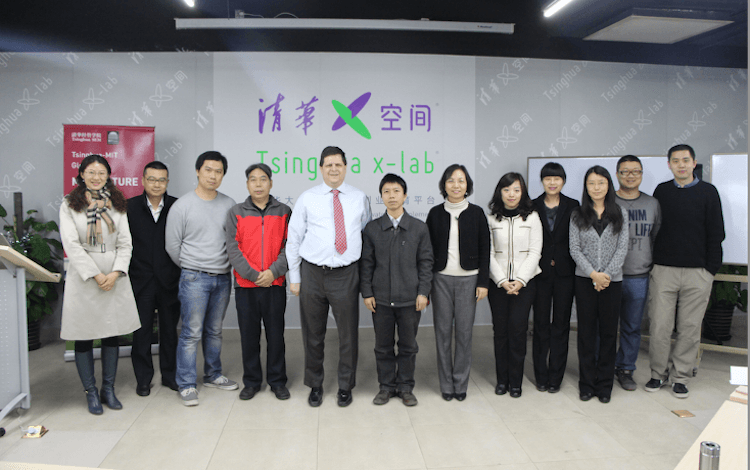 Scott Stern and Gao Xudong with MBA students at Tsinghua's x-lab
---
Going from MBA to entrepreneur
---
Tsinghua's x-lab gives students an office in which to develop their business ideas, access to a network of like-minded entrepreneurs, mentorship, and potential sources of funding.
It's also well-connected to the wider Zhongguancun startup scene where over a third of China's entrepreneurial investment flows into. Around 200 x-lab startups have raised over $470 million in funding to date.
x-lab, learning from MBA classes like Entrepreneurial Strategy, plus the network you're able to strike up at a school like Tsinghua has helped many recent MBAs become entrepreneurs.
Take Alvaro Montoya, for example, who started his own live translation service through x-lab. He says the Entrepreneurial Strategy course also helped him when setting up his business, named Akkadu. The professors and students on the course analyzed his startup and Scott Stern, he says, suggested Alvaro understand his customer base in more detail.
"He was completely right! His feedback forced us to go back and better analyze each of the clients we had!
"In the class itself, professors used real startup cases to teach us about the different directions we could take," Alvaro continues. "I even recall going back to my office after the lecture to share what I learned with my team!"
---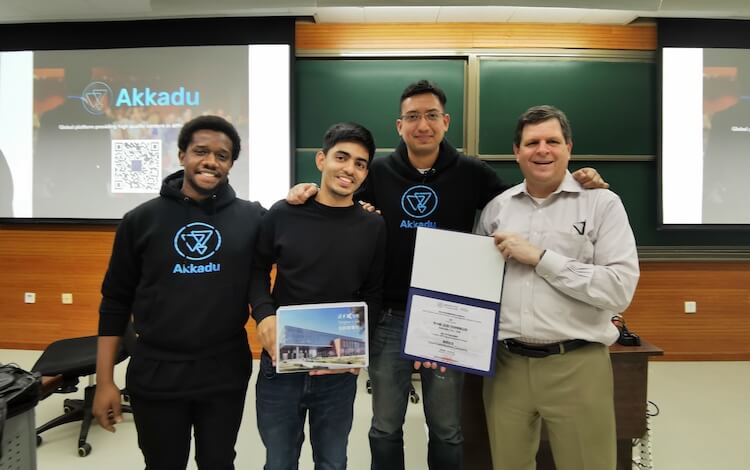 Alvaro (center, right) with Professor Scott Stern and the Akkadu startup team in the Entrepreneurial Strategy class
---
Saman Farid, now the US head of Baidu Ventures, also reflected on his learnings from the Entrepreneurial Strategy course when launching his own venture fund.
"Entrepreneurs are focused on solving day to day issues, but the framework taught in this class helped me to view things from a new level of altitude," he says.
"Company positioning, customer selection, efficient use of limited resources; thinking through these will mitigate the danger of trying to boil the ocean in product and market development."
---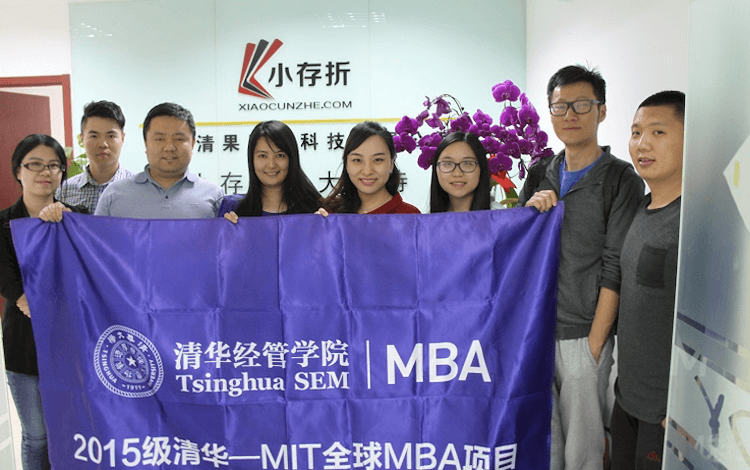 Tsinghua MBAs visit local Beijing companies
---
Yimin Lai, a 2018 Tsinghua MBA graduate, remembers how his group was partnered with local Beijing firm, Tongxingzhe, an edu-tourism company that was looking to expand their business operations across China.
After conducting in-depth interviews with the company over several months, he proposed that the company pivot from being a tourism-focused brand to one more aligned with education. This, Yimin says, took advantage of the company's core identity and allowed it to compete in the less crowded alternative education market.
"The end of the course turned into a frantic finish for all the groups as each team struggled to synthesize what they learned from their client companies to construct a strategic recommendation," he recalls.
"But the strategic framework from the course proved helpful and each group decided on how best to choose their startup's new identity, customers, competition, and technology!"
Yimin launched his own startup focused on poker-inspired apparel after his MBA. He's now doing a PhD in cultural anthropology.
His experience on the Entrepreneurial Strategy course at Tsinghua gave him the tools and the confidence to give startup life a go.
Related Content: