Since she was a child, helping out on the cash register and wrapping gifts in her parents' store in Nigeria, Adetobi Solanke has known what it's like to be an entrepreneur.
"Every young person in Nigeria has a side hustle," Adetobi says, "We all want to please our parents, to get a 9-to-5. But young people know what they want, and do what they can to make it happen."
But as she grew up, and began putting her own business ideas into motion, Adetobi found that entrepreneurship wasn't simple. Her financial background wouldn't be enough: she'd need operational knowledge, leadership skills, and a solid network. All things she hoped to find on an MBA program.
---
From finance to an MBA
Adetobi jokingly admits that her intended career may have been predetermined for her by her parents.
"Every Nigerian parent knows what they want for their children," she reveals. While she had an artistic inclination, as well as entrepreneurial interests, Adetobi leaned towards a more conventional career in finance, taking her bachelor's in economics.
Moving across roles at a merchant bank in Nigeria, as well as stints as a treasury analyst for news channel CNBC Africa, Adetobi firmly established herself in the world of finance. She even took her CFA exam, for many the start point of a career in investment banking.
While she knew finance like the back of her hand, she found she was lacking certain soft skills that would allow her career to advance further.
"I needed to debate what would take me to the next level and differentiate me from my peers," she says. An MBA seemed like an obvious choice.
---
Highlights of the MBA at IE Business School
---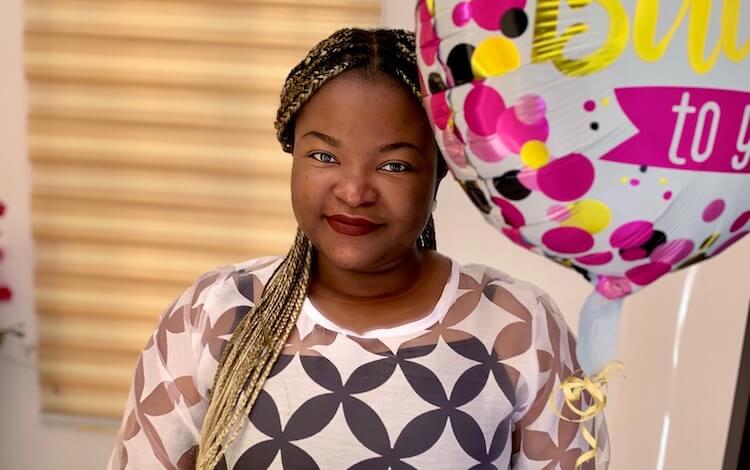 ---
After researching European programs, she opted for the International MBA at IE Business School in Madrid. First and foremost, it was a program which had entrepreneurial credentials. Students can take a four-month entrepreneurship specialization as part of the elective period of the program. There is also a lab period, during which one of the options is a startup lab, where students can go through the steps of launching a business.
For Adetobi, this answered many questions she had about entrepreneurship. Her MBA came about at a similar time as she was starting her first business, a fabric company, and acted as the starter kit she needed to boost her entrepreneurial skills.
"I felt that certain things I did at the time didn't come out successfully as a result of my decisions, and so felt I needed some knowledge from a school that is known for its entrepreneurial focus."
Courses in operations management on the IE MBA helped her identify problems she had related to inventory. Critical thinking, which was a common theme across many of the courses, also helped her engage with different challenges she would face in business.
"It taught me the way to handle a lean startup, which helped me streamline processes and see different ways of being efficient."
One opportunity to put this into practice was during a fellowship trip to Brazil, where she deployed design thinking to help a local NGO in Rio.
---
Launching the Pamper Trap Company
While entrepreneurship had always been at the forefront of Adetobi's mind, her next venture would actually be more incidental.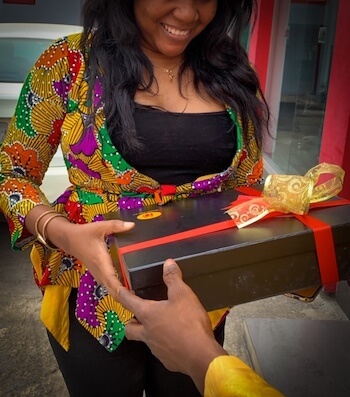 After graduating, she spent some time working in Spain, but moved back to Nigeria looking for a finance job to support her entrepreneurial ambitions. But in December 2017, a friend who worked at a large oil company approached Adetobi, and said she needed some gift hampers.
"It wasn't my background, but they left it to me and trusted me."
She seized the opportunity, created the gifts, and went about uploading pictures of the gifts on Instagram. Before she knew it, she'd had orders from investment banks, multinational FMCGs, all of whom are clients to this day.
The Pamper Trap Company was born, which Adetobi describes as a "artisan gifting service".
"Our focus is bespoke or customised gifting experiences for important people and memorable moments."
She gives an example of the sort of present they provide—"We had a client whose wife was starting a new business. He came in and knew he wanted to give her something, and we said "Why don't you give her a new office?"
---
Growing the startup and giving back to the community
The next steps of growing the business presents some bigger challenges for Adetobi. She believes Nigeria, on account of constantly changing laws, is not the simplest place to do business.
Adetobi also laments the fact that almost 80% of the physical gifts they offer are imported. She hopes to see more high quality, locally made Nigerian products and companies, which would help her business grow.
Off the back of her own success, Adetobi is keen to give back to the community. In the coming years she hopes to be able to offer opportunities and advice to local young Nigerians, to ensure they have the same role models and ambitions that she had.
"Entrepreneurial spirit is strong here, and I would love it if we could help people to see that in themselves," she says.
In the meantime, her advice to aspiring entrepreneurs, based on her own experience, is simple. "Never close your eyes to opportunities that come up—you never really know if it could be a thing."
Related Content: