Yizhen Fung is three months into her role as a chief of staff at AirAsia.com, the travel and lifestyle app for the airline giant, reporting directly to the CEO.
Even before COVID-19, aviation was rapidly changing and transforming, and in the past few months has seen serious disruption. But Yizhen is no stranger to adverse circumstances, having spent months job hunting in one of the most uncertain job markets for decades.
Resilience and adaptability have proven to be key to her skill set, both of which she grasped and harnessed during her MBA at Asia School of Business (ASB) in Malaysia, and which will stay with her in a post-COVID world.
---
Transitioning into the private sector via an MBA
Fresh out of high school in Malaysia, Yizhen went to study law at the University of Oxford. Graduating from the prestigious program had set her up for a successful career in legal practise: the only problem being, she didn't want to become a lawyer.
She returned home to Malaysia, where she started working at the Securities Commission, a regulator for Malaysia's capital markets, working as an advisor and speech writer for the chairman.
"I had a reflection that, while the regulator plays an important role in facilitating innovation, the true driver of innovation really lies in the private sector. I wanted to be a part of that," Yizhen remembers.
She wasn't clear exactly which industry or role she was destined for, but knew that, to get noticed by any employer in Asia, she had to get some experience under her belt.
She spoke to a close friend who had graduated in the inaugural class at Asia School of Business' MBA, who raved about the Action Learning experience he had got from the program. "I was so impressed with the pan-Asian exposure he got, and how the experience transformed him from a self made entrepreneur to a well rounded corporate leader."
It was clear that the ASB MBA could give her a wide-spanning experience across sectors that could set her up for the commercial career she desired.
---

---
Gaining experience through action learning
ASB's MBA is designed around an iterative, experience-based curriculum which gives candidates exposure to different industries and companies across Asia. Central to this are the five Action Learning projects which each participant takes over the course of the MBA.
Yizhen describes these as the "jewel in the crown" of her time at ASB, encapsulating what makes the ASB program so unique for professionals like herself looking to launch a career in Asia.
First, she was able to harness and strengthen her leadership skills. Action Learning projects give students the responsibility of working on real life consulting projects with major companies looking to address certain challenges.
It pushed her to take initiative and adopt a leadership role which she may not have had experience doing previously. In many cases, working at the client site involved advising clients who were 10 years her senior.
It taught her to be collaborative, particularly with groups from multiple backgrounds. "Given the diversity of the program, it's often about learning how to work in a team with any number of personalities that you can get matched up with."
---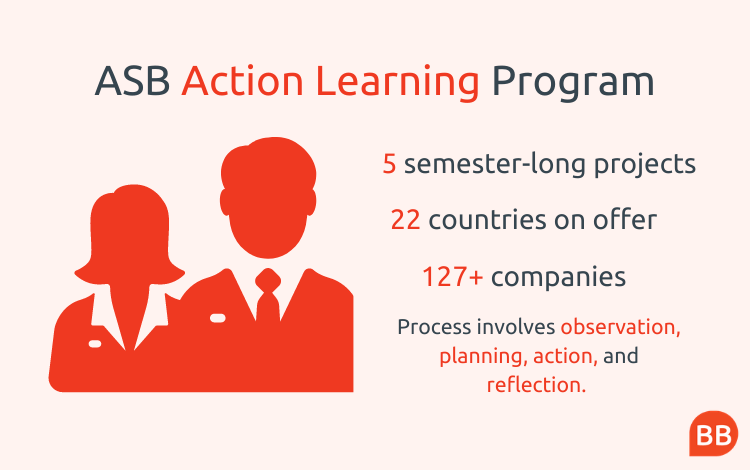 ---
Related Content: