London Business School's MBA program is consistently ranked among the best in the world.

So how do you get accepted onto the LBS MBA? Whatever your reasons are for applying to this world class MBA, you'll need to be ready with a top GMAT score, strong application essays, work experience, and a good GPA.

Here's how to stand the best chance of LBS MBA application success:
---
London Business School MBA Admission Requirements
- An undergraduate degree or equivalent qualification.
- A strong GMAT or GRE score
- Excellent professional references
- A minimum of two years' work experience
- The ability to work in multicultural teams and demonstrate an international outlook.
As part of your LBS application, you will also be asked to complete a short essay, around 500 words, and attend an interview.
---
Use your LBS MBA essays to communicate your career goals
The latest LBS MBA essay questions are:
1. What are your post-MBA goals and how will your prior experience and the London Business School program contribute towards these?
2. Is there any other information you believe the Admissions Committee should know about you and your application to London Business School? (Optional)
Although your career ambitions may change course during your studies, it's important to be clear on what you want out of your time with LBS, so the school can see whether you're a suitable fit.
The MBA application essay is the perfect opportunity to clarify your career ambitions, and lay out precisely how the LBS MBA will help get you there.
The LBS MBA is known for its flexibility, allowing you to customise your course to your specific interests, so it's worth researching which modules you might want to take, and explaining in your application how they suit your goals.
David Simpson, MBA admissions director at LBS, says self-awareness, and an understanding of your own strengths and weaknesses, is important here. "Know the gaps you have coming into the program," he advises. "Then you'll know what you can focus on during your time here."
Read more LBS MBA Essay Tips & Advice
---
Watch Our Interview With The LBS MBA Admissions Director
---
---
Ask yourself what you will bring to the LBS MBA classroom
It's good practice in your application to reflect on the experience, qualifications and perspectives you have developed in your career so far, and consider how they might be useful to other MBA candidates.
"The most common question we'll ask incoming students is: 'What will you bring to us, what will you bring to the classroom and the school community?'" says David.
LBS will be looking to build a diverse cohort where students can learn from each other, so it's worth reflecting on the ways your professional experience, business philosophy, and skillset make you unique.
The school boasts one of the most diverse student bodies, with 66 nationalities represented in the MBA class of 2021.
With LBS valuing a global perspective, any international experience is worth talking about in your application.
---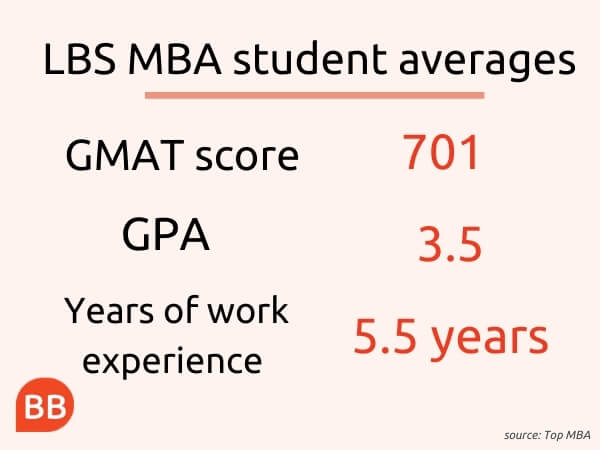 ---
Make your LBS MBA application personal
One common pitfall in applications, particularly in essays and interviews, is not making them personal enough. "Candidates will sometimes tell us what they think we want to hear, rather than the best thing about them," says David.
"The best thing to do is think: 'Who am I? What do I want out of this, and how should I put that across to business schools?" he says.
LBS MBAs note that making an effort to know the school, its culture, and its community, was particularly valued in their applications.
When it comes to your reference, make sure you choose someone who knows you, your ambitions, and your abilities really well. Don't just choose the most senior person in your company, unless you have a particularly strong relationship.
---
LBS MBA Cost & Scholarships
Tuition fees for the 2021 MBA intake are £92,735 ($131,000).
The tuition fee covers the full length of the 15-21 month program and is not affected by your chosen exit point.
According to our BusinessBecause Cost of MBA Report, we estimate the total cost of your MBA at LBS to be over $170,000. This total cost includes tuition, living expenses, healthcare, and additional fees.
Despite the costly fees, LBS are keen to accept bright students from all backgrounds and there are a growing range of scholarships available offering full or partial funding.
Many scholarships are run internally at LBS, and admitted students are automatically considered for any of these awards, if eligible. These include the Professor Sir James Ball Endowed Scholarship Program, which is open to all MBA students, and funds targeting a historically underrepresented demographic, like the Gonzalo and Maria Garcia Scholarship for Latin American women.
---

---
Reach out to LBS MBA alumni and faculty
It's well worth reaching out to speak to alumni and faculty members to get a sense of the school's values, and how you may fit into them. LBS wants to know why they are the best school for you, not just why you want to do an MBA.
Don't be shy to the admissions team either. It's their job to help you be as informed as possible throughout your application, so take the opportunity to reach out for any information you may need.
According to their dean, François Ortalo-Magné, LBS values curiosity and humility in prospective students. "We want people who ask questions," he says.
"If you're a curious questioner, globally-minded and collaborative, you would be a great fit for London Business School."
---

Given the LBS MBA is ranked among the best programs in the world, getting accepted is going to be tough. A strong score on the GMAT is expected, alongside impressive experience and excellent references.
But don't let the competition put you off. LBS want to build a diverse cohort with a wealth of different experiences and perspectives, who are openminded, collaborative and curious.
LBS' holistic application process gives you plenty of opportunity to shine. You should have a clear idea of your career goals and how LBS will get you there, as well as an awareness of how you could bring a unique perspective to the classroom.

Next Read:
Top Tips For Applying In 2021 From London Business School's MBA Admissions Director