Women's soccer is on the rise. The 2019 Women's World Cup final was watched by a record 1.12 billion people, while the number of women who play soccer globally has now reached the same levels as those who play tennis or practice yoga.

Yet there is still a large divide between the women's game and their male counterparts. The total prize money for the women's world cup was $30 million, while the prize money for the men's tournament was $400 million in 2018.

Two women who are keen to make a difference in supporting women's soccer are Vaidehi Vaidya and Deborah Dilworth. Both keen players and lovers of the game, Vaidehi is helping make soccer more accessible to women in India, while Deborah is improving structures within the women's game in England.

They both began their journeys on the Football Industries MBA (FIMBA) at the University of Liverpool Management School, a course which blends fundamental business learning with lessons related to soccer, helping graduates forge careers in the industry.
---
Why FIMBA?
Vaidehi decided she didn't want to pursue a nine to five job after graduating from her bachelor's degree in engineering in India. Instead, she chose to work toward her passion for soccer. She found the FIMBA online and decided to complete the required two years of work experience in India, where she worked as a design engineer, before joining the course in 2012.
Deborah, meanwhile, was already channelling her passion while working as an assistant regional director for a soccer company in California. In 2013, she decided to leave her role and further her career by studying on the FIMBA.
Deborah was experienced in managing soccer coaches and volunteers, but felt adding an understanding of the business side of soccer to her coaching badges would help her stand out when applying to higher roles within the industry.
The FIMBA, which is the only Football Industries MBA in the world, combines core business teaching with classes including Football Economics and Analytics, Football and Finance, and Becoming a Football Executive. This gives students a blend of skills which are needed to build careers in the industry.
---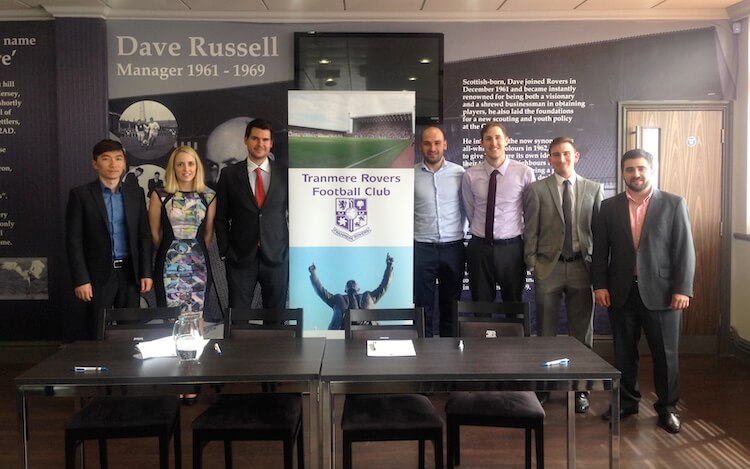 ---
The Football MBA Experience
As an industry, soccer presents some unusual challenges, but the FIMBA is tailored to help students overcome them with soccer-specific business classes. Finance lessons in asset management use players as assets, while classes on strategy and negotiation teach students to negotiate player contracts.
Teaching in class is supplemented by visits to key industry sites, helping students to see how the theory they learn in the classroom is implemented in the real world.
Deborah had the opportunity to see behind the scenes of soccer stadiums in Liverpool and MK Dons, as well as UEFA headquarters in Switzerland. UEFA is the administrative body for soccer in Europe.
"Learning in a football stadium or press room brings it alive, it's exciting because you think 'I want to be part of this,'" she says.
For Deborah and Vaidehi, networking opportunities were a highlight of the program. FIMBA students have access to alumni working throughout the industry, for governing bodies like UEFA and the English Football League (EFL) as well as soccer clubs like Bayern Munich and Manchester City.
Industry experts also give guest lectures throughout the course. Vaidehi met the CEO of Everton Football Club after a guest lecture. "These are the people you see on television and having them come in and talk in your classroom about how things happen is just amazing," she reflects.
Utilizing this network means FIMBA students can gain access to knowledge and opportunities that don't exist anywhere else. Vaidehi secured an internship with UEFA and the Asian Football Development Project, "it was one of the alumni who helped me get that internship, and that later became my first job after the course," she says.
Vaidehi continued working with the Asian Football Development Project in India after completing the FIMBA, while Deborah (pictured below) became a coach mentor at the Football Association (FA), the governing body of association football in England, and a network manager at the Football Supporters' Association.
---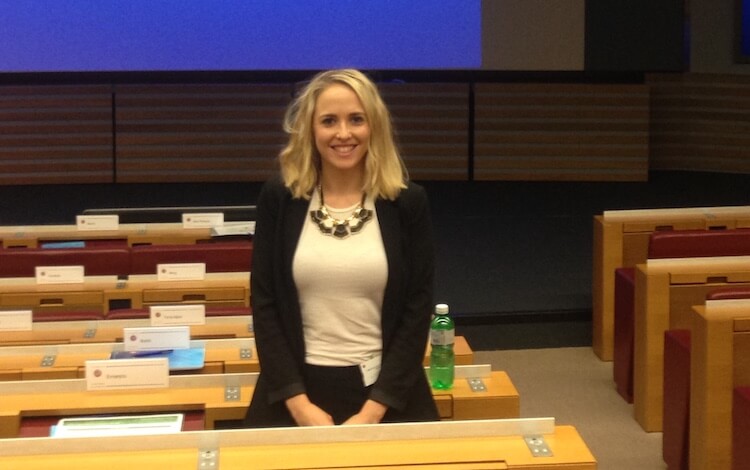 ---
Supporting women in sport
Since entering the industry, both women have focused their work on supporting women's sport.
In 2015, Vaidehi created Women In Sport India (WISI), a platform seeking to unify online forums and communities in India to provide women in sport with an information and support network.
She came across the idea while completing her work-based project—the final piece of work FIMBA students undertake before graduating.
The project involves in-depth research on the student's chosen topic, and Vaidehi focused hers on widening women's access to soccer in India. She travelled across urban and rural India speaking with governing bodies, players and sports schools as part of her research.
"I started realizing that there is a lot of talent in women's football and women's sport in India but there is nobody to bring them together under one roof, so that is where it all started," she says.
In 2015, she left her role with UEFA, where she had been evaluating the potential of women's soccer in India, to return to the idea.
"I thought if there is no platform, I am sure there are a lot of women searching for the same thing, so I started one," she says. "It is something that I love doing so I ultimately decided I wanted to do it full time; I wanted to do it for women."
---
Deborah's role with the Football Supporters' Association sees her bridging the gap between supporters and official structures in the women's game, creating and maintaining a network by working with volunteers, supporters groups and clubs.
She took on the voluntary role two years ago, alongside her main job within the FSA working with the EFL network. She performs similar tasks for both roles, but working in women's soccer means dealing with a much less established network.
"It's a different scenario really. Some of the groups in the EFL are 20 years old whereas in the women's game a lot of them are quite new," she says.
"I think that supporters in the women's game deserve the treatment and voice that the EFL and the national league get, and I am passionate about bringing that to women's football," she continues.
"The beauty of the FIMBA is that it showed me what I was interested in, and it gave me that level of clarity to then push forward with my career."
Student Reviews
University of Liverpool School of Management
Related Content: