The MBA admission 2021 cycle is one of the most competitive yet. COVID-19 has caused huge damage to the global economy and more people are looking to better position their careers to respond to that.

67% of business schools globally reported increasing applications in 2020, according to the Graduate Management Admission Council.

43% of those schools reported application growth of over 20%. For many top schools however, that number could be much higher.

If you're applying to MBA programs in 2021, who are you competing with? And how can you stand out from the crowd?

We spoke to some of the world's top business schools to find out:
---
International deferrals
Due to COVID-19, the deferral rate of programs shot up in 2019/20, meaning that many business schools have significantly fewer seats to offer this year.
International students in particular faced the most uncertainty during the pandemic and were more likely to defer.
Professor Shameen Prashantham (pictured below), MBA director at China Europe International Business School (CEIBS) says: "As with most top schools, a high number of deferrals from the 2020 intake has led to tougher competition for seats on the 2021 intake.
"The decision to quit your job, possibly move to a brand new country, and enroll into a full-time MBA program is a huge one even in normal times. Naturally, the pandemic has instilled in everyone a sense of caution, and rightly so."
Liam Kilby, associate director of MBA recruitment & admissions at the University of Oxford's Saïd Business School, says: "A lot of people found themselves in situations beyond their control. It would have been too punitive to say no to all deferrals.
"This had a knock-on effect with significantly fewer spaces for the 2021 intake. With deferral requests increasing several times over compared to the recent average, this has made the process for new candidates far more competitive."
---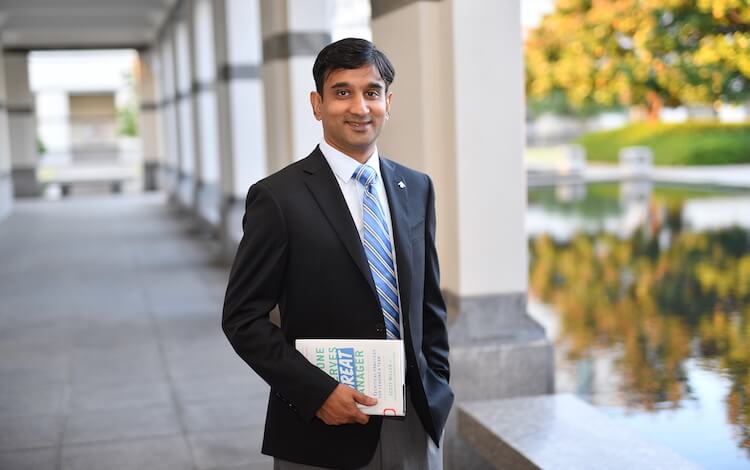 ---
High-quality candidates from a variety of industries
The increase does not seem to be localized to a particular region or industry.
"The industry coverage of incoming students remains consistent with previous years, with finance, technology, manufacturing and consulting making up the most-represented industries," Shameen notes.
Despite the increased number of applications, the quality of candidates also remains high.
Eric Askins, full-time MBA admissions director at the University of Berkeley Haas School of Business, says there's been no significant drop in academic indicators or professional preparation among MBA applicants. "Candidates have by-and-large presented well-crafted applications," he says.
'What we aren't seeing are rushed applications or candidates seeking to wait out the economic downturn in graduate school. We're seeing strong academic indicators and solid professional experience.'
While some schools have waived testing requirements, the median GMAT score for Oxford Saïd's MBA class, at 690, is actually higher than in previous years.
---
Read: What Is A Good GMAT Score?
---
How to be more competitive
Business school applications are normally competitive, but candidates this year need to be the best of the best.
Liam, from Oxford, says candidates need to find a way to shine and to frame their strengths in a way that is compelling to the admissions committee. "Candidates should also demonstrate that they know the benefits, challenges and nuances of the school instead of presenting generic applications that are not tailored to the school."
In the evaluation process at Berkeley Haas, Eric says candidates are encouraged to share how they've addressed the impact of COVID in their professional and personal lives.
"Our second essay asks candidates to think critically about leadership. The responses reflect an understanding that the 'new normal' shouldn't simply be a return to the status quo. It has been inspiring to read these essays and understand that a new generation of leaders is poised to implement these changes."
The message is clear: the MBA admission 2021 cycle is objectively more competitive, and applicants need to step up and demonstrate how they can be the leaders that business schools are looking for.
---
Applying to business school this year?
Download our free BusinessBecause MBA Application Guide