Business school applications tend to be countercyclical to the state of the economy: more people apply to MBA and master's programs when the economy and the jobs market recedes; fewer people apply when the economy is strong. 2020 is no exception.
67% of business schools saw an increase in applications in 2020, according to the new Application Trends Survey published today by the Graduate Management Admission Council (GMAC), which tracks demand for MBA and master's programs. The total volume of applications to global business schools increased by 2.4%.
This is a significant rebound from 2019, which saw overall applications fall by 3.1%, as well as over half of schools reporting a decrease in applications.
GMAC CEO Sangeet Chowfla puts this down to the effect a receding economy has on the business school decision in candidates' minds.
"The opportunity cost of leaving a job to pursue an MBA or business master's lessens as economies begin to regress. As a result, we are now seeing more people thinking about b-school to grow or improve their career prospects," he says.
---
---
US business school applications rebound
---
After years of falling demand, applications to US business schools have seen a 20.6% spike in 2020. 67% of US programs reported increases in applications, a big improvement on a figure that has remained below 40% since 2017.
US application numbers have been boosted largely by increases in both domestic applications, which were up 29.9% this year, and international applications, up by 14.7%. That's good news after 2019's 13.7% drop in international applications to the US, which triggered an open letter penned to the President.
---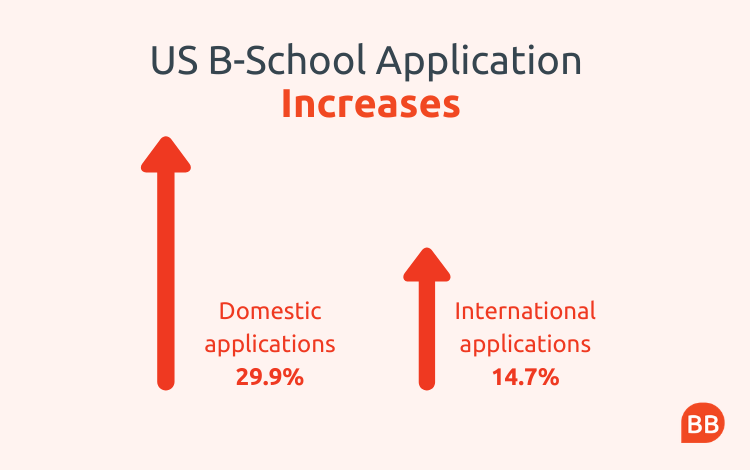 ---
Growing numbers among domestic students is particularly important for the US, where they make up 63% of the total application pool.
Demand for program types in the US has seen changes. Online MBAs have seen the biggest percentage growth—with 86% of programs reporting growth. This a response to the increasing online orientation of business schools, as well as uncertainty over travel restrictions as a result of COVID-19.
Two-year full time MBAs have also rebounded in popularity, with 75% of programs reporting growth overall. This is particularly high among top-ranked MBA programs, whose reputation and reliability remains consistent in the face of a changing business school landscape.
---
Sky-rocketing European business school applications
---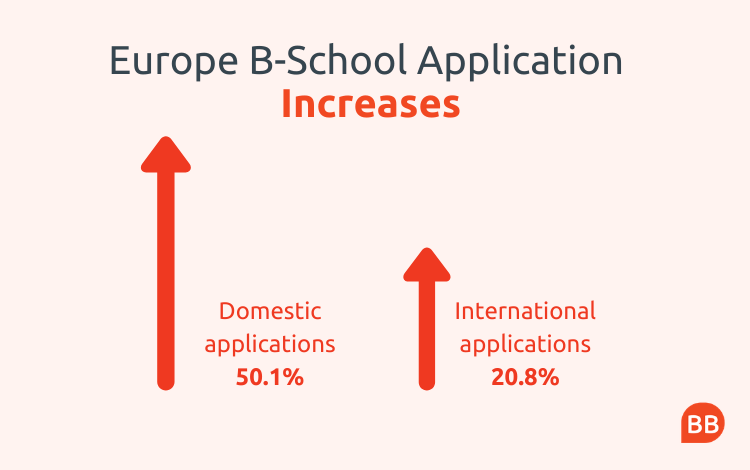 ---
2020 has been a stellar year for European applications, with business schools in Europe reporting a 24% increase overall, up from a 0.9% increase in 2019.
Considering European programs tend to rely heavily on international applications, their performance has been largely bolstered by an increase in domestic applications, which have increased by 50.1% in 2020. International applications have also increased by 20.8%—these account for four-fifths of total applications.
Among these international applications, around a fifth come from central and south Asia, with an additional fifth from east and southeast Asia. This perhaps accounts in part for the decline in domestic applications to Asia Pacific.
---
However, applications to Asia Pacific fall
---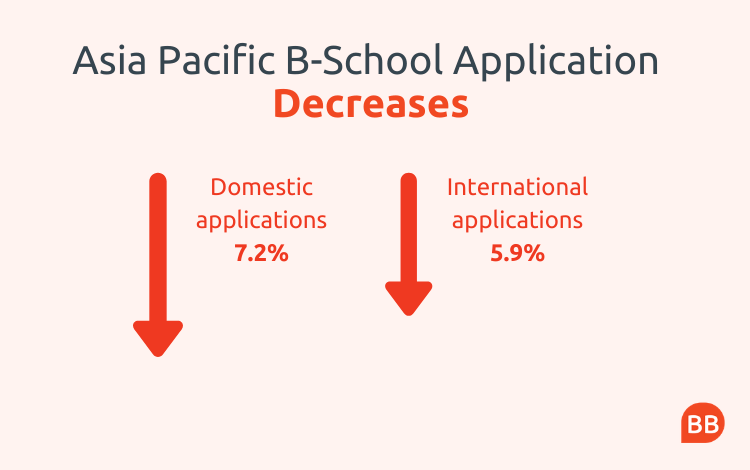 ---
Business schools in Asia Pacific have seen a growing demand over recent years, often credited with pulling candidates away from the US. In 2020, however, Asia Pacific has seen a 7.1% decline in overall applications.
This is a combination of a 7.2% fall in domestic applications, and 5.9% decrease in international applications.
The demand for two-year full time MBA programs remains strong, however. 61% of these programs reported growth, compared to just 40% of one-year MBA programs, and 43% of post-graduate programs (PGPs), the Indian equivalent to an MBA.
Experts blame a rocky year for Asia Pacific's decline in applications. One admissions officer, in the report, cites the Hong Kong protests, followed by the outbreak of the COVID-19 pandemic, for Asia's weaker performance in 2020. India, which is the region's largest applicant pool, has faced different extents of national lockdown which could be set to continue.
---
Changing demand for MBA vs Masters
---
2020 has also seen changing demands towards the popularity of certain types of programs.
Reversing a clear trend, full time MBA programs have experienced a surge in popularity. Over a third (37%) of full time MBA programs experienced 'significant growth' (over 20% increase). This is almost triple the number in 2019.
Business master's programs have also fared well in 2020. Two-thirds of master's programs recorded growth, with master in management and master of finance programs recording the higher increases.
As the economic outlook remains uncertain for the short to medium term, reinvesting in education and applying to business school seems to be at its most popular in nearly a decade.
---
Next Read:
Find out what Biden's Presidency Means For US Business Schools