The coronavirus pandemic has accelerated digital transformation for many businesses, showing just how important digital skills are for companies across industries.

According to the Graduate Management Admission Council (GMAC), 68% of companies that hire MBAs say the ability to navigate the challenges of technological disruption has become more important since the start of the pandemic.

At WU Executive Academy, the MBA in Digital Transformation & Data Science is equipping students with digital skills that will be useful for years to come, placing professionals at the forefront of digital change.

"We realized that we have a lot of leaders who have a very good understanding of how to manage big companies," explains Axel Polleres, academic director of the MBA Digital Transformation and Data Science of the WU Executive Academy and head of the Institute for Data, Process and Knowledge Management at WU Vienna.

"When it comes to digitalization it's not just about humans, but machines and technology, and we needed to find the right mix to put these two things together."

The MBA in in Digital Transformation & Data Science covers the ethical considerations of data science, data processing, and big data, combining trainings in management and technology.
---
Management + Technology
So what are the key advantages of pursuing an MBA in Digital Transformation & Data Science?
On top of general management courses, WU Executive Academy's specialized MBA includes intensive modules in programming and data science.
"We don't require a computer science background, but we want people who are not scared of using computers," explains Ronald Hochreiter, longstanding faculty member of the WU Executive Academy and principal investigator at WU Vienna's Research Institute for Computational Methods.
Students come to the program from a variety of roles, including operations, marketing, IT, and finance, and almost 40% of MBAs have no prior management experience.
"We teach them the latest trends—like blockchain technology and artificial intelligence—but with the right perspective, teaching them what they can actually do with these technologies," he says.
Students get a broad view of how digital transformation can be implemented at every level of a business, Ronald (pictured below) adds.
"You learn how to be the translator between business, IT, and a board of directors," he says. "If you really understand each of these three different types of languages and understand the problems and create a good structure then this is the right program for you."
---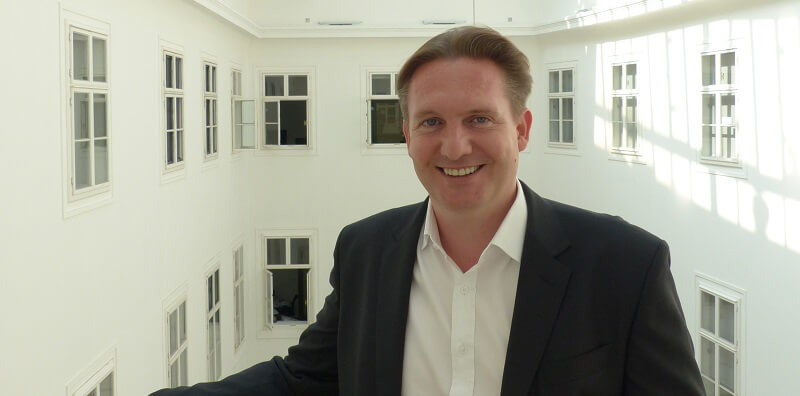 ---
Understand Big Data
A major focus of WU Executive Academy's MBA is on data science and big data analytics, skills that employers say are some of the most difficult skills to recruit.
Students practice their data science skills with real company projects running throughout the program. "They work hands-on with executives on data science, to get a feel for the data and the challenges involved," Axel says.
Studying data science at WU Executive Academy, Axel explains, requires that students think more broadly about their roles in organizations.
"There are two kinds of data scientist. One being a machine data scientist, who builds the IT infrastructure, and the other being the human data scientist who communicates and understands the business problems—we need these two kinds of people.
"We talk about data governance and how to leverage the digital assets of a company [during the MBA]."
---
Make digital transformation happen
The main goal of the MBA in Digital Transformation and Data Science is to train and support professionals to make digital transformation happen.
"We are convinced that in a company you can't just outsource tech or digitalization entirely, but need to build up the skillset within your company," says Axel. "That's one of the crucial factors in being successful in digital transformation."
According to a 2018 survey of over 1,000 North American and Western European companies, just 40% said they had a dedicated digital transformation team in place, and 20% said their company's leadership was unsure about how to start the process of digital transformation.
Yet WU Executive Academy MBA students are trained to start putting digital practices in place from the very start of the part-time program, Axel says.
"They work with problems from their own companies. We provide a base training on digital skills and then immediately discuss how these can be applied within their companies and where they'd expect digital solutions to work."
A part of this process is preparing to fail. "Sometimes we have a cool idea, but the result of these small-scale projects we do in class come to the conclusion that actually we have to go back one step and start from scratch," Axel admits.
"Failure is good," Ronald agrees. "This program is an eye-opener for many people, and that's why we like to have people that know it is easy to fail in digitization projects.
"It's always hard to get the right trade-off between data science and digital intelligence courses and putting that into an MBA program," Ronald continues, "but integrating technology into business is what we have to do."
That understanding, and the ability to action digital transformation in their organizations, he says, is what every WU Executive Academy MBA graduate will go away with.
Related Content: