China's rapid economic growth and its reputation for innovation has created a highly competitive job market.

Yet China remains truly unlike any other economy in the world, and demands specific business knowledge, acumen, and know-how to be successful. So what are the secrets behind launching a career successfully in China?

We spoke to Crystal Li, deputy director of the Career Development Center at Peking University's Guanghua School of Management, who revealed the five steps that she advises you take to shore up your chances of career success in China.
---
1. Identify the right industry for you
China's diverse and innovative economy has seen the success of dozens of different industries.
China witnessed an internet boom in the early noughties, which has seen the rise of global giants like Alibaba and Tencent. Financial services still play an important role in China's economy, with hubs in Shanghai, Beijing, and Shenzhen. More recently, we've seen the emergence of high-tech companies driving forward innovation in everything from smartphones to electric vehicles.
MBA graduates have their pick of top jobs at renowned companies. It's important, Crystal notes, that you really take time to identify what your goals are, and match this up to your chosen industry.
---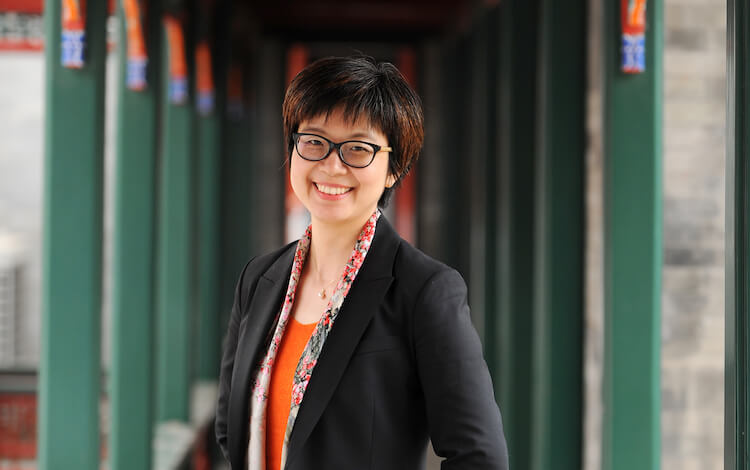 ---
"When students are focused and know their strengths and interests, they can target the industries, organizations, and positions that best match their talents and personality," Crystal (pictured above) says.
The PKU Guanghua Career Development Center (CDC) helps students to identify their motivations and narrow down their choices.This includes self-assessments, improving competencies in networking and interviewing, as well as developing effective job hunting strategies.
---
2. Research the working culture
Working culture in China varies greatly across different industries. Financial services are renowned for being hard-working, consulting tends to have a strong international focus (ordinarily with lots of international travel), while tech companies are intense but rewarding for those looking to work at the cutting edge of innovation.
If you're exploring careers in China, you should research the working culture in specific companies and industries, and make sure it matches up to your goals and ambitions: for instance, if you want a high salary and don't mind working hard for it, or if you enjoy travelling and working in different cultures.
There's no better way to find this out than asking people in those roles. "Talk to people in your target industries to know about the real work culture, challenges, workload, salaries, etc, and then estimate whether you will adapt to that," Crystal says.
The CDC helps PKU Guanghua MBAs foster these connections through meeting alumni in specific industries, who can often advise or even mentor students through applications without bias.
---

© PKU Guanghua via Facebook
---
3. Start to build your knowledge and network of that industry
Networking can be key to establishing yourself in a particular industry. In China, this is particularly valid, especially for MBAs looking to switch their career.
Once you've identified which industry is right for you, you should start building your knowledge and contacts around that industry. MBAs at PKU Guanghua can gain a big advantage through attending career fairs, recruitment events, seminars, and career workshops. This can be a great opportunity to make a warm introduction and start sowing the seeds for a potential job prospect.
This is substantiated by the knowledge you can gain from an MBA curriculum. PKU Guanghua offers a range of electives to MBA students, on anything from luxury brand management, to real estate investment, to managing multinational corporations.
Crystal also believes it's valuable for MBAs to tap into the vast alumni network (over 30,000 alumni around the world). With alumni working everywhere from Chinese companies like Alibaba, Tencent, and Xiaomi, to global names like Google, McKinsey, and Amazon, you'll have access to a wide reaching network.
---
4. Learn Mandarin
While China has developed a more global-facing economy, learning the language is very important. This demonstrates two things: firstly, your competence in scenarios where knowing Mandarin may be a big advantage; secondly, your commitment to working in China, and your desire to get to know the culture.
Your level of fluency will depend on what sort of job you apply for. Some companies will expect that you can keep up in internal meetings in Mandarin, while others might expect you to have a high degree of written and spoken fluency. "The better your Chinese is, the more opportunities you will have," Crystal says.
PKU Guanghua offers Mandarin courses to all MBA students before the program begins, as well as 'Business Chinese' lessons to students at the outset of the program. These require no prior knowledge of the language.
---

© PKU Guanghua via Facebook
---
5. Do an internship to see if it's right for you
Committing to a medium-to-long term career in China can be a big undertaking. Doing internships can be the perfect way to try out if you're a good fit for a new region, role, or industry.
The PKU Guanghua CDC helps facilitate internships through its own job platform, where top companies will regularly post job and internship opportunities.
Crystal emphasizes that these should still fit firmly within your overall career plans. "Set up clear goals before searching for internship opportunities. Don't just follow the crowd without knowing what you really want. It will turn out to be a total waste of your time and energy if you just apply for whatever internship positions that come up," she says.
Even if you don't see yourself staying in China long term, gaining work experience there can be highly beneficial. For one, you're proving yourself in a highly competitive, hard working economy. But you're also gaining valuable knowledge from a country that is driving forward global innovation and growth. Wherever you hope to launch your career, this will be advantageous.
Related Content: