The ability to thrive in a diverse team is increasingly important.

According to the Graduate Management Admission Council's (GMAC) 2020 corporate recruiter's survey, employers rank communication skills and the ability to lead in a complex global environment among the most important skills that new hires can have.

"Companies will increasingly realize that being able to work multi-culturally is a strength," explains Stephanie Jones, associate professor of organizational behavior at Maastricht School of Management (MSM) in the Netherlands.

Multicultural workplaces can be tricky to navigate, but the diverse perspectives that come with this kind of team mean it's well worth the effort.

BusinessBecause caught up with Stephanie to find out what challenges emerge in multicultural environments, and how you can overcome them to reap the benefits.
---
The advantage of diversity at work
According to a 2020 study by McKinsey, diversity is closely tied to company performance. Companies with the highest rates of gender and ethnic diversity consistently outperform their less diverse rivals, the study shows.
"Diverse teams are more effective mainly because different cultural groups see things in completely different ways," reflects Stephanie. "Different perspectives help with problem solving and creative thinking."
At MSM, Stephanie leads MBA students through a module called Managing Cultural Diversity. The course aims to equip them with the skills needed to thrive in teams made up of people from different backgrounds and cultures.
Throughout the course, students work together in cross-cultural groups on several projects. One requires them to create a cultural guide for an international colleague on a business trip to the Netherlands.
"It's based on theory—famous research about cultural differences—but also on interviews with my Dutch colleagues at MSM," Stephanie explains.
Each MSM MBA cohort attracts students from around 20 nationalities, which means teams are multicultural by default.
It's exactly this diversity that drew Wayne van Drunick to the MSM MBA. Wayne started his career in private wealth management, working in his home country of South Africa.
A few years into his career, an MBA emerged as the perfect opportunity to expand his knowledge across business functions while growing his network.
"If you stick to your own country, you work with people who think in a similar way to you, so you're not growing or challenging yourself as much," he says.
---
Challenges diverse teams face
Wayne (right) recalls a few challenges when it came to navigating cross-cultural teams at MSM.
Subtle differences in the variety of English spoken by different classmates meant he had to take extra care to ensure everyone was on the same page, and he also noticed that classmates from different countries had different approaches to management.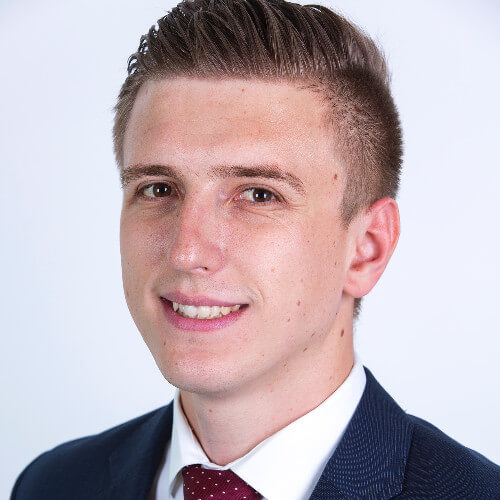 "These differences can make the work challenging, but also so rewarding when you succeed," he explains.
Differences like these have the potential to create friction in groups, Stephanie notes.
"The main challenge is communication problems," she says. "There could be linguistic differences, but also differences in body language—sometimes things get misinterpreted."
One key difference between Dutch business communication and strategies elsewhere in the world is that Dutch professionals tend to be quite direct and to the point.
"Many of our non-Dutch students can interpret this as cold or rude," Stephanie explains.
Another issue that often crops up in Stephanie's class is how different cultures view time. In certain working cultures, times tend to be approximate, while others (including the Netherlands) have a more exact approach.
"Occasionally there's a class trip, and a lot of students are late because times are approximate in their culture. They get a wake-up call when they find out that 9am means 9am in Dutch business culture!" says Stephanie.
---
Getting the most out of diverse teams
To work effectively in culturally diverse groups, Stephanie recommends honest communication as soon as differences arise.
She acknowledges that raising these issues requires sensitivity and confidence, but by ignoring differences altogether, any friction in the team will simply worsen.
"It's important to not be ashamed of having problems in a multicultural team, and to have a mentor to discuss these issues with," she comments.
For Wayne, adaptability and open-mindedness are the most important traits for working in multicultural teams.
"As soon as you understand how their mind works and how their thinking process goes, you can adapt to it," he reflects.
One of the main adaptations Wayne has made so far is his view on management structures. Dutch companies tend to favor a much flatter approach to management than is typically found in South Africa, he says.
Since graduating, he's shifted his career to the Netherlands. As a trading operations analyst at proprietary trading firm, Accent Circonflexe Group, he continues to work in this environment on a daily basis, and can now see the benefits of both approaches.
For other ambitious professionals, this cultural flexibility is essential. Although the trend toward globalization has been slowed by the coronavirus pandemic, it isn't going away.
"Because MSM graduates have studied in a really heterogeneous environment, they have a head start over those students who have been in a class with people of their own nationality and background," Stephanie concludes.
Related Content: