The business world has long had a social mobility problem. US workers from lower socioeconomic backgrounds are 32% less likely to become managers than those from more privileged backgrounds.

So how can students from low-income backgrounds stand out and accelerate their careers?

The University of California, Riverside (UCR) has ranked first in the United States for social mobility for the past three years.

Through its STEM-designated MBA program, the school is opening doors, helping UC Riverside grads land jobs at top companies like Disney and Amazon.
---
Going from a STEM MBA to the Walt Disney Company
For Octavio Davila (pictured), a graduate from the UCR MBA and product engineer at Walt Disney Company, the welcoming environment and strong career support on offer made UCR stand out.
After completing his bachelor's degree at UCR, he chose to stay there for his MBA despite receiving offers from other business schools.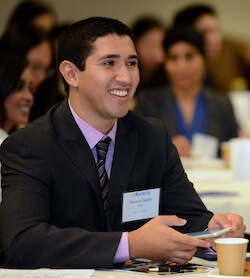 During the 21-month MBA program at UCR, students apply their theoretical knowledge from the degree during an internship, gaining real-world exposure to managerial roles. Within three months of graduation, 90% of UCR MBA graduates find full-time employment.
The UCR MBA is a STEM (science, technology, engineering, and mathematics) designated degree, which means the program incorporates learnings from these technical fields alongside core MBA courses in management and leadership.
After graduating from a STEM-designated MBA, international students can stay in the US to work for a total of three years through the Optional Practical Training (OPT) system.
Meanwhile, there are opportunities to build a professional network through the clubs and societies on the UCR campus.
UCR offers clubs and societies for Latino students, including the Association of Latino Professionals For America (ALPFA), which helps Latino students gain access to careers in the accounting and finance spheres by hosting networking events with Big Four accounting firms.
"Having clubs like ALPFA on campus assured me that the school was in tune with students' diverse needs," Octavio says. He adds that through ALPFA he had the chance to meet top MBA employers like EY.
45% of underrepresented ethnic groups make up the UCR MBA. "The program really taught us how to work with people from different backgrounds to reach a common goal, which prepares you for real-world business situations," Octavio says.
Using these experiences of working in diverse teams, alongside the managerial and technical skills he acquired on the MBA through core courses like information systems and operations management, Octavio landed a role at Walt Disney Company as a product engineer.
He oversees the support and maintenance of operating systems and services that drive business capabilities for Disney's platforms.
"The MBA program really allowed me to gain the theoretical knowledge to be able to map things out and create a story about how to solve any given issue," he says.
Aside from Disney, recent employers of UCR MBAs include Amazon, T-Mobile, and Fox Corporation.
---

---
Using An MBA fellowship to access new career opportunities
After completing her bachelor's degree in Economics at UCR, Laura Pullen (pictured) leapt into a career at Tesla as an energy products performance analyst.
However, the idea of an MBA had always played on her mind. Since leaving her role at Tesla, she's joined the UCR MBA program full-time after receiving an MBA fellowship. As a first-generation student on the UCR MBA, she's the first in her family to attend university.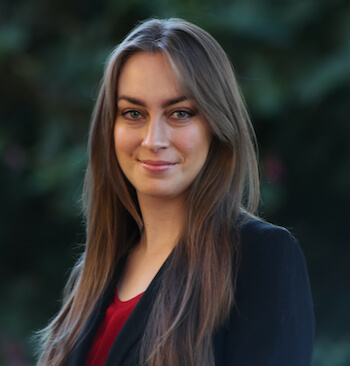 She says that UCR is committed to helping students from less privileged backgrounds by assisting students with their finances.
"The fellowship I received really helped me and was one of the main deciding factors as to why I pursued an MBA at UCR after my bachelor's degree there," she notes, "it makes things a lot more affordable, yet the quality of learning is still very high."
Studying for an MBA can be a costly experience, forming a barrier to education for students from low-income groups.
For students entering the UCR MBA, there are a variety of scholarships and fellowships available—these range from academic excellence scholarships to the Work-Study Program, where students can work as teacher assistants in exchange for tuition fee waivers. UCR was ranked second for financial aid in the US by Business Insider in 2019.
One of the major reasons students want to attend business school is to gain access to stellar career links and opportunities. Laura says UCR ensures that every student, no matter their background, is offered career support whenever they need it.
The UCR Career Center provides career counselling, skills workshops, interview preparation, and resume advice. Laura leveraged the career guidance she received at UCR during her bachelor's to land a role at Tesla as an energy products performance analyst, where she helped to build out the energy operations division.
Laura's now looking forward to taking advantage of new career opportunities, across business strategy and analytics, while on the UCR MBA. The program, she says, will open doors to a new and exciting career that might not otherwise be possible.
"A lot of first-generation students sometimes lack the confidence that they can achieve what they want to achieve, but at UCR they remove all those barriers."
Related Content: