Enrolling in an MBA that incorporates practice-based learning provides you with opportunities to apply academic theory to solve real business problems.
Experiential learning is an opportunity to boost your employability, develop your business acumen, and gain practical organizational experience.
Studies show the knowledge retention rate for business employees who have trained through traditional modes of learning is 5%, whereas those whose training involved experiential learning reaches nearly 90%.
Many business schools recognize the value of implementing experiential learning into their curricula, offering a variety of short-term and long-term projects, internships, and international business programs.
Here's how a practice-based MBA can help you develop your expertise and excel in your career.
---
Make the most out of your MBA
An MBA which prioritizes a practice-based learning style teaches you how to apply the academic theories you learn at business school to solve real-life business problems.
Some schools, like the School of Management at the University of Bath, emphasize the importance of practice-based learning throughout the curriculum, encouraging students to get involved in a range of practical projects throughout the duration of their MBA.
The Bath MBA program offers a distinctive mode of learning through the Multi-Project Suite, a system which enables them to complete four action-based projects throughout their MBA, instead of undertaking one final project, or dissertation.
"It gives you the ability to go out and test the ideas that have been discussed in class and apply them for real clients, with real problems," says Professor Alastair Brandon-Jones, who teaches on both the full-time and Executive MBA program at the University of Bath School of Management.
"As the cohort go through the program, you feel like they're credible consulting teams who have learned the art of engaging with clients and problems. The Multi-Project Suite is such a powerful part of this program and what makes Bath very special," he adds.
---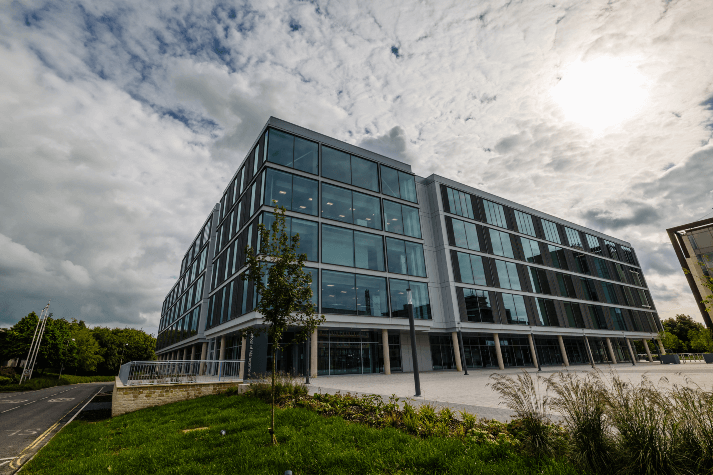 ---
Gain experience in new industries
An action-based MBA or Executive MBA (EMBA) can help you to develop a broad spectrum of business knowledge and skills from across a range of sectors and management specialisms. As many as 94% of MBA graduates from top business schools secure employment within three months of employment—an indication of the transformative effect an MBA can have on your career.
Business schools aim to build your management skills and increase your employability. Potential employers value MBA graduates because they possess the academic, practical, and leadership skills needed to thrive in the workplace.
The Bath MBA encompasses a range of projects, such as a Multi-Project Suite which enables you to consolidate your learning and build practical knowledge and skills. You will gain exposure to real businesses and present solutions to the challenges they face. As recent full-time graduate, Luiza Correa Brasil, described: 'It's like going from the "know-what" to the "know-how'".
The Multi-Project Suite allows you to build your academic knowledge and test this out in real business scenarios through live consulting, entrepreneurship, and change management projects.
"The Bath MBA required creative thinking and project management prowess in new, unchartered waters of business. It exposed me to real life, actionable, and useful projects which have enhanced my real time knowledge," says Carla Hadfield, full-time MBA graduate.
"Due to the projects' short, dynamic nature, the learning never stagnated, and I remained focused and engaged," she adds.
---
Develop a wide variety of management skills
Not all MBA graduates move into a new industry after their studies. For many, an MBA is an opportunity to accelerate their career and take the next step within their current sector.
If your career so far has been focused in one industry, then opting for an MBA with a practice-based approach gives you a chance to move out of your comfort zone and broaden your learning network.
The Executive MBA (EMBA) at the University of Bath is designed to be employer and employee-friendly, aimed at further developing busy professionals with a desire to combine career-advancing study with work.
The school's focus on practice-based learning delivers a program designed to incorporate your organization into your learning. Towards the end of your two-years' of study, you'll be tasked with finding actionable solutions to a key problem within your organization through the Capstone Consulting Project.
The project is an opportunity to step out of your comfort zone and think critically about an area of interest to you, using the tools available at the School of Management.
Current EMBA student at the University of Bath School of Management, Toby Clark, decided to take on an EMBA as a step to further his career.
"The EMBA has helped me demonstrate that I have skills and capabilities beyond my niche which will enable me to move forward with a career and move upwards into the management ranks I want to get in to," he says.
---
Build a professional network while you study
Business schools encourage you to interact with a range of people from a variety of different industries and backgrounds.
On the Bath MBA, students are able to collaborate closely, learning from each other and sharing experiences. Application-based assignments and program delivery are all designed to focus your learning on effective team-working and collaboration.
The Bath MBA's Leadership Development Program runs alongside the taught MBA components. Through a program of taught modules, interactive workshops, coaching and practical experiences, you will explore a range of themes designed to build up your leadership toolkit and help you to grow professionally.
An exposure to diverse perspectives and ideas will also enrich your capabilities and perspectives as both an individual and a leader.
"The MBA instils a genuine respect for difference of opinion and an understanding that businesses are not successful by having one great leader," says Alastair.
"Businesses are collaborative ecosystems, and you need to understand how you can gain value from one another."
Related Content: