Based in the heart of Milan, Italy's city of finance, fashion and innovation, SDA Bocconi School of Management is a high-ranking and prestigious school providing an intense, practical MBA education.

In 2020, The Financial Times ranked SDA Bocconi's MBA program among the best in Europe, and in the top 30 worldwide.

Founded in 1971, SDA Bocconi's MBA program is designed around people and their organizations in order to be relevant to their career goals and industries.

The program is taught in English, and open to career-savvy students from across the world—more than 30 countries, to be precise. SDA Bocconi grads go on to a range of careers and industries. From finance to fashion, there are plenty of directions SDA Bocconi business professionals can take.

When selecting students, SDA Bocconi focus on their 'AAA' profile': 'Aspiration to change, ambition to Excel and a strong sense of social awareness.,'—and this is reflected in the success Bocconi grads find. 80% of SDA Bocconi's MBA graduates change either location, industry, or function upon graduation.

Here's what to expect from SDA Bocconi's world-ranking MBA.
---
Companies hiring SDA Bocconi grads
---
MBA graduates from SDA Bocconi find careers in a wide array of sectors, and several globally renowned companies.
Consulting was the most common route for MBA grads in 2019, followed closely by technology and E-commerce. Sectors like financial services, food & beverage, industrial goods, and luxury & fashion are also popular industry choices. Pharmaceuticals, energy, and hospitality also feature in the class profile.
---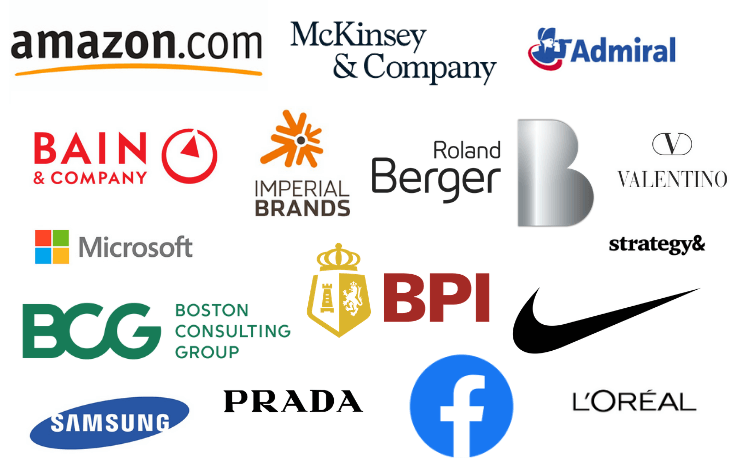 ---
Top companies hiring SDA Bocconi grads in 2019 included Amazon, McKinsey, Microsoft, The Boston Consulting Group, and BAIN. SDA Bocconi grads have also found employment with Facebook, Google, Emerson, GSK, J&J, Eli Lilly, and Novartis.
With alumni working in such diverse sectors and companies, new SDA Bocconi graduates can make the most of a strong, vibrant network, and find support entering almost any field.
---
Popular MBA jobs
---
Based in Milan—a city widely hailed as a key world fashion capital—it is clear why SDA Bocconi grads thrive within the luxury industry. Top designers like Valentino, Giorgio Armani, and Prada were among the companies hiring SDA Bocconi MBAs in 2019.
Leveraging their fashion heritage, SDA Bocconi also boasts links to LVMH, Kering, L'Oréal, Intercos, Nike and YNAP.
To help new graduates tap into these opportunities, SDA Bocconi's career services team cultivate close relationships they share with students and alumni. Their goal is to give grads the best possible career results by working with their own skills and strengths to match them with resources that can really help make the push into industry.
These resources range from one-to-one meetings to full class activities. Students can access career counselling and coaching targeted to their individual needs and take part in career seminars and workshops throughout the year.
Fundamental skills like networking and verbal communication are emphasized, but the school also offers more tailored, industry-specific workshops, which help students break into finance or consulting.
Students are also given competency-based interview training, and salary negotiation strategies, which help SDA Bocconi MBAs achieve the impressive salaries below.
---
---
Average MBA salaries
---
Salary projection and return on investment is a crucial bullet point on the mental checklist for prospective MBA students when choosing their school.
At SDA Bocconi, the average salary from MBA graduates has been growing steadily year on year. In 2017, SDA Bocconi MBAs earned an average gross salary of €80,638, which rose to €85,862 in 2019. After other guarantee bonuses, the total rose to an average of €115,062 in 2019.
In US dollars, that's an increase from $118,014 to $136,599 overall. SDA Bocconi grads can expect higher salaries than the average MBA grad too, with the average MBA total salary in Italy alone coming in at significantly less than SDA Bocconi's–$111,800, including guaranteed bonuses.
These sky-high salaries are a staggering 120% higher than graduates' pre-MBA earnings three years after graduation. In fact, SDA Bocconi MBAs receive the second biggest salary increase in Europe after HEC Paris, according to the Financial Times.
---
SDA Bocconi grad destinations
---
Post-MBA job prospects are a crucial consideration for would-be students hoping to recoup their investment in business school and take their career to the next level. For SDA Bocconi graduates, the outlook is promising.
92% of SDA Bocconi grads seeking employment found a new job three months after graduation in 2019, and 80% changed either country, sector, or function, showing that if a career overhaul is what you're looking for, SDA Bocconi is the place.
In terms of location, 82% of graduates found jobs in Europe. Of these graduates, 57% were from non-EU countries. Precise location data shows that 39% of grads remained in Italy post-graduation, with a wider 42% remaining in Europe. 7% chose to work in North America, 6% in the Asia Pacific region, 4% in Latin America, and 2% in the Middle East.
---
SDA Bocconi class profile 2021
---
Who is the SDA Bocconi MBA for?
---

SDA Bocconi places emphasis on three key values: intensity, diversity, and change. An SDA Bocconi MBA student will have a strong passion for cooperation and teamwork whilst also holding a global mindset.
With 92% of graduates finding work in the three months following graduation, it's clear that the SDA Bocconi MBA equips students with practical, career-relevant skills that carry them straight into job market success.
SDA Bocconi takes on around 100 students each year, from over 30 countries. Students come from diverse backgrounds, ensuring each cohort is a pool of global talent.
45% of students in 2020 held a prior degree in economics, 33% in engineering, 8% in law, and 7% respectively in humanities and sciences. Similarly, job sectors pre-MBA range from consulting and financial services, at 24% and 20% each, to fashion and health at 8% and 9%.
While SDA Bocconi emphasizes professional excellence, a key element to the school's success is its 'cozy, diverse and competitive' environment. An SDA Bocconi MBA grad is someone who can balance hard work and excellence with strong relationship building and teamwork too.
With a 1:1 ratio of faculty and staff to students, the attention and support given is crucial in providing students with a strong, attentive education. A third of SDA Bocconi students receive scholarships and tuition waivers, making this an MBA that is open to all irrespective of background.

*The data in this article is based on SDA Bocconi's 2019 career report
Related Content: