The University of Georgia's (UGA) Terry College of Business is increasingly finding MBA employment success: 94% of students received job offers within sixth months of graduating in 2020—92% accepted offers—with an average starting salary of over $112,000.

The school was founded in 1912 and boasts an MBA ranked 25th in the US and 33rd in the world by The Economist. The MBA performs strongly on return on investment, with the seventh-highest rate of return among US business schools where graduates earn more than $100,000 on average within three months of graduation, according to the US News & World Report.

Notable alumni include Dan Amos, chairman and CEO of Aflac, and 1994 MBA grad Sheila Taormina—who competed for the US at four Olympics between 1996 and 2008 and was the first woman to qualify in three different sports (swimming, triathlon, and modern pentathlon).

So, what can the Georgia Terry MBA offer you?*
---
Companies hiring UGA MBAs
---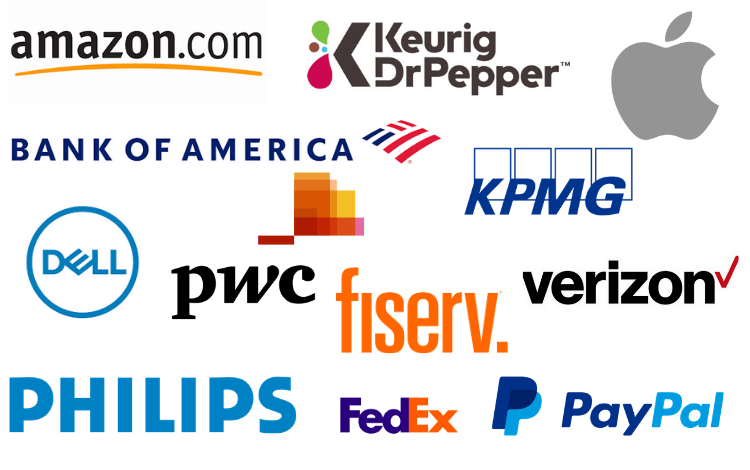 ---
Top companies hiring Terry MBAs include Amazon, Verizon, and Keurig Dr Pepper.
Alongside Amazon, recent tech employers of Terry MBA grads include Apple, Dell, Fiserv, and Verizon. The tech sector hired the most 2020 grads from the Terry MBA, with 31% of the class entering the industry.
Financial heavyweights Bank of America and PayPal were two companies also recruiting from Terry last year. There were opportunities for grads interested in consumer goods—with S.C. Johnson and Phillips hiring Terry MBAs in 2020—as well as delivery company FedEx and retailer The Home Depot taking on graduates.
The big four accounting firms were featured on the list. EY, KPMG, PwC, and Deloitte hired Georgia Terry MBAs. Add to that list Delta Air Lines, General Electric, IBM, AstraZeneca, and The Coca Cola Company, and you get an idea of the varied careers launched by MBAs from Georgia's Terry College of Business.
The school sits an hour outside Atlanta, a city with a fast-growing financial technology (FinTech) sector. Atlanta has more than 100 FinTech companies processing 70% of all credit, debit, and pre-paid US card transactions, amounting to $3.5 trillion annually. The FinTech industry employs more than 30,000, so there is always a demand for MBAs.
So it's no surprise technology and financial services hiring is strong among MBA grads from the school. Terry even provides MBAs with a targeted FinTech focus. Modules include data analytics, the law of FinTech, cyber security threat intelligence, and a FinTech project with a corporate partner.
---
UGA MBA Class Profile 2020/21
---
The Terry MBA offers candidates a close-knit community of professionals at different career stages. Total 2020 enrollment was 112 students, and more than half the cohort had over three years of work experience.
Women made up 35% of the class demographic and 22% of the MBA class came from underrepresented minority backgrounds.
Terry has a strong military background, with 23% of MBAs in 2020 having some link to the military. The school retains a large proportion of domestic candidates—62% of the cohort are Georgia residents and 32% from elsewhere in the US.
Thinking about how your test scores match up? The average GMAT score for the MBA class of 2020 was 672—ranging from 640 to 710. The GRE average was 311, and students had a GPA average of 3.42.
---
---
UGA MBA: Popular MBA jobs
---
Technology, consulting and finance took a large proportion of Terry MBAs in 2020; 31%, 13.8%, and 13.8% respectively. Breaking from the traditional top three industries, 17.2% of grads entered the retail industry too.
The health care products and services sector snapped up 10.3% of the class, showing the continuing popularity of the industry in a year that put a huge stress on health care, while 6.9% of students in 2020 entered consumer packaged goods, and 3.4% entered both the hospitality and transportation & logistical services industries.
---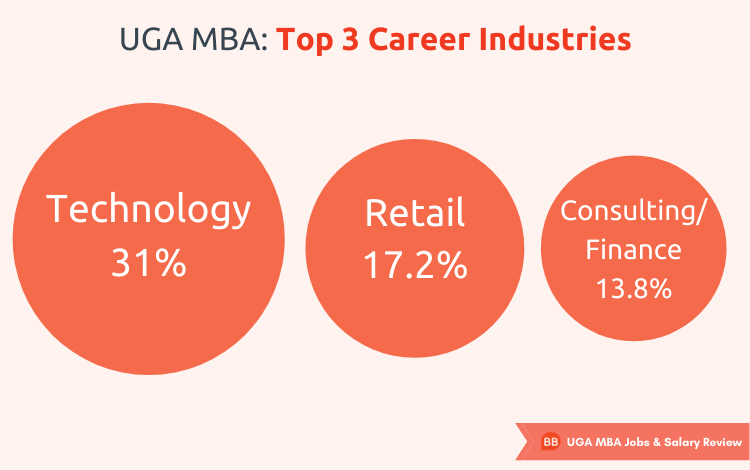 ---
Average MBA salaries
---
Even against the uncertain backdrop of 2020, Terry Georgia's MBA graduates received the school's highest starting salaries ever.
The most popular industry, technology, provided the highest average base salary for grads at $118,875. For MBAs entering the field, the average signing bonus was $13,750.
Other popular industries were consulting and retail, which gave average starting salaries of $107,500 and $116,000 respectively. The bonuses for both were $6,500 and $13,750.
Starting salaries in the financial services sector had an average base salary of $117,500 and an average signing bonus of $10,000. It's easy to see why these industries were so popular with grads this year.
---
Where do UGA MBAs get hired? (%)
---
---
Success stories
---
Many Terry MBAs use the networking opportunities on campus to land jobs in the southern states. Terry MBA Tyler Stierwalt did just that, landing a prestigious internship at the Mercedes-Benz USA corporate headquarters in Atlanta, before starting his current role at Larx after graduating.
"One of the people who had an instrumental role in the hiring process of Larx was also a Georgia MBA grad," Tyler says. "Terry college has a lot of local recognition as a quality program."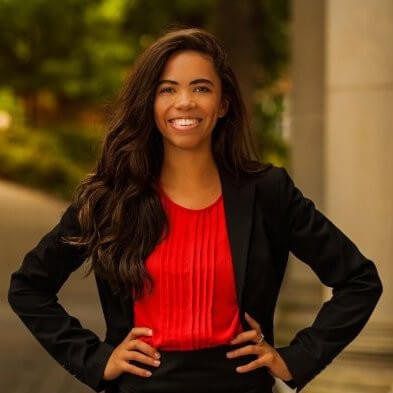 Desiree Sullivan (pictured) was one of the 25% of students who come to the Terry College MBA with an academic background in the humanities. Having majored in journalism at UGA for her undergraduate degree, Desiree opted to stay on for the MBA. This decision helped her launch a career in marketing while gaining the soft skills to prepare her for the business world.
"Getting my MBA was one of the best decisions I could have made—not only for the experience and the things I learned but for the contacts I gained," Desiree says. "You really can't put a price on that."
---
Who is the UGA MBA for?
---

With only 74 students in the 2020-21 cohort, Terry College offers an MBA with a close-knit community fostered by small class sizes.
The smaller program also means greater connections with professors and one-on-one coaching with the careers team—a good fit for anyone keen to have a highly personalized MBA experience.
Above all, Terry College is a strong choice for anyone keen to use their MBA as a springboard to a career in the southern states. Terry College's relationship with surrounding businesses, both large and small, provides a great opportunity to build a strong professional network in the area.
With experiential learning opportunities built into the course—every single student in the last cohort secure an internship—and the extensive on-campus networking opportunities, it's unsurprising that 48.3% of MBA alumni remain in the south, building their careers off the back of the network they develop at the school.
*The data in this article is based on the University of Georgia Terry College of Business 2019 careers report
Related Content: