Nestled in the heart of Silicon Valley, Stanford Graduate School of Business first emerged as an alternative to the East Coast business schools, quickly developing into a world-leading school.

Stanford GSB alumni are the world's highest-paid MBA graduates, with the class of 2022 recording an average graduate starting salary of $182k.

Stanford has a strong reputation for entrepreneurship, 19% of the MBA class of 2022 launched their own ventures after graduation. As many as 46% of students forming or joining startups were women.

Besides generating tech-savvy entrepreneurs, the Stanford program is one of the best MBA courses for finance careers—33% of 2022's graduating Stanford MBA class entered finance.

Stanford MBA graduates achieved a total average compensation of more than $257k in 2022—the first time a business school has ever reported more than a quarter of a million average compensation for a graduating class. This total takes into account base salary, performance bonuses, and sign-on bonuses.

Considering an MBA at Stanford? Here's our breakdown of your career and salary prospects as a Stanford MBA, based on the school's most recent MBA employment report.
---
Most popular industries for Stanford MBAs
---
A total of 93% of 2022's Stanford MBA grads received job offers within three months of graduating, down from the previous year's 96%. Of those students receiving offers, 84% accepted in that time.
Finance was the most popular route for MBA grads in 2022 with 33% joining this sector. These strong rates prove grads value the return on investment offered by finance careers.
Technology and consulting were the second and third most popular routes, respectively. In total 30% of graduates entered technology, an increase of 1% from 2021, while 15% entered consulting, down from 18% in 2021.
Stanford is a great place to be if you're considering a career transition. Through company networking events, you'll meet some of Stanford's popular employers, potentially bagging yourself an internship or post-MBA career.
At employer presentations, you'll get the chance to direct your burning questions to companies. More than half of the class of 2022 landed MBA jobs through school-facilitated activities.
---
Stanford MBA: Popular Industries
---
Companies hiring Stanford MBAs
---
As one of the most competitive and prestigious MBA programs, Stanford grads will typically land roles with some of the world's leading companies.
Among the top employers of previous cohorts were tech giants like Amazon, Apple, Google, and Facebook. And if you dream of entering consultancy, there's good news too: McKinsey, Boston Consulting Group (BCG), and Bain, have also been among the top employers of high caliber Stanford grads.
Many Stanford MBAs also land jobs with leading investment banks and financial organizations, like HSBC, American Express, and Goldman Sachs.
If you're looking to immerse yourself in a more intimate company environment, Stanford's Fewer Than 300 networking events introduce you to Bay Area employers with—you guessed it—fewer than 300 employees.
Stanford's strong links to the traditional MBA triumvirate of finance, technology, and consulting means you'll gain great opportunities to land a career in one of these sectors since you'll potentially meet employers from these industries at school-run events.
---
Average Stanford MBA Salary
---
Stanford's MBA class of 2022 achieved record-high graduate salaries for the seventh consecutive year, boasting an average starting base salary of $182,272, up by more than $20k compared with the previous graduating class.
Grads landed a median base salary of $175,000, around $18k higher than the class of 2021. For US-based MBA grads overall, the average starting salary was around $183,000 in 2022, with Stanford MBA salaries well above the US average.
Stanford MBAs also achieved strong results in terms of average sign-on bonuses. Among the cohort, the mean sign-on bonus was $33,684, and the average performance bonus was $91,476. In total, the average compensation package across the cohort amounted to $257,563.
---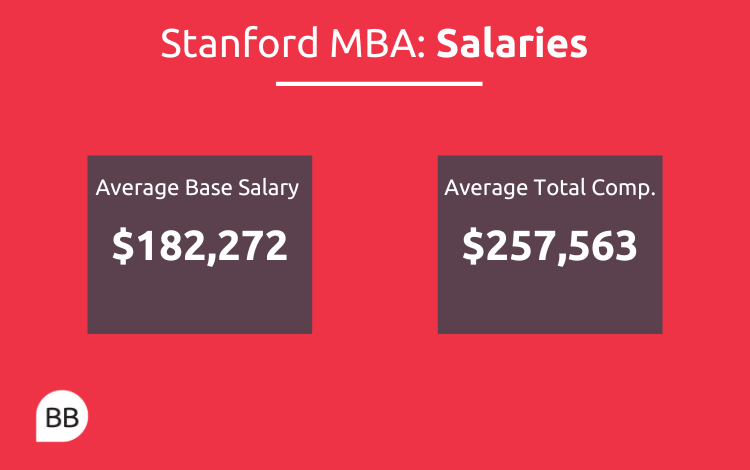 Stanford MBA salaries on graduation. Total compensation combines starting salary with bonuses.
---
Stanford MBAs who entered finance earned the highest average base salary of $211,944 and an average sign-on bonus of around $50k.
MBAs in healthcare recorded the second-highest average base salary at $198,000. Consulting ranked as the third highest-paid industry, with an average base salary of $179,727.
Technology firms paid Stanford MBAs an average base salary of $165,757, and MBAs in media and entertainment earned $152,616.
---
Stanford MBA graduate job destinations
---
The vast majority of Stanford MBAs stay in North America after graduation, with 93% remaining in the US. Within the US, 58% were located in the West and 26% in the Northeast. A further 3% of graduates moved to Europe, while the rest moved to Asia, Latin America, and the Caribbean.
---
Stanford MBA Success Stories
---
For many Stanford MBA graduates, success isn't all about fancy titles or high salaries. Stanford MBA grad Jenna Nicholas is testament to this notion—she's the cofounder and CEO of Impact Experience, an organization looking to increase investment in marginalized communities.
A recipient of Stanford's Social Innovation Fellowship, Jenna uses the leadership skills acquired through her MBA to combat implicit bias and its influence on investment decisions.
"The best ways of managing people, how to create teams, and get the best out of everybody—all of that is deeply emphasized on the MBA," notes Jenna (pictured below).
---
---
The Stanford MBA offers the perfect opportunity to dramatically change your career. For car aficionado, Stanford MBA grad, Marc Brunssen, transitioning from a consulting job at BCG to entering the self-driving autonomous vehicle industry was a dream come true.
Marc believes the MBA experience works two-fold; "It's first about personal development, and second about career pivoting; really having the time to think about what you want to do with your life."
---
Who is the Stanford MBA for?
---

If you're interested in joining a world-class business school with strong links to top MBA employers, the Stanford MBA is for you. Those with sky-high salary ambitions won't be disappointed, while Stanford MBAs are just as likely to pursue socially impactful careers too.
If you get accepted into the Stanford MBA, you'll ultimately join the prestigious ranks of Stanford's notable alumni, rubbing shoulders with successful CEOs and entrepreneurs, and perhaps becoming one yourself.
The Stanford MBA will especially benefit those looking to remain in North America after graduating. Most Stanford MBAs land jobs in the West Coast, with the school offering stellar networking, career opportunities, and industry connections in the region.

---
*The data in this article is based on the Stanford GSB MBA Employment Report
---
Next Read:
Stanford MBA Class Profile | Breakdown