IE Business School's International MBA takes place in the heart of Spain, in Madrid. The school is ranked among the best business schools in the world by the Financial Times, and in the QS Global MBA Rankings as the ninth-best global MBA in the world.

The school was founded in 1973 and is triple-accredited by AMBA, EDMD, and AACSB.

Notable alumni from IE Business School include Claudio Aguirre, the President and Founding Partner of Altamar Capital Partners, and Karan Gupta, the founder of the Karan Gupta Education Foundation (KGEF) in Mumbai.

The school's focus on business management, strategy, economics, and finance makes it an excellent choice for students from the financial services, consumer goods, and real estate sector, who make up just under 50% of applicants to the school's MBA.

The program's one-year, full-time course structure also enables students to personalize up to half of their modules and apply their newfound expertise to a relevant career. To apply, students must have a bachelor's degree and at least three years of professional experience.
---
IE Business School MBA Class Profile
---
Popular industries for IE MBA graduates
---
After their MBA, 20% of graduates from the class of 2020 entered the tech industry, 20% favored financial services, and 17% went into consulting.
But it's not just the dominant tech, consulting, and finance industries that snap up IE MBA graduates. Nearly 10% of graduates enter the consumer packaged goods industry, 6% go into manufacturing, and 5% enter healthcare.
Some graduates decided to switch career paths, with 10% switching to the technology sector and 8% switching into consulting.
As part of the International MBA at IE, students can also enroll in IE University's Start-Up Lab. The Lab is taught by experienced entrepreneurs and professors, who help students make progress with their startup projects. Almost 50% of students enlisted in the Start-Up Lab continued to work on their projects after graduating.
Grads aren't only limited to Spain when it comes to career options. Almost half of graduates from the class of 2020 moved abroad after completing their MBA. Whereas a quarter now work in Europe, just over a quarter are now situated in Latin America. Together, these graduates work across 56 different countries worldwide.
---
Companies Hiring IE MBAs
---
IE's Talent & Careers Department works closely with more than 1,800 recruiters and provides over 7,400 job opportunities for its MBA graduates in industries ranging from finance to technology.
According to the IE's 2020 employment report, 667 MBA students from over 65 nationalities enrolled in the international MBA this year. Of the 667 graduates, 95% of students went on to receive a job offer within three months after graduating.
---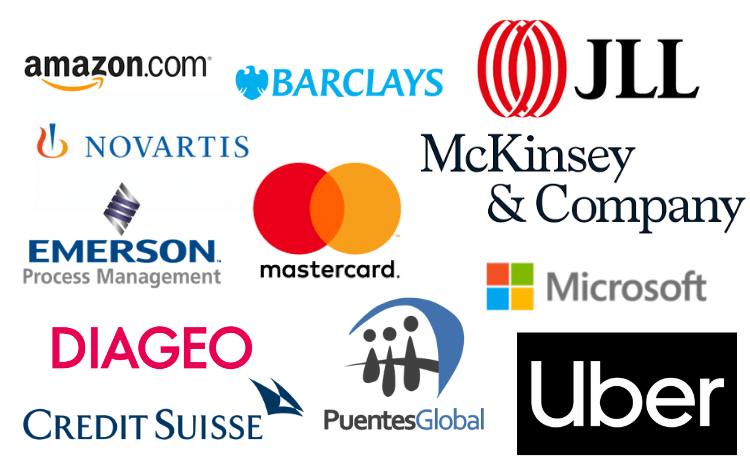 ---
Companies interested in employing IE MBA graduates range from tech industry giants like Amazon and Microsoft to banks and consulting firms like Credit Suisse, Santander, and McKinsey.
These industries extend to pharmaceutical and healthcare companies like Eli Lilly and Company and Novartis, as well as real estate firms such as JLL and CBRE.
On top of that, students were placed in IE's extensive network of over 66,000 alumni, who span more than 165 countries worldwide.
---
IE MBA Graduate Career Destinations (%)
---
---
Average IE Business School MBA salary ($)
---
When considering an MBA, applicants should find out whether they can expect a good return on investment (ROI) by factoring in average earnings from past graduates.
Tuition for the IE Business School MBA costs $85,000. When comparing this to the ROI of alumni, the mean annual salary for the class of 2020 is around $100,000.
The highest earnings are among real estate graduates, who earn almost $120,000 per year. Those in the financial services and manufacturing industry earn roughly $110,000. Graduates working in healthcare, technology, and consulting follow closely behind, earning just over $100,000.
Many MBAs also have their salaries topped up by performance and signing bonuses. Those in the consulting sector earn an extra bonus of $35,000 on average. Graduates working in financial services can earn an additional $50,000.
---
---
IE MBA Success Story
---
Although Adetobi Solanke was fully established in the world of finance, she wanted to improve her soft skills, network with professionals, and gain leadership skills to start her own business.
After hearing about IE Business School's extensive entrepreneurial reputation, she decided to enroll in its International MBA.
"It taught me the way to handle a lean startup, which helped me streamline processes and see different ways of being efficient," she notes.
After graduating, Adetobi decided to look for a finance job in Nigeria that could support her entrepreneurial aspirations. She found luck in December 2017 — a friend working at a large oil company needed gift hampers.
Adetobi took on the challenge, creating gifts and uploading the images on Instagram. These images quickly attracted widespread attention from investment banks and FMCGs. Soon enough, Adetobi's business, The Pamper Trap Company, was launched.
Now, Adetobi creates presents for important people's memorable moments. Recently, she helped a client gift his wife an office to celebrate the launch of her new business. In the future, she hopes to offer opportunities and advice to young Nigerians looking to build their entrepreneurial skillset.
---
Who is the IE MBA for?
---

IE Business School's reputation, networking opportunities, and return on investment provide attractive opportunities for graduates entering the program, who either wish to progress in their career or change industry completely.
IE is a popular business school among top employers from around the world, and the MBA will prepare you for a strong post-MBA career, in Spain or abroad.
It could be the MBA for you if you're targeting consulting, finance, or tech. Nearly 60% of grads enter these three industries. However, the school's remit doesn't end there. If you're looking to enter healthcare, international development, or retail, this could also be the MBA for you.
The IE MBA is also a great place for aspiring entrepreneurs from any industry. So whether you're looking to revolutionize the food industry or launch a finance startup, the school can help you to turn your start-up project into a reality.
Ultimately, the IE Business School MBA is a well-rounded program that caters for professionals looking to enter all sorts of careers. And with the average graduate salary starting at $100,000, $15,000 higher than total tuition, it's a top MBA in Europe with a strong return on investment.

---
The data in this article is sourced from the IE Business School MBA class of 2020 careers report.
Related Content: