Consulting, finance, and technology are three of the most popular industries for MBA applicants to aim for.

They each require different skillsets and different experiences, and an MBA can be a perfect opportunity to acquire them.

But success is not just about accumulating skills that are currently valuable. A good MBA will also help you invest in skills that will serve you in the future of work, and can put you ahead of the pack in your desired sector.

At HKUST Business School, administrators work with employers from a wide range of industries.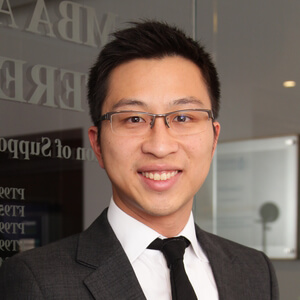 "At HKUST, we actively build relationships with corporate partners. We are experiencing a growing fanbase of employers," says the school's assistant director of MBA careers and professional development, Christopher Yip. "They've increased both the number of hires from our school and extended their scope of hiring to more business units over time."
We asked Chris what skills MBAs will need to be ahead of the curve in each of these key industries. Here's what he said...
---
Consulting
"Consulting [careers are] a major trend among our students," says Chris. "In Asia, a lot of consulting firms focus on taking clients through the digital transformation now—that means that the key skill needed is the ability to drive business innovation."
Driving innovation is about more than just digitalizing every process: it's about knowing the limitations of technology as much as its uses, and blending that knowledge with innovative business models and successful project management.
HKUST MBAs get a primer in this kind of decision-making, with core and elective courses such as Business Modelling and Technology Consulting.
The school provides ample opportunities for students to flex this muscle in a practical setting—a team from HKUST recently came in first place in the Roland Berger International MBA Case Competition, and Chris says that the whole team were offered internships at the company based on their strong performance.
---
Finance
Finance is one of Hong Kong's staple industries, so it's no surprise that 37% of HKUST MBA grads work in financial services or investment management post-graduation.
The key to this success, according to Chris, is equipping students with a strong business sense and thorough understanding of finance.
"With the growing economies in Asia, private equity presents exciting career path for a lot of students. Employers often describe their daily job as analyzing companies and industries to discover investment opportunities, therefore students will need to demonstrate strong access to different resources and analytical skills," he explains.
"They need to be able to use analytical tools to research and evaluate information, compare financial models, and create marketing presentations that communicate investment ideas in clear, sometimes non-technical language."
When it comes to complex analytics, particularly in the area of finance, MBAs at HKUST are well-placed to get the experience they need. Through courses such as Financial Statement Analysis, students are introduced to real-world cases so that they can readily put their skills to work after graduation.
---
Technology
Perhaps predictably given its proximity to tech hubs like Shenzhen and Guangzhou, technology is another popular sector for HKUST grads to go into after finishing their MBAs.
"A lot of [graduates] take roles in product management, sales strategy, and regional supply chain planning," Chris says.
The key skill that graduates need in the tech industry is problem-solving, according to Chris.
The tech landscape is ambiguous and requires its business leaders to have a sense of urgency about resolving issues.
The school recently opened a new business technology and analytics track, featuring courses on topics like AI, big data, blockchain, and fintech.
HKUST also plays host to a well-connected Fintech club, which supports events during the annual Hong Kong fintech week as well as collaborating with prominent fintech firms in the region through joint labs, mentoring projects, and industry sharing sessions.
---
What about if you want to work in Asia?
It makes sense that different industries require different skills of their MBA graduate hires, but the same is also true of different geographic regions.
"Hong Kong is an international business hub. A good understanding of the business culture in China and Asia will be important for success [in any industry]," Chris advises.
Of course, understanding business culture is important in the West as well, but businesspeople looking to work in Asia need a nuanced understanding of the very different business practices at work in the region—for instance, the importance of interpersonal relationships to business building.
An MBA can be a chance for students to take in all aspects of the business landscape in Asia with the guiding hand of faculty and alumni to help them on the way.
When asked if there is one skill that all MBA graduates everywhere should cultivate, Chris takes a pause.
"It's a very tough job to pick one single skill [that's the most important]," he says. "If I were to pick one, in my opinion it would be the ability to learn constantly.
"Technology is continuously changing at an increasing pace—referencing leading technology firm, Google, companies everywhere are seeking learning animals, people who are naturally driven to learn on their own."
By taking the step to go back to business school, you could say that MBAs already have a head start.
---
*Featured image used under this licence
Related Content: