The rise of Online MBA programs in recent years has opened the prospect of studying an MBA for a new wave of professionals. At HKUST Business School, the Digital MBA program is meeting the needs of this new wave of professionals with a highly innovative approach to learning, incorporating a range of cutting-edge features.
The DiMBA class is comprised of high achieving students from 13 regions and a range of professions including finance, technology, and pharmaceuticals; they are united by the need for a flexible program to become leaders of the future.
Utilizing the latest developments in education technology, the two-year, part-time degree recreates a highly engaging learning environment where teachers and students can benefit from a full-view virtual classroom to present, connect, and interact.
Offered by one of Asia's top business schools, the DiMBA represents a new step in online learning. Here are four ways it is shaping the future of education.
---
1. Innovative technologies
There are Online MBAs offered by many of the top business schools around the world. Most offer the ability to participate in virtual class discussions via video links and chat functions, however few provide the level of experience achieved through the HKUST 'Virtual Classroom'.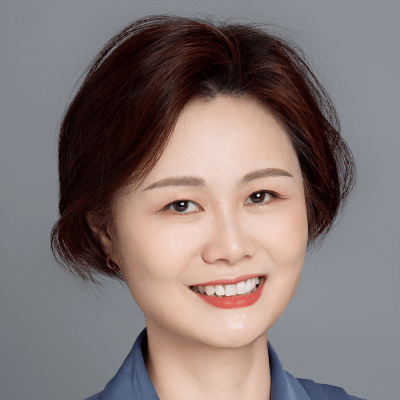 The first of its kind in Asia, the Virtual Classroom provides students with a 360-degree, panoramic view of a walled classroom. Students can achieve a higher level of interaction while they see their peers sitting next to them, as well as the professor at the front of the class.
"I like the virtual class because I can see our teachers and not just their faces. We have all kinds of different body languages, and body language tells us a lot of information," says Dr Helen Yang (pictured), strategic director of Distinct Healthcare and current student on the program.
This format, which closely replicates the experience of learning in a physical classroom, makes for a more immersive experience than teaching conducted via video link platforms such as Zoom.
"I feel like our professors are more passionate because they can see us in a bigger picture and we can have more interactions," Dr Yang adds.
---
2. A cutting-edge curriculum
In keeping with this focus on innovating the learning experience, the HKUST DiMBA curriculum is designed to incorporate the latest developments across the business landscape.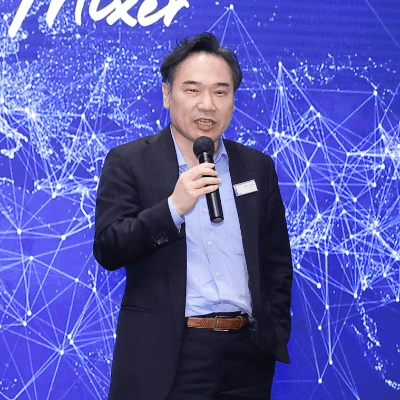 While students can enroll in business foundation core courses that cover subjects such as information and technology management, managerial microeconomics, strategic management, corporate finance and marketing, students can also choose from a variety of cutting-edge elective modules.
Enrolling in the program means you could learn the latest developments in Innovation and Product Management in the Age of AI, ESG investing, and green finance strategy for portfolio management.
"These classes are not only based on textbooks, they go through a very practical approach," says Shinichi Sugita (pictured), a current DiMBA student and president at UD Financial Services in Japan.
"You have to learn to code and how to apply it yourself, while you also have discussions about new technologies like blockchain and cryptocurrency."
---
3. A focus on impact
Woven throughout the DiMBA curriculum is a focus on impact, as the school aims to help students hone their leadership abilities.
"To prepare our MBA students to be effective leaders in an even more technologically driven world, we are focused on developing not just their hard skills but also their soft skills—such as how to empathize with people who are different from them," explains Professor Stephen Shih, associate dean of HKUST MBA Programs.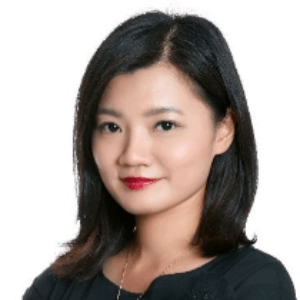 "Our program helps cultivate the ability to ask thought-provoking questions, synthesize a wide set of views, manage ambiguity, and take courageous risks."
Career and professional development workshops allows students to undertake impact-led workshops covering topics such as digital leadership and sustainability and ESG (environmental, social, governance). There are also professional workshops available covering subjects including project management and virtual networking.
For DiMBA student, Cathy Yuen (pictured), who currently works as a merchandise planning manager at China Duty Free International, this impact-led approach has allowed her to develop both on a personal and professional level, helping her become a better leader.
"During this period of time, what has inspired me is to have more self-reflection," she explains. "It's more for myself to think about how I can bring the most benefit to a team. And I think it is something that is very important when I lead my team [at work] as well."
---
4. Diverse, executive-level classmates
With a location independent study format, taught via a blend of self-paced learning and interactive virtual classes, the DiMBA provides a high degree of flexibility that makes it attractive to a wide variety of executives.
For example, the current cohort comprises students from 13 different regions, some of whom hail from as far away as the US. There is also a broad range of industries represented within the class, ranging from finance, to pharmaceuticals, real estate, and media.
"Every classmate has rich and in-depth working experience and knowledge in each particular industry," says Shinichi.
Interactions among the cohort are fostered during a variety of group sessions conducted both inside and outside the Virtual Classroom.
"Classmates can share their own experiences or knowledge in groups and exchange information about what's going on in each industry. That helps so much for our professional careers," Shinichi adds.
While the program is designed to prepare students to become future leaders in the global business world—whether that be into the c-suite or an entrepreneurial role—with students able to study alongside working full-time, they're able to see the benefits of this innovative Online MBA experience in real-time.
For Helen, the DiMBA has inspired her to continue learning after graduation: "I think for the future as a postgraduate, I also need to continue my development of knowledge. I think as a person everybody needs to have this passion [to learn] and that doesn't matter what stage you are at in your life."
Related Content: