From the moment British MBA alum Dan Cowen first set foot in China on a family holiday, he knew he wanted to return.
An engineer by background, Dan graduated from Imperial College London and immediately transitioned into the financial world, working first at an insurance company and then with an investment bank.
When Dan decided an MBA was the next step for him, he jumped at the chance to study in China—and he stayed there, landing a job at the British embassy in Beijing.
Through the Tsinghua-MIT Global MBA program at Tsinghua University's School of Economics and Management, Dan left behind a career in investment banking for a new life, and a new sector.
Today, Dan works with the British Foreign Office's Global Prosperity Fund, leading a $28 million program that aims to tackle poverty and inequality in China.
"The MBA has completely changed the course of my life," he says.
---
Making a change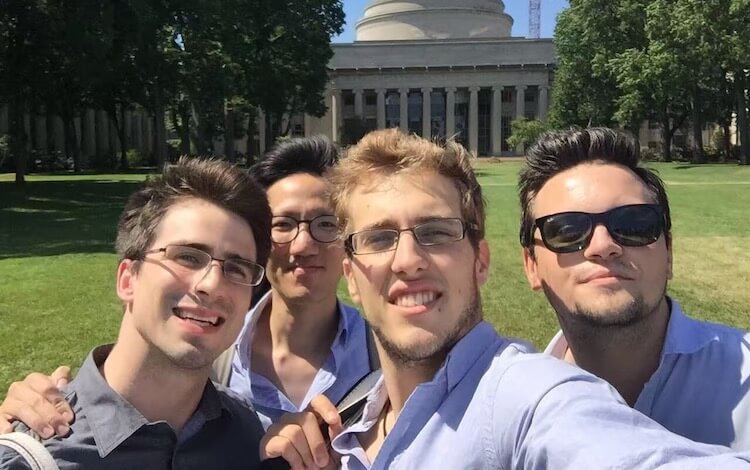 Daniel Cowen with Tsinghua Global MBA classmates during an intensive course at MIT
---
Just two years after completing his undergraduate studies, Dan broke into investment banking, working with the fixed income team at Jeffries in their London office.
But he couldn't help feeling there was something out there better suited to his interests.
"I always thought I wouldn't mind going back to school," he explains.
With his technical background, Dan decided that an MBA would help him move away from specialist roles and broaden his career options.
It was the perfect opportunity to return to China. "I saw that Tsinghua was number one in the China rankings table," he recalls. "I thought it was a great opportunity, and applied for the MBA program."
Between two scholarships—one from Tsinghua and one from the Chinese government—Dan was able to pursue an MBA without financial pressures.
"I'm incredibly grateful," he says. "I ended up with an opportunity that was too good to refuse."
---
Culture shock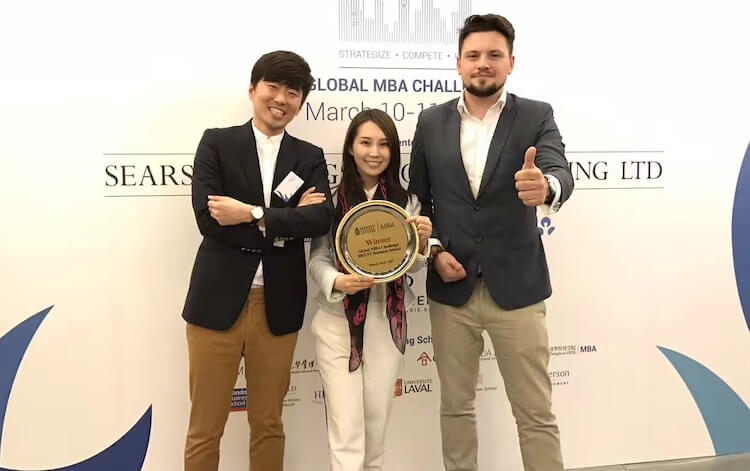 Daniel Cowen and his MBA classmates won the HKUST Case Competition
---
When Dan arrived in Beijing to begin his MBA, adapting to the different environment proved challenging.
"The language is different, the culture is entirely different, and you don't know what you're going to find," he explains.
"You have to have a certain determination to step outside your comfort zone and make sure you swim rather than sink."
With the support of his classes, Dan quickly adapted. In the average Tsinghua MBA classroom, students from around 20 nationalities learn together. During his Ethics and Corporate Social Responsibilities course, Dan noticed how cultural differences influenced his peers' business outlook.
---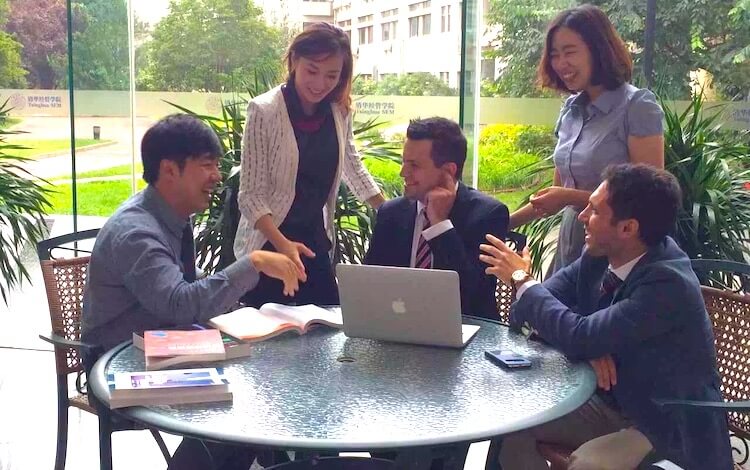 Daniel Cowen with his Tsinghua MBA classmates
---
"In some cases, when we were asked 'has this person done the right thing?', the class was entirely split along cultural lines," he remembers.
"It's the kind of thing that in a less diverse classroom you'd never be able to pick up on."
A well-timed job opportunity helped Dan to adapt even more to business in China. One year into the program, he was approached by Tsinghua's careers service, and asked to join Tsinghua Holdings Capital (THC), an investment fund affiliated with the university.
"This enabled me to pick up experience working in a Chinese company, in a Chinese language environment," Dan explains. "I developed an understanding of Chinese culture."
---
Making a difference
Daniel Cowen with Risto Siilasmaa (center right), chairman of Nokia Corporation
---
Today, Dan works with the British Embassy in Beijing, developing the economic relationship between the UK and China.
He helped organize the annual Economic and Financial Dialogue, a conference that brings together British and Chinese officials—the British chancellor and the vice premier of China—to discuss economic issues and opportunities for cooperation.
The conference saw the launch of the Shanghai-London Stock Connect, a program which provides global investors with access to shares in Chinese companies and allows Chinese investors buy LSE-listed stock, solidifying China's connection to the UK.
Dan's role has also given him the chance to make a positive social impact in China, through his work with the UK's Official Development Assistance fund (ODA).
"We think of China as a developed economy, but actually there's still a huge amount of poverty, and a tremendous amount of inequality— especially gender inequality," he explains.
"We do a lot of work focusing on how we can improve things like access to finance and social inclusion. This might mean creating pensions for people, helping someone open a bank account, or supporting subsistence farmers."
---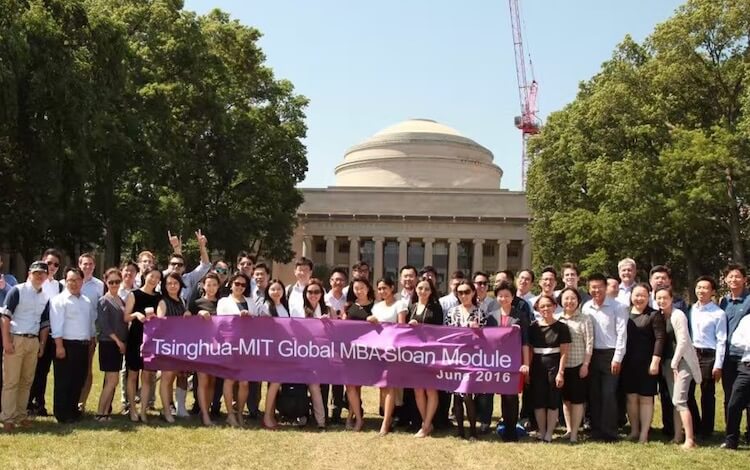 Daniel Cowen with Tsinghua Global MBA classmates at MIT Sloan
---
In the context of Brexit, Dan says the UK's ties with China—and his own role as an MBA on the forefront of UK-China relations—are becoming even more important.
"With China now being such an integrated part of the global system, any fluctuations here will have a knock-on effect in the UK," he explains.
"It's in our interest to take a global look at prosperity."
Related Content: