For professionals hoping to make their mark in the tech world, it doesn't get much bigger than China. Around 100 Chinese tech startups became 'unicorns', companies valued at one billion US dollars or more, in 2018 alone.
Artificial Intelligence (AI) is one area where China has really begun to shine. According to a recent study, China is about to overtake the US as the world authority on AI, publishing more widely-cited research papers for the first time this year.
Hoping to take advantage of this rapid progress, Tony Hu decided it was time to return to his native China, using business school as a springboard.
During the Tsinghua-MIT Global MBA program in Beijing, Tony found a route into the burgeoning tech sector, joining AI unicorn, Yitu.
---
A bridge back to China
A native of Shenzhen, Tony first moved to England aged 16, completing his A-levels at a Shrewsbury school before studying mathematics at Oxford and a Master in Finance at the University of Cambridge.
Armed with this impressive academic background, he soon found a role with Thomson Reuters in London. Here, Tony developed tax and accounting software, and ensured it was properly implemented in new countries.
"I loved my team in London," he recalls, "but after a few years, I was considering going back to China. The Chinese market was becoming quite dynamic, with new business models and companies being created."
Business school was the bridge Tony needed to return to China. Having been away for 11 years, it was important that he had time to adapt and reconnect.
While researching potential schools, Tony discovered Tsingua. With its expertise in tech and engineering, the university aligned perfectly with his interests.
---
Tech disruption around the world
For Tony, a trip to Stanford University was one of the MBA's highlights. Tony and his peers charted the development of VR and AR companies in Beijing and Silicon Valley, drawing direct comparisons.
"The US has a more freestyle way of working," Tony explains. "In China, it's more organized and goal-oriented."
The Stanford trip also included visits to two notable tech giants in the region: Tesla and Google.
With the insights he gained on this trip, and a thorough grounding in different business functions, Tony was ready to find his place in China's professional world.
---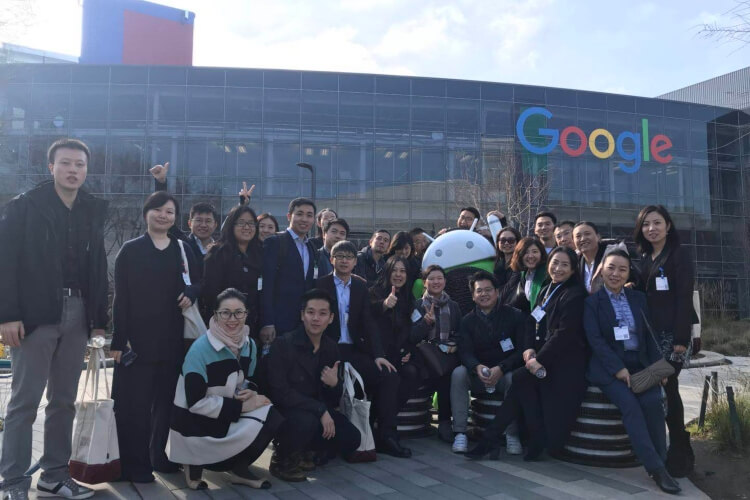 Tony Hu with Stanford-Tsinghua Exchange Program (STEP) group peers at Google Campus
---
Finding a unicorn
Tony had planned to use his MBA to create a business of his own. When a classmate put him in touch with Yitu, though, he saw the growing company's potential and decided to join them.
"My classmate persuaded me the company was going to be a key player in China," he remembers.
When Tony joined Yitu in 2017, it employed about 300 people. Today, just two years on, it has grown multiple times this size, with more than 1,000 employees.
Yitu specializes in AI technology, producing both software and hardware. This tech is applied to a range of sectors, including retail, security, banking, and healthcare.
One recent development, for instance, may dramatically improve the efficiency of cancer screenings. The tool can analyze scans, ultrasounds, specimens, genetics, and written records to diagnose cancer in a matter of seconds.
For Tony, Yitu's mission to improve lives with AI resonated strongly. "It was important to choose a company I was compatible with," he reflects, "and AI is a future star—it's big in the tech arena."
---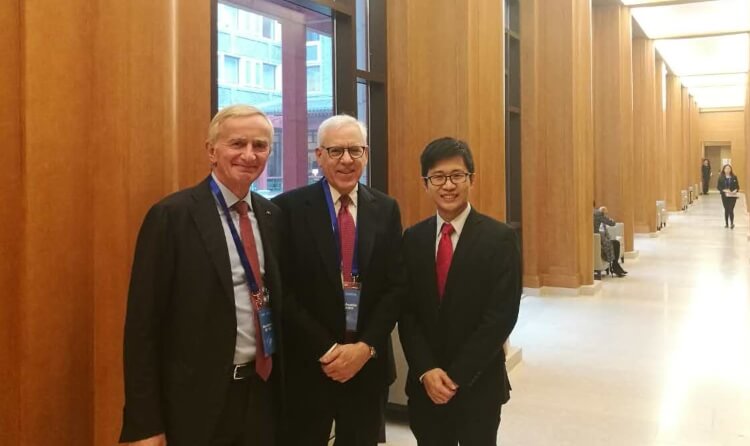 Tony Hu with Tsinghua SEM Advisory Board members Danis Duverne, chairman of AXA Group, and David M. Rubenstein, co-founder and co-executive chairman of the Carlyle Group
---
What began as a six month internship soon became a permanent role with Yitu's strategy department.
The work is varied, Tony says, and includes a lot of business analysis. The skills Tony learned during his MBA have come in useful, he believes.
"The program teaches you to work in a very collaborative environment," he says, with multiple projects demanding teamwork.
Modules such as 'Tech Mark' gave Tony the chance to form a close-knit team, making fast business decisions for a virtual company.
Tony was also able to draw on the business insights of more experienced professionals through the annual MBA advisory board meeting.
Each year, the event is attended by business leaders from companies like Tencent, Alibaba, AXA, and Coca Cola.
"They share a lot of experiences," Tony recalls. "These were some of the most valuable takeaways from the course."
Tony plans to work with Yitu in the coming years, but remains open-minded about where life might take him. With technology developing at an unprecedented rate, he says, it's impossible to predict his future roles.
Thanks to his MBA though, Tony has found a career he can feel passionate about. "Without that bridge to China, I would be in a different place," he says.
Related Content: