Experienced lawyer relocated to China to explore long-term career opportunities in business. He leveraged an MBA to transition into investment and became partner at two top boutique private equity firms.
---
As companies across the world look to China for investment, growth, and innovation, professionals the world over are also pursuing careers in the East.
Gerard van Swieten was first attracted to China while studying law at home in the Netherlands, so much so that he decided to study a Master's in Chinese law in Hong Kong.
After two years with Magic Circle law firm Clifford Chance in the Netherlands, the worldwide financial crisis hit, and Gerard seized the opportunity to take his legal experience back to the East—this time in Shanghai as a senior associate for the law firm HIL, where he became partner.
Still, Gerard's long-term objective was to drive the deals changing China's business landscape, and not play a supporting role. "From that point on, I was very interested in doing an MBA to explore more business strategy," he says, "and continue deepening my insights into China."
Gerard chose the Tsinghua-MIT Global MBA Program, a collaboration between Tsinghua University School of Economics and Management (Tsinghua SEM) in Beijing and MIT Sloan. The program offered Gerard the chance to gain that all-important Chinese business knowledge, he says, and some crucial business experience too.
---
Studying at Tsinghua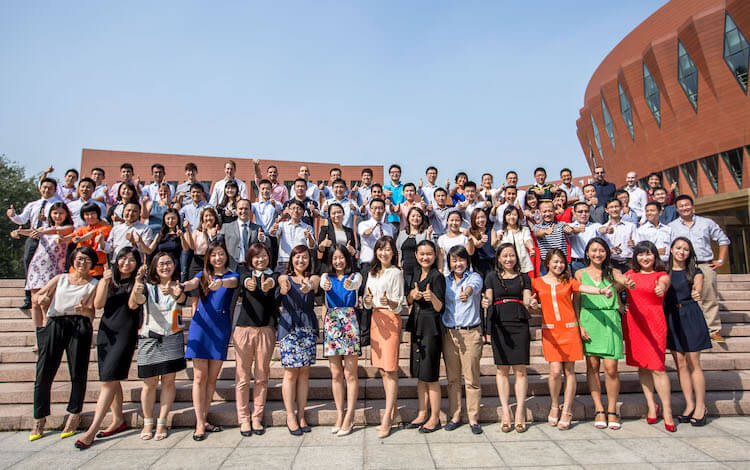 Group photo with GMBA classmates

---
Taught over 21 months, the Tsinghua MBA puts students at the heart of the Chinese economy. "Other schools don't necessarily have so much connection with China," says Gerard.
Students on the MBA program are required to take China-focused course with focuses such as the Chinese economy in the world and an MIT-led course on innovation in Beijing, plus optional electives such as a study trip to China, Korea, and Japan.
"The collaboration with MIT means that the standard of the teaching and the curriculum is at the global standard," Gerard adds, "but we also had a number of guest professors from big banks in China who could share insights in China-focused topics, too.
"More so than in the US or UK, in China you really need to rely on professors and experienced guest lecturers to explain why Chinese businesses make certain choices or why the economy is developing in a certain direction—that's really eye opening."
---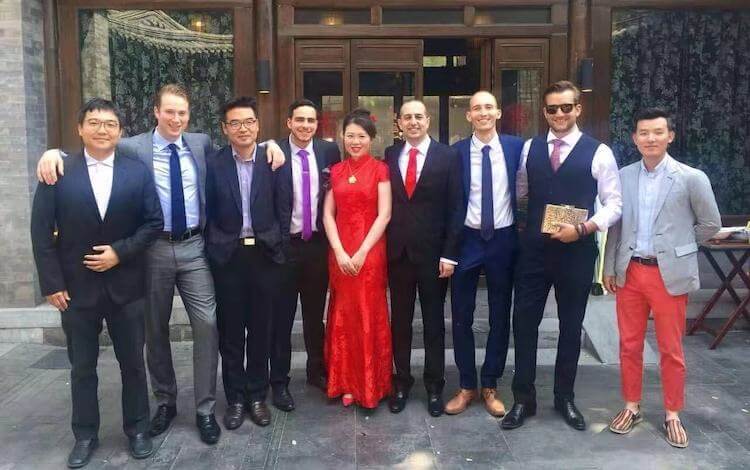 Gerard attended a GMBA classmate's wedding
---
But it's not just the business experience that Gerard credits as being a vital part of the MBA experience—with an average of around 100 candidates on the program each year, it's also easy to build a network.
"You really have more connection with your classmates," Gerard notes. "We had great times during the year visiting the Great Wall and going to different startup companies in China."
Even now, Gerard's MBA network is proving valuable. "My classmates are well-positioned at Chinese private and public companies, and MNCs here," he says.
---
From lawyer to private equity partner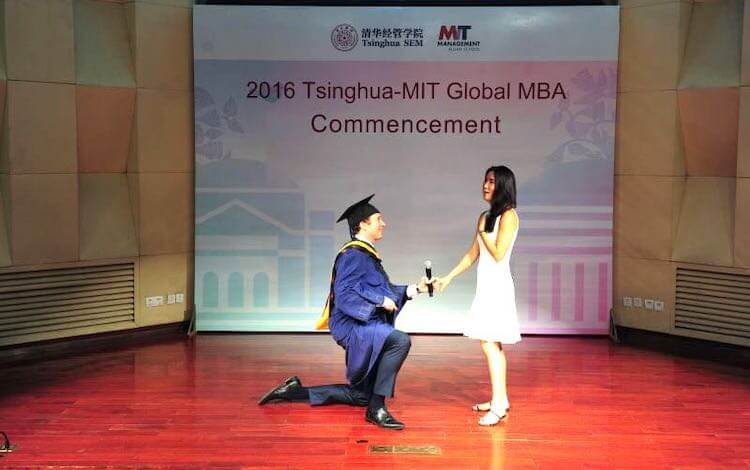 Gerard proposed to his wife at the GMBA Graduation Ceremony

---
It was thanks to Tsinghua's on-campus recruiting program, which attracts large multinational and Asia-based corporations, that Gerard landed a summer internship at Brazilian food company BRF SA, which later turned into a full-time position in their Shanghai office as head of legal for Europe, Africa, and Asia.
His responsibilities encompassed far more than standard legal work. "We undertook many business expansion projects. For example we moved into Thailand, Vietnam, and Hong Kong. "It was very hands on," Gerard recalls.
After BRF, Gerard achieved his career goal by joining IJK Capital—a top boutique private equity firm based in Singapore—as a Shanghai-based partner, where he worked for almost two years. Just recently, he became a partner at Mandarin Hill Capital, a mainland China-based private equity firm with international and Chinese investments.
Looking back now, Gerard says his MBA has been a huge factor in his success. "Without it, I wouldn't have had the same opportunity to work for BRF, or the exposure that ultimately led me in to private equity," he says.
Gerard also met his wife at Tsinghua, proposing at his graduation ceremony.
"I've never regretted doing my MBA," he continues. "I was 31 when I started. To have had that Asia experience after being trained in the West allows you to pursue a long-term East-West business career."
Related Content: