Accounting firms have long been a major employer of MBAs, offering ambitious grads the chance to play a key role in corporate governance and be at the heart of global finance. But what are the best accounting firms to work for?
Despite the accounting industry's role in high-profile corporate scandals—like Enron, AIG, Wirecard, Carillion, and Patisserie Valerie—the varied work, advancement opportunities, and prestige continues to attract MBAs.
To help grads decide which firms to target, the careers website, Vault, releases a ranking of the top accounting firms to work for every year.
The Accounting 50 list is based on a survey of more than 8,000 accountants, who rate their own firms on factors such as culture, hours, compensation, and work-life balance. They also rate the prestige of rival firms.
---
Check out the best companies to work for in 2021
---
Big Four dominate the top spots
In rankings like these, the Big Four—KPMG, PwC, Deloitte and EY—often come out on top. This is largely thanks to their reputation for training staff in areas such as artificial intelligence and data analytics, making the work increasingly efficient and interesting.
This year, PwC retained its grip on the ranking, holding onto the top spot for the eighth year running.
PwC snagged the top spot yet again due to its number one ranking for prestige and its improved score across many quality of life factors.
Accountants reported that PwC had flexible work schedules, high profile clients, and growth opportunities, although the hours can be demanding.
Deloitte came in second place, coming second in the 'formal training' metric. Deloitte also nabbed the second place spot for 'prestige'.
Employees said in the survey that Deloitte has: 'Great culture and talented, brilliant people—so many opportunities to learn from some of the best in the industry', although the work can be stressful.
KPMG, in third overall, came first for formal training and performed well in the diversity categories, including gender parity and LGBT diversity.
There are 'unbeatable' learning, training, and growth opportunities at KPMG, said one respondent, although accountants also noted long hours during busy seasons and that 'compensation could be better'.
EY, however, ranks 29th in the Vault ranking. Although third overall for prestige, the firm did not rank for many key metrics.
While some accountants praised the challenging work and potential for growth at EY, others criticized 'not just the hours, but the unpredictability of those hours and client commitments'.
---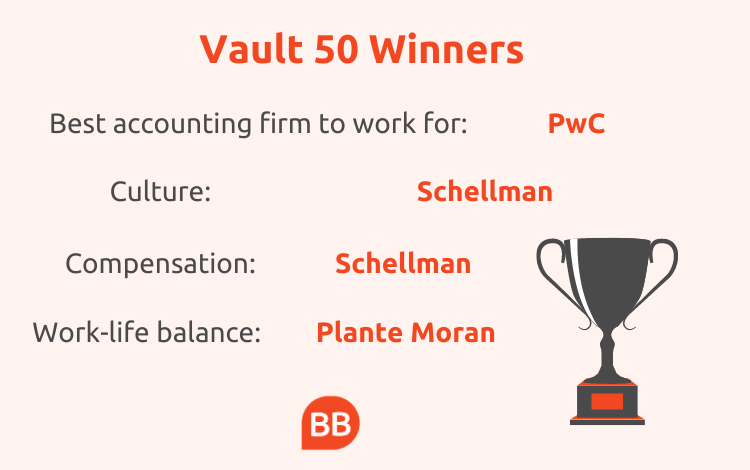 ---
Accounting winners & losers
Elsewhere in the ranking, Grant Thornton suffered the biggest fall, dropping 26 places from fourth in 2020 to 30th in 2021. Although ranked fifth for prestige and across accounting specialisations like audit and tax, Grant Thornton did not rank for many other key metrics.
According to Vault, the best accounting firms for compensation are Schellman & Co., ranked 11th overall; Brown Smith Wallace, 16th overall; and Plante Moran, fifth overall. PwC and Deloitte come in at 10th and 22nd for compensation respectively.
Schellman, one of the biggest public accounting firms in the US by revenue, also tops the metrics for firm culture, diversity, benefits, and client interaction, with accountants praising the team-orientated culture and 'smart, motivated, friendly co-workers'.
Brown Smith Wallace is ranked best for CSR, while Plante Moran ranks best for work-life balance.
BDO USA, ranked fourth overall, performs well for formal training and LGBTQ+ diversity. Accountants praise the firms culture, training, and advancement opportunities.
The Vault Accounting 50 is based on the following metrics: 35% prestige; 20% firm culture; 10% for satisfaction, compensation, and work/life balance respectively, and 5% for business outlook, formal training, and informal training.
Here are the full rankings for the 25 best accountancy firms to work for in 2021:
---
---
Next Read:
10 Best MBA Accounting Programs In The USA
---
(Credit: McCombs Facebook)
---
This article was first published in March 2020 and updated in March 2021.