MBA graduates from the Hong Kong University of Science and Technology's (HKUST) Business School have landed jobs with Amazon, Google, and Uber. In the age of technology, you'd expect nothing less from the best MBA in Hong Kong—the school recently took top spot in Hong Kong and 19th globally in the Financial Times Global MBA Ranking 2020.

CV enhancement is one of the main reasons to study an MBA, and in today's digitally driven economy, landing big tech jobs is high on the agenda of business school grads.

Top employers from the HKUST MBA also include BCG, KraftHeinz, Metlife, and Tencent, all companies having to adapt to thrive in the new economy.

So, how can an MBA boost your CV?
---
1. It can give you a CV for the digital age
Launched in 2018, the Business Technology & Analytics track on the HKUST MBA has been designed to enhance graduates' CVs for the digital age.
It covers artificial intelligence, the Internet of Things (IoT), blockchain, business analytics, and fintech. Business technology courses are taught not just by business faculty, but also by staff from HKUST's Department of Computer Science & Engineering—students are therefore equipped with the most up-to-date knowledge and skills to stay ahead of the game, explains Tai Yuan Chen, associate dean and program director of the MBA at HKUST.
"We are also working closely with industry to keep students abreast of real-world practice," he adds. "We will be the first in Hong Kong to partner with Microsoft to offer a new AI elective course, [and] as Python becomes an essential skill for new hires in many sizeable corporations nowadays, we have also introduced a Python Programming accelerator for our MBA students."
---
HKUST MBA Career Stats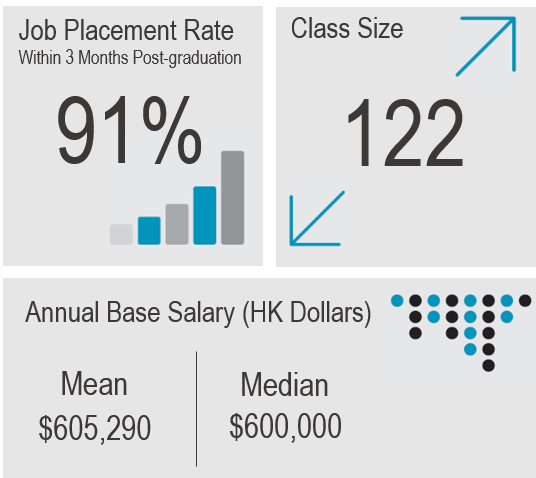 ---
A tech-based education is important for MBAs today because in an increasingly competitive and complex landscape, there is a lack of talent with both business and technology expertise in the market, explains Chen.
"An MBA education with a technology focus is therefore essential to create a new generation of business leaders who can bridge the business and tech teams, and who have the vision and digital savviness to lead business innovation in the fourth industrial revolution."
The pertinence of this need has been highlighted by the recent coronavirus outbreak, Chen alludes to.
"In crisis, technology is even more important to business. These days, a lot of businesses in major Asian cities are affected due to the virus outbreak. Virtual solutions are key to making sure businesses can continue to operate and even prosper in trying times. At HKUST, we are planning to launch a crisis management series, inviting business leaders to share how they managed the crisis using technology and innovation."
---
HKUST MBA Career Destinations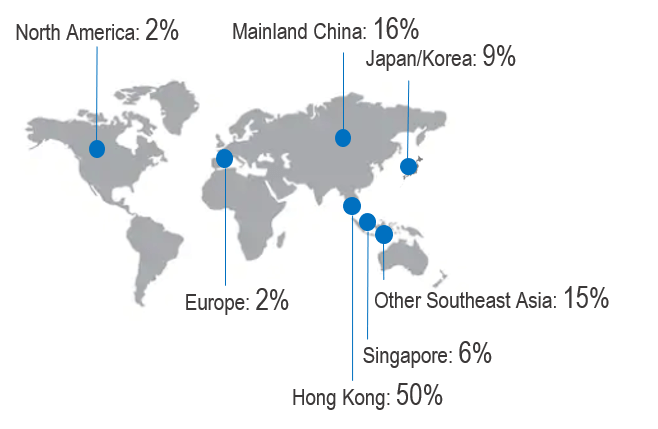 ---
2. It can give you a CV tailored to your chosen MBA career path
While the technology market isn't as mature as the US or Europe, Hong Kong's tech field is expanding rapidly, Chen adds, thanks to the influence of the Chinese mainland and the increase in demand for MBAs from local tech firms.
"Given Hong Kong's status as a global financial center, Fintech innovations have been extremely active with many banks and startups working on virtual banking and digital solutions backed by government support," he explains.
"With Shenzhen—China's Silicon Valley—at its back, Hong Kong is also well poised to be the interface between the nation's tech ambitions and global markets due to its international status."
---
Companies that hire from the HKUST MBA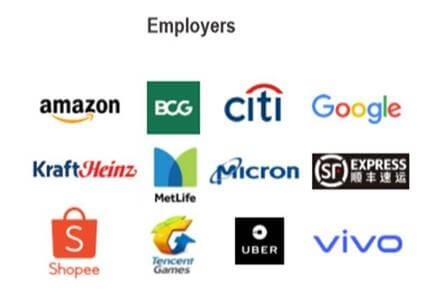 ---
The HKUST MBA allows students to tailor their education to their specific needs. The flexibility means their CV can be designed to assist with their chosen career path.
The existing curriculum will also undergo two major changes, adding to the flexibility. The number of core courses will be reduced by half, to seven. Students can then choose six out of a pool of 12 courses as flexible courses—more than 70% of the curriculum will become customizable, Chen informs.
The six career streams are Business Technology and Analytics, Finance, Consulting and Strategic Management, Entrepreneurship, and Marketing and General Management.
---
3. It can give you the practical experience companies crave
Chen says that the companies who approach the school to hire graduates suggest the tech industry is growing strong. MBAs have landed roles with the likes of Google, Amazon, and Uber. In addition to AI, big data, and fintech specialists, there's also a demand for tech people with business competencies, the exact type of people being nurtured on the MBA.
The MBA Career Advisory Program assists students in tailoring their CVs for their dream role after graduating. Each student is paired with a career manager at the beginning of the program, who provides tailored advice on their career strategy and areas for improvement, as well as introducing them to suitable career opportunities.
A wide range of seminars, workshops and coaching sessions strengthen students' industry knowledge and professional skills, such as resume writing, interviewing, networking, and salary negotiation to help them ace the job hunt, Chen explains.
"Students can participate in our real-world consulting projects too to get practical experience as a consultant and strengthen their profiles for future career development," concludes Chen.
So, graduates of the HKUST MBA are having their CVs tailored for technology. And as tech continues to advance and find its way into every area of business, it's these graduates who'll stand out in the new economy.
Related Content: