Germany is Europe's largest economy and the fourth-largest globally. It's a country with one of the lowest unemployment rates in the world and boasts the headquarters of multinational companies like Adidas, Allianz, and SAP.

Germany's response to the coronavirus pandemic, with widespread testing, has been widely praised. While working life is being disrupted by the pandemic globally, that shouldn't stop you planning your next career move.

Doing an MBA is a good way to take a year out of the workplace, future-proof yourself, and advance your career upon graduation. The question is: Where to do it?

Here are five reasons you should pursue a career in Germany:
---
1. High employment rates
With an unemployment rate of 3.1%—compared with 3.6% in the US, and 8.5% in France—Germany boasts one of the lowest and most stable unemployment rates in the world. The automotive industry is the country's largest employer, with Volkswagen leading the way—employing 645,000 people.
Ensuring jobs remain stable is typical of the German approach to collective purpose. A crucial part of German work culture, 'Wir-gefühl', or group cohesiveness, cements the importance of the team over the individual.
In fact, during the coronavirus pandemic, hiring in the UK, Spain, and the US is down 44%, 35% and 31% from last year respectively—compared with just a 17% decrease in Germany.
For MBA grads, employment rates are also strong. 90% of students from the Full-Time MBA at HHL Leipzig, for example, are in employment three months after graduating.
Once employed, the salary prospects for MBA students are similarly bright. Graduates from HHL see a strong return on their investment, with an average salary increase of 93%.
---
2. Diverse and exciting industries
The German automotive industry is well-known for being one of the largest in Europe, let alone the world. In 2018 alone, Germany exported 4 million cars, comprising a total value of $244 billion.
But it's not Germany's only booming industry.
In recent years, Germany has become a hotbed for tech companies. Music streaming giant Soundcloud has its headquarters in Berlin, alongside Silicon Allee—a community for entrepreneurs that typifies the thriving tech startup scene. Not just limited to the capital, Leipzig is a hive for entrepreneurial activity, too. With an estimated 200-250 startups, it is cashing in on growing tech opportunities.
Tech and e-commerce is the most popular career path for HHL Leipzig MBA grads, where 25% of students are entering the industry. Martina Beermann, Director of Career Development at HHL Leipzig, outlines how Germany offers a diverse range of careers that you could benefit from.
"While most other schools have a high percentage of students go into consulting, we see a more diverse range of job roles for MBAs," Martina says. HHL grads are finding work in manufacturing, pharma, financial services, energy, as well as consulting, to name a few. "We want to enable students to have rewarding and fulfilling careers," Martina says. "It's not just about the money."
Navigating contacts in Germany is important in making the most of the vibrant economy. Tapping into HHL Leipzig's 3,000 strong alumni network is a great way of finding guidance, knowledge, and further career opportunity. "The MBA teaches students how to network and explore the market," Martina explains. "It's a trustful relationship and one where students and alumni learn from each other."
---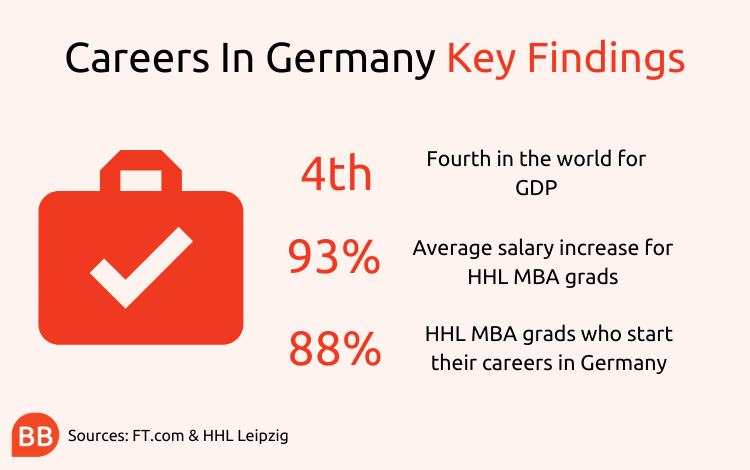 ---
3. Opportunities for global talent
Germany is an international destination not just for big companies, but for students and professionals too. Big multinationals have their headquarters in Germany and seek international expertise.
There's good news for internationals who decide to study in Germany. You'll get access to an 18-month working visa once you've graduated, an opportunity to immediately launch your career in Germany after your studies are complete. In fact, 88% of HHL graduates start their post-MBA careers in Germany.
International diversity is reflected in higher education. At HHL, 90% of the full-time MBA class are international students, helping lend a global outlook to much of the curriculum.
---
4. A truly international economy
The German economy is dependent on international trade, and has a growing global outlook. Especially within the cities of Germany, you'll find English widely spoken—giving it a definite edge over the likes of Italy, Spain, and France, and a big reason for attracting international workers and students. Once a part of East Germany, Leipzig has certainly come a long way since the collapse of the Berlin Wall.
"Many MBA students are looking to work for big brands," Martina explains. "Within large, global tech companies, they have the best opportunities to communicate in English, rather than German."
But if you want to fully expand your career opportunities in Germany, learning the native language will certainly help. At HHL, you have the option of taking German language course during your MBA, to give you an even stronger platform in your career.
---
5. A great lifestyle alongside your career
While your job is important, so too is life outside of work. Alongside the economic opportunities of Germany is a country with a great lifestyle, culture, and fantastic work-life balance.
Leipzig is Germany's fastest growing city in terms of population—within Germany it's even known as 'Hype-zig' owing to its rapid growth and popularity. It's a young city, with an average age of 42, but with a highly educated population—nearly a third of Leipzig residents possessing a university degree.
The cost-of-living across Germany provides great value for money, but with Berlin growing increasingly expensive, Leipzig provides an attractive alternative—the cost of rent for students at HHL starts at $260 for a one-bed apartment.
If that wasn't enough, the city boasts nearly 30,000 hectares of green space and vibrant nightlife, too. Starting a career in Germany provides a great opportunity to make the most out of an MBA, extending well beyond your job.
Related Content: