"I know that one day I want to either manage my own company or work as a CEO," says Mathieu Serres, alumnus of the MBA at EU Business School, and established manager at IBM.

Currently working in IBM's offices in Morocco, Mathieu credits his MBA with kickstarting a journey with the tech giant that's taken him to four countries in five years, with the kind of major promotions that have set him on course to achieve his CEO goal.
---
Why he chose an MBA
---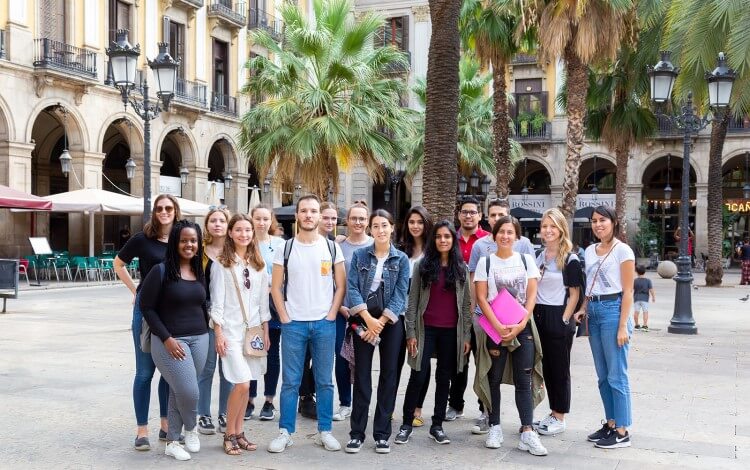 Mathieu chose to spend his final two terms of his MBA at the Barcelona campus of EU Business School
---
Following a bachelor's degree in France, Mathieu took a master's in management consulting in Germany. While there though, he began considering an MBA, hoping to step-up his business education and fulfill lofty career ambitions.
To ensure the program would align with his plans, Mathieu began researching schools, and eventually landed on EU Business School.
"The first thing that stood out was the different campuses," he says. EU has bases in Munich, Barcelona, Montreux, and Geneva—all of which offer different specializations. "For me, the entrepreneurship and finance tracks offered the hard skills needed to manage at the highest level."
Spending the first term in Munich, Mathieu then moved to the Barcelona campus for the second term. "My original plan was to move again for the final term, but I fell for the charm of Barcelona," he says.
As well as modules on topics like general management skills, organizational behavior, and quantitative business methods, the advantage of the MBA for Mathieu was its focus on finance, and specifically, classes in microfinance.
For Mathieu, the time spent studying papers and case studies on the program translated directly to his career. "While I think a lot of the strategy classes will help me further down the line, the strictly practical classes were useful right from the off."
---
A post-MBA career with IBM
With no job lined up after his graduation, Mathieu got a call one day from a friend in Bucharest with a job proposal. "I thought why not?" he recalls. The role, however, didn't offer the job security or progression he was looking for.
After spending a brief couple of months working at a call center in Bucharest, he landed an interview with IBM.
IBM has a global reputation as one of the leading technology companies, with a network of operations that finds them in all corners of the world. They look for a high caliber of candidate, and Mathieu admits that without an MBA on his CV, he might not have got the interview.
Mathieu was hired as project management officer (PMO) in IBM's Bucharest office. A junior position, it offered the chance to project manage multiple sub-projects and put his MBA to the test.
"It was instructive stuff at first, but it soon became really interesting. I was involved with financial forecasts, and from there it just went on and on until I was involved with big money contracts," he says.
Alongside formative modules in financial concepts and practice, the MBA gave Mathieu a solid rounding in the core practical skills relevant in the early stages of any job. His learning experience has continued into his full-time career.
"I've been building on that practical platform throughout my time at IBM," he says. "The hard skills in excel, organizational skills, forming presentations, and working as team provided a great foundation."
---
The road to CEO
---
Mathieu has worked in four different countries in five years for IBM
---
After two years in Romania, Mathieu moved to a new role for IBM, but this time in their Paris office. He'd been promoted to project manager, now managing a team of 40 people. Staying and working in France for 18 months, he was quickly awarded with increasing responsibility.
Following another international move to Switzerland, this time to oversee a new project, Mathieu has recently moved again to the IBM offices in Casablanca, Morocco. With five globetrotting years at IBM, Mathieu's MBA has seen the positive career trajectory to which he had aspired.
"With my next promotion, I'll be reporting to the director manager. It's good to know I've built trust in a company as big as IBM."
It's another step closer to the bold ambition he's always had for his career—to be CEO and manage his own company.
Related Content: